Surprise your boyfriend by doing something cute with him
Saying "I love you" can be done easily without actual words. There are many ways you can surprise your boyfriend with little gestures that demonstrates that he is glad that he is a part of his life including making him something cute.
Prepare a romantic surprise for your partner that will wow him.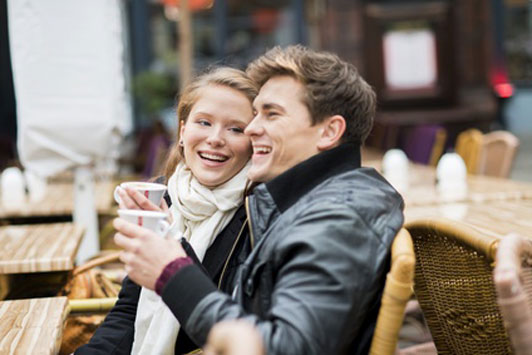 Relationships can thrive better if you prepare little surprises for each other occasionally. They don't have to big or expensive as it is the thoughts that go along with the surprise that really counts. They bring joy, excitement and as an added bonus, bring you closer together. After all, you do want your man to feel loved, happy and cared for.
Men enjoy surprises as much as women do, so don't just sit around and wait for him to bring all the excitement into your relationship. Keep reading further for a few genuine, special ways and ideas to surprise your partner.
Tailor it to suit his needs and your budget and the result will be a man that will love and appreciate you.
Not only will he feel content, his happiness will transfer on to you as well leaving you both feeling appreciated and satisfied at having achieved a fulfilling relationship.
Let go of your traditional ideals and allow your guy to soak in the romance.
10 Awesome Ideas to Surprise Your Boyfriend That Will Leave Him Speechless
If you have found that special man, you really want him to know that you love him, and appreciate his effort in your relationship. You want to ensure that you find ways to his heart and actually stay there. So, from time to time, you can prepare him a sweet little surprise that will knock him off his feet and showing him all the great reasons why you are a great keeper.
We are here to suggest a couple of romantic ways to surprise your boyfriend. No matter how much he pretends to not enjoy it, your guy will appreciate the attention and effort you put into the surprise.
Do something romantic
If you are wondering how to surprise your boyfriend in a way that will catch him totally of guard and make him ecstatic with happiness, this is certainly one of the ways to do it.
Go on a trip together
Plan a romantic getaway over the weekend, and take him to a romantic cottage, or a tropical beach that will let you to soak in the romance in peace. Oh, so romantic! I know; but just make sure neither of you have anything on your itinerary, so you could completely relax and enjoy your intimate time together.
Choosing the right place
If you know the things that he likes such as golf or scuba diving, be sure to choose a place that has a few activities that he will definitely enjoy. It will create an even stronger bond between you two, and make you feel refreshed.
There are many places that you can go to ensure that you enjoy each other's company. Bear in mind that your trip is filled with things for your guy to enjoy so it should be seen as a selfless act.
That means you might not have had the particular place as your favorite place but you can put your dislikes aside so he can have his time of enjoyment.
Take him to a sports match
Go and enjoy a sports match together
Sports might not be your thing but you can enjoy his likes once in a while. Even if you're not the sporty type, one way you can surprise your boyfriend is by doing something he loves the most. Let loose, buy tickets to a match of his favorite sports team and get in the mood for some shouting and cheering! Even better, you can both wear jerseys and cheer for the time together. The adrenaline will do you both good, and maybe even ignite sparks between you two. A little excitement is good in a relationship, especially if you want to reheat the old flame. Even though this particular pastime might not be your favorite do not spoil his surprise by being distant from the activities. This will defeat the purpose of trying to make him feel special.
Make a homemade romantic dinner
This is one of the most classic romantic ideas to surprise your boyfriend, and it definitely works every time. They used to say that a way to a man's heart is through his stomach. And for the most part that saying is true. No man can deny a delicious, homemade meal prepared by his loved one. If it's his favorite dish, that is even better. Go all out. If you're not a good cook ask an expert.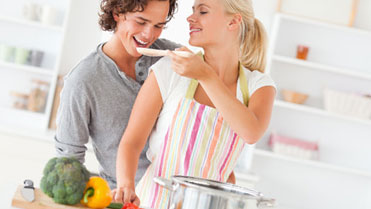 You can even practice a few of the recipes on your menu beforehand and ask your friends to do some taste testing. This way if you make an error, you will know where you went wrong beforehand.
It's the thought that counts
Choose easy recipes with instructions that are easy to follow or recipes that you are familiar with. And even if it doesn't come out perfect, that's okay. It's the thought that counts. Get a cookbook, pick a meal, and set up the table with romantic candles and his favorite wine or beer. When he gets to your place, the smells will woo him into a romantic frenzy.
And if you feel like even going a step further, at the end of the evening surprise him with a gift that shows that you pay attention to his interests.
Go for paintball
Have some fun together
Go on an adventure, and take your boyfriend to a paintball rink or some other place that promotes physical activity. Every man has a little boy inside of him that likes to play with guns and go on adventurous hunts; help him to find his inner child and help him embrace it. Don't make fun at him if he decides to let go and have total fun. Engage in a mini war with him and let him hunt you. In addition, the hunt for you will make him excited, definitely. Use this time to show your boyfriend that you can not only be fun and spontaneous, but fierce. This is one of the best ideas for him to unwind and leave all his struggles behind him such as work and other things that might cause stress and discomfort. Out of all the ideas to surprise your boyfriend, this one will make him feel like a little boy all over again – carefree and playful.
Do a private show
Men are visual creatures
Men will always get excited by what they see. Surprise him by changing up your wardrobe and donning something that will excite him and leaving him wanting more of you. Prepare attractive lingerie and play a slow song. Do a private show for your boyfriend, and make him enjoy the entire show. This will make him see you in a different light. Seductive surprises for your boyfriend will not leave him indifferent. Make sure you are confident and seductive; it will drive his excitement through the roof. The idea is to help him unwind and relax with you on his mind. The excitement that comes along with it should come once in a while that will leave him bold over. People tend to get more excited about things that only happen once in a while. You can plan your surprise for a time when you know he has had a long day at work and will need the time to unwind and just leave the working world behind.
Go on a romantic picnic
Take him out in the nature
If you are one of those couples who don't have enough time for romantic escapades, there are still cute ways to surprise your boyfriend by doing something really special. Find a time during your day for a romantic picnic out in the open. It doesn't have to be deep in the woods or to go as far as the park. Just find a nearby spot that is suitable; quiet, open and has a nice spot to relax and bask in nature. You can also pack a light lunch in a picnic basket, grab a blanket, take him by the hand and lead him to a quiet park, and enjoy the company of the calming natural environment and little tasty bites. You can also make plans on the weekend to go for a little camping trip. Just get his favorite foods and head out.
Prepare a romantic bath
Rose petals, romantic candles and bubbles
Think a romantic bath is just for you? That your guy won't really enjoy getting a bath all fixed up for him? Think again. If you have a man that works long hours, and feels exhausted after a grueling day at work, make him feel welcome and relaxed when he comes home. Turn down the lights, fill up the bathtub with warm waters and fill it up with bath salts and bubbles. Throw flower petals around the entire bathroom and light up candles. It's the best way to surprise your boyfriend after a long day. And it will be even better, if he invites you to join him. There is no doubt that he surely will if he wants to fully enjoy it.
Enjoy a day in the spa
Organize a relaxing treatment
This is also another one of those perfect cute ideas to surprise your boyfriend. Most of men have never experienced the charms of a relaxing day in the spa. Make sure to make an appointment for a massage, and treat your man with the entire day of pampering. Surprise him by making him thin that he is actually dropping you off so you can enjoy a few relaxing treatments. He will appreciate that he has such a thoughtful girlfriend, and he'll make sure that he returns the favor, in his own way. You don't need to spend the day with him. Sometimes giving him his own time for himself is one of the best ways to reward him for being a good man.
Treat him with an exotic meal
Put his senses to the test
Ignite his food senses. Research some great restaurants that he might enjoy. The better ones can be places that he or maybe both of you have never been. Take your man for a night out on the town and treat him with a meal he has never tried before or at a restaurant you always hear him say he would love to try. Take him on a food adventure where you can try out different foods. It's a given fact that every man loves to eat, and the combination of food and excitement of trying something new will put him a great mood. Your company will be the icing on the cake for him.
Go to an adventure park
Buckle up and get ready to have fun
This is for all the adventurous couples out there. Take your man for a fun day at an adventure theme park. The park is not just for children. Adults can enjoy the adventures that come along with going to a theme park. Go back to your childhood together, and have a blast going through the rides together. He will appreciate your effort and adventurous spirit. Switch roles a bit and engage in little competitions that will have you winning him little prizes. It can be a great adventure just allowing fun to take over for the day.
What do you get out of pampering your boyfriend?
Focus on his happiness. Guys love to be pampered. Under all the macho façade, they really want to be appreciated and loved and pampered in the same way that women do. Ensure that you always create a kind of oasis that will have him enjoy being with you. In fact let him always think of you as his happy place; a person that he can rely on when the world has got him down. At the end of the day, you want your man to be surprised in a good way. And whatever you do for him, he will appreciate it, because it's the small things that matter.