Cute gift ideas for the boyfriend
When it comes to choosing the right gift, we have to pay attention to that one special person's wishes. The key to choosing the perfect gift for your boyfriend is listening carefully to what his wants and needs are. Depending on the occasion, how long you have been together, and the amount of money you can spent, you can opt for practical (but still cute) or romantic gifts which you can make all by yourself and save money.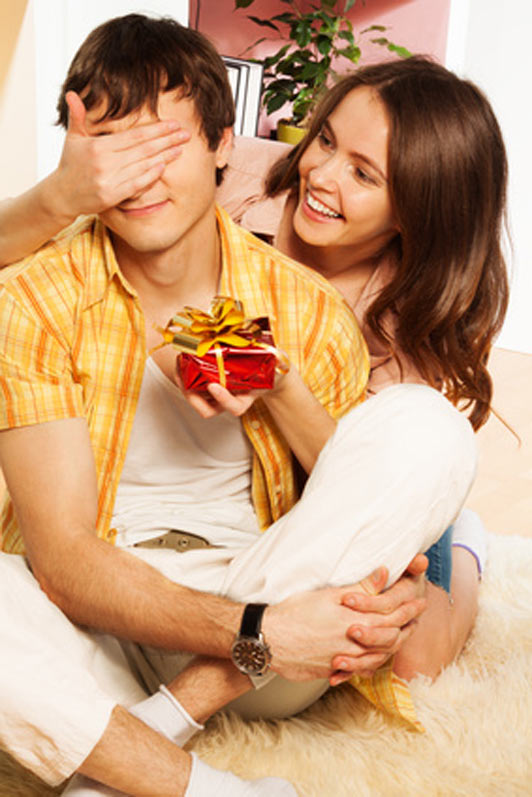 Even though, the more you know someone, the easier it gets to choose the present, after some time it's possible that you just run out of the ideas. Although the gift you're giving should be something special, personalized and unique, there are some universal suggestions that might help you.
You Have a Cute Boyfriend and a Cute Outfit for His Special Birthday Dinner. But What Is Missing? Here Are Adorably Cute Gift Ideas for His Birthday
Here are 8 really cute gift ideas for your boyfriend that he will love you all the more for.
Make The Reasons I Love You Jar
Give him a jar??
Everyone wants to feel loved and one of the ways to show your boyfriend why you love him is by making cute jar where you will put special messages for him. You will need just a regular jar and lots of colored papers. You can write special messages that you know will mean to your boyfriend. Or you can stick to the pattern 'I love you because' e.g. you make me laugh; you make me feel special, etc. You can also make little envelopes and put the notes in them. Finally, don't forget to decorate the jar. Put some bow and write something cute on the lid. This is an inexpensive, cute gift for your boyfriend you can use for Valentine 's Day, as an additional anniversary gift, or just for no reason, when you want to make your boy feel special.
Printed (Painted T-Shirt)
The effectiveness of this type of gift depends on how well you know your boyfriend. You can choose a picture, funny note, saying or a cartoon, movie or TV show character he likes. If you are artistic enough, you can buy fabric markers or colors and draw something cute.  So, your boyfriend will have a personalized T-shirt he can wear or can sleep in it, and he'll think of you every time he wears it for sure!
Joystick
Let's be honest, every boy likes to play video games. They are kind of addicted to it, regardless their age. So, by giving him a joystick you will be a considerate, thoughtful girlfriend, and he will get something he will definitely use. Even if he already has a joystick, they can break easily and a spare one will come in handy.
Romantic Dinner
Think  romantic
 'The way to a men's heart is though his stomach' and there are many dishes you can make without being the cooking expert. You should consider the type of food he likes and find out what's the easiest way to prepare it. Italian cuisine, for instance, is simple for preparing jet very delicious. You can boil ravioli, tortellini or any kind of pasta you like and prepare some sauce such as Quattro formaggi (four cheese sauce). This will require flour, butter, milk, nutmeg, cream cheese, semi-hard cheese, parmesan and any type of blue cheese, for example Gorgonzola. This sauce can be used with chicken as well and it's also delicious that way. When you've decided what you're going to cook, you should choose the drinks and buy some candles. 
Bake Him a Cake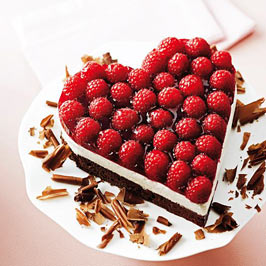 Win his heart
Cake is an appropriate gift for every occasion, and every man will love it. It will display your cooking talent as well as your commitment. You can bake him a cake even for no reason or when he's having a sweet tooth. There are many recipes you can use, depending on what he likes and you can mold it in the shape of a heart and write something cute to make it more romantic.
Cork Memo Board with Your Photos
This is a cute idea for personalized and simple gift which captures all your special moments. However, if you've just recently started your relationship, you can put the photos you have with a few messages and leave place for memories to come.
Caricature of You Two.
Boys really appreciate a good sense of humor and this is a cute, funny gift that will make him smile every time he sees it. Find a funny photo of you two and have it done. There are few variations of this gift. You can have your caricature painted on a canvas or on a regular paper. It can even be made as a part of a wall clock so it makes a nice decoration for his room. You can be absolutely sure he will be amazed.
Classic, Cute Gifts You Cannot Go Wrong with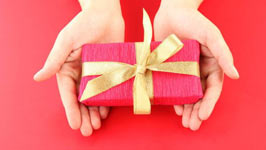 Get him a surprise present
Here we have some practical but still cute gift ideas your boyfriend probably needs. This includes watches, perfumes, wallets or electronic gadgets.
If it's his birthday or some really important date, you are in a serious relationship and you don't have budget limit you can choose to treat your boy with some of the classic gifts. Watch is a very nice and subtle gift that will significantly contribute to his style and to make it cuter and more personal; you can have some note engraved on the back of it. When it comes to electronic gadgets, there is a plethora of things you can choose from. Virtual keyboard is a popular gift nowadays, and so are portable speakers and headphones. USB memory may seem a little outdated but it can be a really useful tool if he needs to transfer his documents or pictures quickly. 
A wallet is something everyone needs, and this may be perfect present for your boyfriend if he, like majority of boys do, tends to keep his money in his pockets. Moreover, you can personalize the leather wallet by having his name written on it. Don't forget your photo inside of it, and some special, cute note.
Yes, boys also like to smell nicely, but they are probably not as picky as girls so choosing the perfume for a boy should be a lot easier. You should take into account his taste, but feel free to choose something you personally like, because he probably wants to smell nicely for you.
Whatever you choose, just remember that the aim of giving the present is to show how much you care about your boyfriend. He will appreciate your attention and the effort. Examine carefully what he would like to get and try to surprise him using some of the cute gift ideas.