Surprises for your boyfriend
Relationships, especially the long-term ones can get really monotonous. That can make us feel unwanted, not loved and that can definitely ruin any relationship, no matter if you're soul mates or not. Every relationship requires a certain amount of effort and that's a given. Therefore, what you need to do is throw your boyfriend surprises once in a while.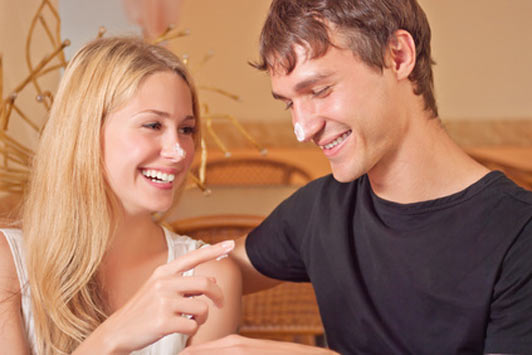 We are going to show you some creative ways to surprise your boyfriend that will stir up your calm waters. Remember, there are many cute ways to surprise your boyfriend; you just have to think carefully about what he likes. But, we figure you already know that because you are a loving and caring girlfriend.
Fun ideas for surprising your boyfriend and taking your relationship out of the monotony
Need boyfriend surprises? Here you have them. Follows are great ideas to surprise him or breakup. That is things you can do to your boyfriend.
Leave him love notes all around the place
Express your love for him every single day. Not just on his birthday and your anniversaries. Every day is an opportunity to show your boyfriend that you love him. One of the cute surprises to do for your boyfriend is to make little love notes and put them all over the apartment. Once he gets home and finds them all around, he'll definitely not be indifferent. It doesn't have to just around the apartment. You can put it in his car while he's not looking, even in his back pocket before he goes to work.  Nobody can feel bad if they are surrounded by love, and that's exactly what you want to do.
Romantic bubble bath
Thinking about surprises for your boyfriend? It's actually quite easy to surprise men, you just need to put in a little effort. This is one of surprises for your boyfriend that is especially fun if he travels a lot, or works long hours. Fill up the bathtub with warm water; make many bubbles, light up candles. You can always put rose petals on the floor and all around your bath. Once he gets home, call him into the bath. He'll be surprised when he sees the atmosphere, and you waiting for him in the bathtub. Intimacy is very important, and a relaxing bath together will make you both happy.
Get caricatures of yourselves
You are in stored for some cute random surprises for your boyfriend! Find a caricaturist who can draw the two of you on something. You don't have to do a classic portrait. Take any two objects in the house that you frequently use, like your favorite mugs, and have your caricatures painted. It's definitely something he's not going to expect, and it will be one of those everyday surprises that are little, but mean a lot. Next time you sip on your favorite coffee with a caricature mug in your hand, you will both have a smile on your face.
Throw him a party
What are the fun ways to surprise your boyfriend? Every girl needs to know this, because sometimes you don't need to be cute or romantic. You just need a genuine surprise! If your boyfriend works a lot and tends to have little time for his friends, why not throw him a little party? Call some of his best friends, or even friends and relatives who he likes to hang out but hasn't seen in a long time. Make some food, get some drinks and once he gets home he'll be in instant happiness mode! He will love that you recognized his hard work, but also his need to unwind, and he'll be grateful for that.
Find the one he hasn't seen
There is always that one legendary movie he hasn't watched and he's always saying he needs to watch it. If you're anticipating an especially boring afternoon in front of the TV, use it to your advantage. Rent a DVD of the movie he has to watch, but has never watched it, and finally break the chain. He'll be happy he finally did something he has been wanting for such a long time, but also, it's going to be time well spent with his sweetheart. It's actually not a lot of effort, and it costs pretty much nothing.
Shower him with affection
If you're missing cute ideas to surprise your boyfriend, read on. Sometimes you don't need much. All you actually need is yourself and a caring attitude. Choose a day, when you will shower him with your dedicated love and hugs especially. Don't let him go, sneak up on him every chance you get and hug the love out of him! Sneaking up is the key factor! No matter how often you choose to do it, he'll be surprised every time. He can't say no to that, because hugs can soften up even the toughest men. That's a fact! And, the great thing is – hugs don't cost a dime.
Get him something from childhood
Obviously, you know what he used to eat or drink in his childhood. Or even what kind of a toy was his favorite. For this surprise, you are going to need good research skills. However, the Internet is your friend. Try to find his favorite candy or juice box, and see if they sell it somewhere still. Then when you find it, have it delivered to his office or even at home. He'll be shocked and surprised, and our childhood memories are always nice and fun to remember. There are so many cute surprises for your boyfriend; you just have to think really hard.
Show the love every day
Remember ladies, there is no rule on how often you should surprise your man. Don't be stingy when it comes to your man. Share your love, and share the gifts. If you feel the need to surprise him with something, then do it. There are many cute things to do to surprise your boyfriend and these were just our humble suggestions, which will hopefully help some of you out there! Men love surprises, romantic, cute, fun – whatever they may be, they are a good idea.