Surprise Your Boyfriend with Something You Made
In the majority of the cases when there is a major event coming up in the life of a couple, such as a birthday, anniversary, or Valentine's Day, it is a nightmare to find the perfect gift unless you know exactly what the other one wants.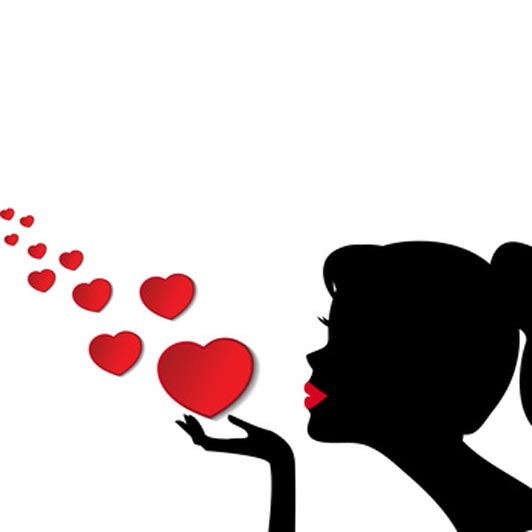 In this case instead of buying them something that they most probably will never use, you should opt for creating something on your own.
Don't forget that all people appreciate handmade items and since it is you who made it.
11 Cute Things That You Can Make to Surprise Your Boyfriend so That He Will Always Have Something to Remember You by Just in Case You Are Worried That He Is Starting to Forget you might...
Spark excitement into your relationship by making something your boyfriend will remember you by. Here are cute things to do for your boyfriend that you can make for him and be sure he will never forget about doing something nice for you in return.
1. Bake him a cake with all your heart
The Cake
This one of the cute ideas to make for your boyfriend is suitable for the girls who know their way around the kitchen. If you don't have a heart shaped baking pan, you could bake a square shaped cake and a round one. Cut the round cake in half and place the two halves on top of the square one. You can think about all kinds of flavors for icing and decorating the cake, such as whipped cream, chocolate, strawberries, or raspberry. Just think about what your boyfriend likes the most. A gift basket with his favorite cookies or even his favorite sandwich can help brighten his day, and that's definitely a gift worth your time.
2. Make him something to put his sweets in, for the people with a sweet tooth
The Jar
When looking for cute things to make for your girlfriend or boyfriend, you should be thinking about the things that they like. For instance, if they happen to have a sweet tooth, this is something that you could use as your starting point. All people like jelly, so you could fill a jar with jelly worms. On the bottom of the lid add a tag with the date of your anniversary of your first date. In order for the gift to have a funny feeling to it, you could stick a label on the jar saying something like "Hooked on you". You can be sure that this is something your partner will appreciate.
3. Lead the way with balloons making it Captain Obvious that you got him something, making it a day he'll always remember
The Balloons
If it is a birthday that got you looking for cute stuff to make for your girlfriend or boyfriend, it's not only the gift that matters, but the way you present it as well. As an idea you could make a scrapbook with reasons for which you love them. Come up with 50 reasons, for example. If it is a more special occasion, you could come up with 365 reasons as well. Once you are done, decide where you want your partner to find their gift. Buy colorful balloons and create a path using the balloons leading from the entryway to the gift. Most certainly they will never forget this occasion.
4. Tinker around, making him something that he might want to play with just in case he is a geek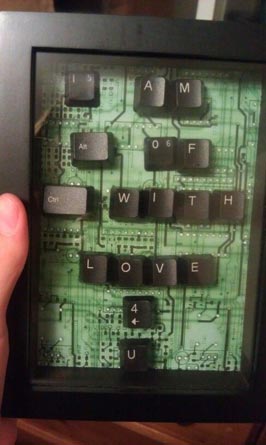 The Gadget
There are a lot of ideas regarding cute crafts to make for your boyfriend even if he is a bit geeky. As one of the most original ideas that you could possibly think about, get some keyboards from an old computer. Also get a motherboard that you can use as a background for your love note. Place the motherboard into a frame and stick to it the keyboards that spell out your message. Think about short forms and geeky slang that you are sure he will understand. As an example, you could be thinking about a message that goes like this: "I am (alt) of (ctrl) with love 4 u". This will be a love note they will never forget.
5. Be cliche and send a message in a bottle that will get your heard no matter what it says, because it's the thought that counts
The Message Bottle
Even though it may sound as a cliche, when asking yourself about crafts for my boyfriend, this is something you might be thinking about. Find a bottle with a classic shape and scrawl a love note, message, letter, or anything else that you would like on a piece of paper that you roll up and secure with a bow. Make sure that the message is thin enough to fit into the bottle. Don't forget that he will wish to take it out you should try to see if it is possible. Add some other decorations to the bottle as well, such as smaller shells, pebbles, pieces of paper, or anything else that feels right. Close the bottle with a cork and add a label to it. This could contain the occasion and the date, for example.
6. Fire things up showing him your sense of humor even when it means lighting up some L-words in the process
The Matches
Most probably your partner has a good sense humor (otherwise you wouldn't be together with them) and so you may be thinking about funny things to make for your boyfriend or girlfriend. If they smoke or use matches for other purposes, such as lighting candles, this is an angle you could play up. There are companies offer personalized match boxes. You could order one with a picture of you two or of something else that has a special meaning for you. You can personalize it even further by adding a love message that could be something like "You're my perfect match".
7. Surprise! Surprise! Keep him on his toes with a week of surprises that will make him think never forget you
The Envelopes
When you are looking for things to make your boyfriend happy, you don't necessarily have to consider grand gestures. Sometimes the smallest things mean the world to people. You could think about gluing envelopes together. Make a chain of seven envelopes (one for each day) that should represent the week leading to his birthday. Place a surprise in each envelope. You may consider small snacks, a love note, love letters, a ticket to a show that he would like to see or anything else that would fit. You can be sure that this will be a week that he will never forget.
8. Send a handwritten letter each day
The Letters
There are thousands of ideas you could use when it comes to cute things to make for your boyfriend, but there is one that can cheer him up when he needs it the most. For this you will have to buy numerous colorful envelopes and come up with occasions when he needs you the most. For example in one envelope there should be a letter that he needs to read when he feels the need to know that you love him. You should write on each envelope "Open when…" and then the occasion. You could think of letters for a bad day, a great day, when he sets a goal, reaches a goal, or anything else that seems important for you and him.
9. Help Him Earn With His Hobby
Today there are so many ways in which one can earn money, especially online. That still doesn't mean that anyone can easily earn a living doing what they love. Luckily, a little effort on your side can help go a long way when it comes to your sweetheart.
There are plenty of crowdfunding platforms today that you can use to raise money for different causes like charities and startups. And if you really want to do something special for him, you can be sure this will be appreciated.
If your bae is, for example, in a really cool band that has a lot of potential but has problem covering the expenses of gigs or recording, you could set him up with a Patreon or Gofundme account and help his band on their way to success. If you do your research before you set it up and hit 'Publish', the chances are you are not only going to help them financially, but also help them gain more online presence, or maybe even go viral, which is always a good thing for developing artists.
The similar also can be applied for amateur photographers, dancers, athletes, painters… Or pretty much anything else that comes to your mind.
10. An Impromptu Picnic
When it comes to little surprises for him, less can indeed sometimes be more. With the first glimpses of the spring sun, you can use an opportunity to spend some time outdoors without the hype of organization and unplanned expenses.
After all, if you're at all like me, you've probably spent a majority of the cold months with your bottom glued to your chair binge-watching anything you could find on and off Netflix. Meaning that this is a perfect time to let your skin get a first glimpse of vitamin D in months, and do that in a way that won't even require any high maintenance procedures.
How can you do that?
Prepare a couple of sandwiches and grab some coffee to go right in time for your sweetheart's lunch break. It's probably a good idea if you text him at least half an hour in advance in case he had some other plans. Once you have everything set and your favorite latte in your hand, visit just about any park in your walking distance. This can be a perfect opportunity to spend some extra time together, or simply sit in silence and enjoy the moment.
11. Special Scavenger Hunt
Even a very ordinary gift, like a belt you know he wanted for a while, can be made very special if you present it in an unusual way. And what's so great about sweet little surprises for him, is the fact that they mostly require only your time, and no additional expenses.
And if your bae is a bit on a nerdy side or simply likes additional challenge, you can be sure he would be thrilled to put some extra effort to reach the reward which, in this case, is a gift from you.
You don't have to plan something overly complicated. Plan 2 or 3 thresholds with relatively easy/cheesy/challenging clues and let him do his thing.
If you want to be extra cheesy, instead of a gift, it can be you who would wait for him after the final clue.