The guy you like may have met his match because you have the Christmas gift that is perfect for him. Whether you are already dating or not, what you give him for Christmas may change how he spends his time when you are not around.
Here are some holiday gift ideas to give him for Christmas.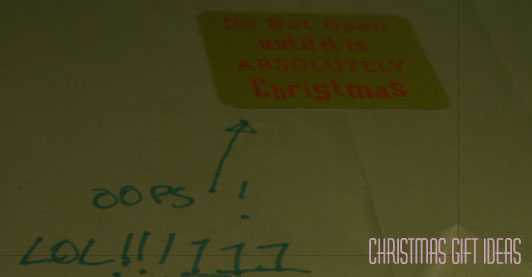 Things to help him pass the time
Getting him something to pull out when he is bored or otherwise looking to pass time is the best Christmas gift idea ever.
Something to read
Get him a book, or something that should talk him at least a week to finish if he is diligent. Don't forget to right him a not on the last page. That will blow his mind. Just make sure it's not anything too serious.
A lightweight tablet
You can never have too many tablets, especially if there are problems with the old one and he can't fit it inside his briefcase. Get him a tablet so thin and lightweight that it can fit anywhere. Because what's the point of having a tablet if it's not convenient? Ideally you would want him using it more than he uses his smartphone. Then you can say for sure that you gave him the right gift Christmas this holiday season.
Things for him to play with that might save him time
Getting him a gadget for Christmas is on approach you can take when it comes to holiday gift ideas. There is only one catch, most gifts of this category are only appropriate for a guy you are already dating.
Smart watch
Does he already have a watch? If he doesn't you are probably thinking about getting him a iWatch for Christmas. Unfortunately, it doesn't look to be coming out this year. What other smart watch choices do you have? The Sony SmartWatch is the least expensive watch that will allow him to read your tweets and Facebook posts in real time. Only give to a guy you are already dating.
Electric shaver
Does your guy friend like to shave? Getting him an electric shaver for Christmas is creates a win-win situation for. Not only can he stop wasting money on razorblades and shaving cream, he will like you more than he does now. Note that this is probably one of those gifts that you should only get a guy if you are already dating. I recommend anything with Philips.
E-book reader
Is he a book reader? If he is, getting him an e-book reader makes a great Christmas gift for him. Yes, you shouldn't be giving this to a guy you are not dating yet.
Top E-Book Readers
Kindle
Nook
Sony PRS-T3
Kobo Aura
A mouse
If your guy friend is the type to spend a lot of time on the computer, getting him a mouse is a Christmas gift that he will have trouble keeping his hands off.
Switch pocket knife
Nothing screams masculinity more than an outdoorsy-type of appliance like a pocket knife. Not only are they cool, but handy in many situations. If your guy spends a lot of time outside, then you owe it to him to gift him this multipurpose-tool for everyday living.
Beard grooming kit
Because lets face it, most guys with a large beard need some grooming every once and a while. Help him and yourself by preventing his beard from getting out of control this holiday season. The best xmas presents are the ones specialized for your guy.
Shoe polishing kit
Because a professional man needs to look his best at all times. You will actually be saving him a lot of money with this one, as shoes get dirty and need to be polished often. This gift is especially attractive if your man travels a lot on business trips. This will be the best xmas present he has ever gotten, guaranteed.
Slim wallet
If his pockets bulge from his unnecessarily huge wallet, I think it's time to give him an upgrade this holiday season. Give him a wallet just big enough to carry his loose change and credit cards, but thin enough to where you can't notice that there are anything in his pockets. This will flatter his figure, and make it easier for him to move around in his jeans.
Things for him to wear or not to wear
Getting the guy clothes for Christmas is about getting him something he wants but wont go out an buy for himself. Keep in mind that whatever you get him should be something he would actually wear.
Shirt
The cool shirt makes a great gift for a guy whether you are dating him or not. In general, you want to make sure the shirt you are getting him, isn't one he has probably seen. Getting matching shirts may be one approach you can take when getting him a shirt for Christmas.
Snow goggles
It's Christmas and he is probably going to want to hit the slopes. Why not give him a pair of new snow goggles for when he goes boarding or skiing. That just gives him another reason to have you tag along.
Bathrobe
A bathrobe is one thing you guy friend want but will not go out to buy himself. Getting him one for Christmas will not only spare him the embarrassment of losing it and going out and getting a bathrobe, not to mention make him like you more.
Tie Bars
Tie bars come in a variety of colors to match his tie and serve the purpose of holding together two pieces of the tie if he seems to have problems doing that already. Pick a neutral color like silver or black so that it has a better chance of matching his favorite tie. This is an affordable gift that shows you pay attention to the little details about him.
Patterned socks
Get him some warm patterned socks for the winter to make him extra cute and cuddly-looking next to the fireplace with you. Patterned socks are for all seasons, however, which make them the perfect gift for casual home wear.
Fancy cufflinks
Get him some flashy bronze or gold cufflinks to pull together his formal-wear style. Cufflinks are a neglected part of a man's wardrobe that any style is incomplete without. It's the little things that can make a big difference in what a man wears. Remember that before your next holiday gift choice.
Personalized handkerchiefs
For guys with allergies or rather just any guy that always forgets to buy tissues at the supermarket. Handkerchiefs make excellent gifts, and especially the ones with stylish designs.
Bottom line
Giving your guy friend a Christmas gift is an opportunity to move closer to him. However depending on the gift you chose to give him, expect different results. For readers, if you have any great Christmas ideas for him that you just can't help sharing, leave a comment.