Ways to Keep Your Blind Date Fun and … Exciting
If you have ever been on a blind date then you will understand the tensions and anticipations that it comes with meeting a new guy trying too hard to impress you. With so many horror stories about blind dating it is no wonder why many people are turned off by it not being able to break the ice and retreat to the internet to find love. Others have no reservations about telling themselves that they are doomed to be forever alone.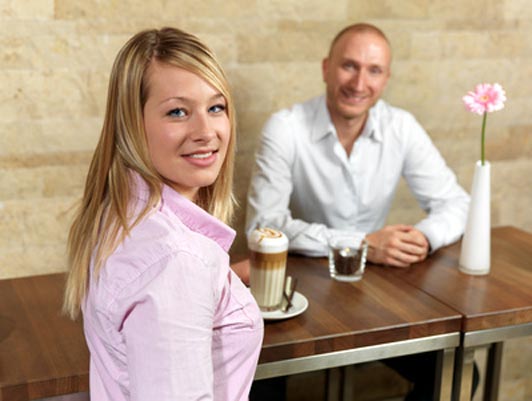 Internet dating might seem safe as it is easier for people to confidently present themselves without the fear of being judged. Sadly it is the perfect platform for people misrepresenting their true self.
So what is the difference really?
6 Ways to Break the Ice When on a Blind Date with a Some Guy You Just Happened to Meet Online
Unlike internet dating, breaking the ice on a bind date is challenging; two people who had no prior knowledge that the other even existed are drawn together in what maybe their friends or relatives hope is a match made in heaven. You ask yourselves a list of questions like what does the date looks like and if you will enjoy each other's company.
People cringe at the thought of blind dating because of the heightened expectations, the questions that arises with it and the overall bad experiences surrounding it. With a few tips you can combat those fears easily. 
Don't Expect too Much
Do not expect to find the man of your dreams or one who meets all the requirements that you have listed mentally. Approach it as a getting to know period where personality at present is looked into rather than what the future holds. Ask yourself if he is a potential friend rather than if he is a potential husband.
Remember he is just as nervous as you are
To begin with, avoid having too many expectations of your date. Bear in mind that your date is just as nervous as you are and tensions are running high.
Lower the bar and enjoy yourself, after all it's a date not an interview
Present yourself in such a way that it is clear that you are on a date to enjoy yourself. Do not allow your date to think that you are disappointed by how they look.
Start out with a compliment to ease the tension
Look for an open window to greet your date with a compliment to help ease the tension. This can kick start the date nicely and be a perfect conversation filler.
Ways to Keep Conversation Going
Try to make the date fun and interesting by keeping the conversation going.
Fill in the gap in the conversation causing unwanted tension
Having too many unfilled gaps in the conversation will cause tension and make both parties uncomfortable. It is not as hard as it seems once you keep an open mind. You and he do not have to be compatible to keep topics on a neutral ground.
Ask the right question
Ask pointed questions to avoid delay or hesitation in answering. This means avoiding questions that potentially has yes and no answers (for eg. Do you like cheese?). They do not fill the space between you and your date and might end up making the air stiff and boring.
Find Common Interest
If you have a hard time finding topics to talk about think about things that might be of interest to you both before you go. Just ask mutual friends who is setting you up to help with this.
Talk about where you and he grow up; everyone love's to talk about their hometown, right?
Keep topics on a mutual ground; talking or asking about each other's hometown or where you went to school is always a great place to start. People are more comfortable talking about the things that they are familiar with.
Don't try too hard; if he is coming off as the strong silent type, give him enough room to breathe and your questions will be answered without having to ask
Do not however try too hard to make the date work. Pushing too hard to find things in common won't allow nature take its course. Just use your initiative to figure out if there are any mutual interests. Some things can be figured out without even questions.
Set the Right Tone
Do not expect to be disappointed and when you do find yourself at ease, still keep things under control.
Do whatever it takes to set off the alarm, stage-5 clinger!
Do not give the impression that you have found the love of your life. This will make you seem desperate and have your date sensors go off and seek distance. This will cause your date to think you are clingy. As they are a turn off from everybody. Nobody wants their future with kids and getting married planned out for them on the first date.
Keep the Conversation a Two-Way Street
Everyone else's experience will be different so don't expect to have a similar experience. Having a blind date is one of those times where it is ok to lower your expectations (not your standards,) if it is even a little. This way you literally protect yourself against being disappointed, putting both you and your date at ease.
Catch and serve; recover his hits no matter how left field they may go
Starting off on the right foot sets a proper tone and allows you and him to feel less uncomfortable about looks or overall demeanor. Listen to him as much as he listens to you. In the same way you want to have him listen to your interested listen to his. You don't want the conversation to be all about you or the things you like. In order to get to know you have to be open to hear what makes this person tick.
Make a Great first Impression
Remember that first impressions last so make your first impression great.
Empty your cup and hope he pours
You can make blind dating fun and exciting if you approach it with an open mind. Remember, if the date is a no for a potential partner, you might end up with a potential friend.
Don't let past experiences ruin future changes of meeting the right guy— even if it's just a blind date
Someone else's experience or a past bad experience should not be the basis for determining if you will or will not be successful on the dating scene. What you need to remember is that it is easier to just relax and have fun. Who knows maybe one failed date is a stepping stone that leads you to finding your soul mate.