Summer outfit ideas for the summer of your life
Spring has officially been here for only a few weeks now, but we can feel it! Yes, we can feel the magic of yet another great summer approaching, and we are ready to embrace it, along with all trendy ideas it brings. Some of you are probably familiar, and some might are not, but recently there have been some major Fashion Weeks held all over the fashion capitols: New York, London, Milano, and Paris. Runways were cluttered with a bunch of outfit ideas; but that is not what interests us at the moment.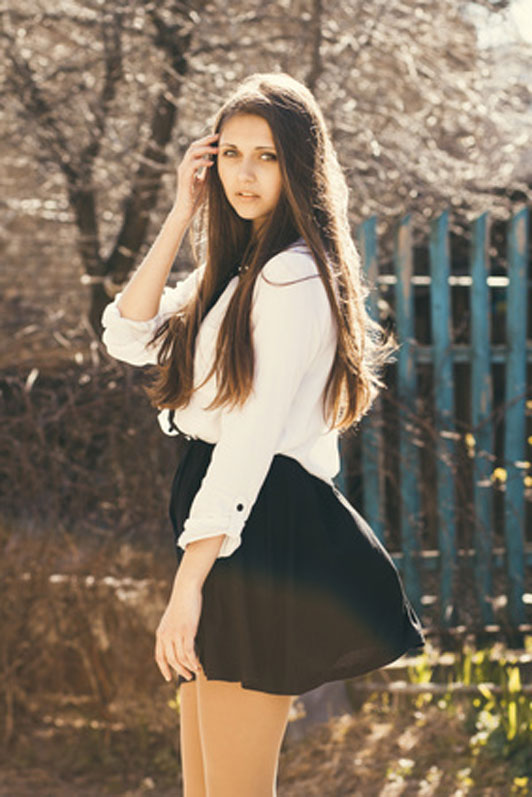 Some of us were better focused on the outfits happening in the front rows because they represented almost perfect spring outfit ideas that could help us get inspired; not only for spring but also for the future summer outfit ideas and how we, not-so-fashion-icons, can make the most of it.
Make This Summer the Summer of Dresses: Cool and Comfy Summer outfit ideas for the Hottest Days of the Year
No matter how hard we try to always look our best, summer is sometimes just making it too hard on us. But hot and sweaty days do not always have to ruin your cute outfit ideas. Thanks to high waist midriffs are back in the business, and wide-leg trousers just make it hard to not be tempted into going for full hippie look. And the number of possible combinations… Enjoy the variety this summer has to offer!
Midriffs
Comeback this Summer with the midriff
First, let's be honest: Not everyone can pull off a midriff. However, the great comeback of high waist shorts, skirts, and trousers makes it easier and gives us an immense amount of combinations for casual summer outfits as well as party outfit ideas. From the image here we can see that even Lorde couldn't resist combining a revealing top with a casual saggy suit for one of her appearances. And it is absolutely positive that her combination is great. For DIY casual combination similar to this one you can mix top with wide leg trousers or jean shorts, if you wish. However, if you want to show off your toned midriff on a hot summer party a black high waist shorts or an A line skirt could do the job when mixed with the right pair of heels. The choice is all yours!
Pastels
What's Summer—without pastels?
You gotta love pastels! One cannot simply have a bad day when dressed up in mint green or light orange. It's almost against the law of nature! Last summer was the summer of mint green for many of us, and we loved it so much that we are pretty sure that we will repeat the story once again. But no matter what pastel you choose to wear this year, you surely can't go wrong. When it comes to pastels, according to us, dresses are the one pick: you can pick among the variety of maxi dresses for both formal opportunities and some casual summer outfits. If however, you are no fan of maxi dresses (but we doubt that is even possible) you surely can find a shorter version, and what is even better: for any kind of figure. Another great thing (this list seems to be endless!) is that you can mix and match with high heels, platforms or flats. In that way, you can make one dress be fit for party, casual, or formal occasion. And that is just great!
The Great Comeback of Shift blouses
What blouse looks amazing no matter what material it is made of?
Shift blouses were a thing when... Well, when my Mom used to hit on my Dad. And now they are back (not the seduction period of my parents – but the blouses!) and they are better than ever. And what is so great about them? Well, they are not closely fitted to your body, and they look amazing regardless of the material they are made of: and that makes them absolutely perfect for summer. But if you wonder: 'Why not use regular T-shirt?' The answer is simply because shift blouses give to your summer outfit a note of seriousness, but in a very fashionable manner. Patterned shift blouses are a statement on its own; the rest of the outfit combination should be as simple as possible and not with much accessory. However, if you go for a plain version (pastel would look great, too) a fashionable choice of accessory and the choice of the bottoms can switch the entire combination from more formal to one of the cute summer outfits.
Wide-Leg Trousers
Spring into Summer in your favorite pair of sweatpants!
There is no feeling like getting home from a long day at the lectures and jumping into your favourite pair of sweatpants. Right? And due to that feeling many of us are more than glad that this trend has finally made its comeback. And when summer outfit ideas are in question, they seem to be the best thing that has ever happened to us. Thanks to light materials, and gorgeous patterns that are now a thing, we can make wide-leg trousers appropriate for any occasion. White or bright colored combine with flats are great for a walk in a park or for as a part of a cute summer outfit for a movie date. But that doesn't mean that with an appropriate top and choice of accessory you can't figure out some of the great party outfit ideas, au contraire!
Tip: You can set your midriff free, too. Just make sure to bring something like denim jacket for when it's time to go home.
Long Waistcoats
Waistcoats have their own way of making our outfits looking incredibly trendy, but they can be quite challenging to combine in an outfit sometimes. So what makes Long Waistcoats so much simpler to mix and match? Though you probably can't think of an answer quite this moment, you know it is true. So let's have a closer look.
It's precisely the length that makes this type of waistcoats complete our outfits so they look so chic and elegant no matter what we wear under it. That is why we get to complete them with both ripped denim shorts or frilly skirts. A well-designed waistcoat made of easy material will accentuate your figure while still not leaving you devastated with heat. Another extra good side: It goes excellent with bare midriffs.
Printed shorts
Wonder what is the big deal with all the printed shorts? Well, as we all know, shorts are quite easy to include in a decent summer outfit. Furthermore, we all love to do that as they can be so comfy. So what's with all the print? Apart from drawing attention, and being a statement piece on it's own, a printed item of clothing can make things look more "contoured", so to say. So, if you don't have a lot of assets you can flaunt, printed shorts can make you feel different, while at the same time being incredibly comfortable.
Just try to not overdo it. If it's matching print: It could work. Otherwise, keep tops monochrome, possibly pastel, and work your way through accessory that would match the combination.
What could go wrong when trying to put together the perfect summer outfit?
You see? You can mix and match and almost never go wrong when this year's summer outfit trends are in question. No matter if you are free spirited and you like to explore or you are down to earth and like to keep it simple: you can adjust every trend to your own personal style and taste. If you feel like a lady and you want to show it, you can't go wrong with maxi dresses: pastel colored or patterned, whatever you wish. If you worked hard to tone your legs and you want to show off, shorter dresses and A-line skirts can go great.  If you want to be more like Lorde, show some skin, but do it with style. And keep in mind that today's fashion is all about freedom, and rules that once applies do not apply any more. Feel free to explore various summer outfit ideas and enjoy it!