The day of love, love, love is just around the corner! Is your heart going thump-badump crazy with excitement and anticipation for Valentine's Day too? And more importantly, have you picked your love-inspired outfit already?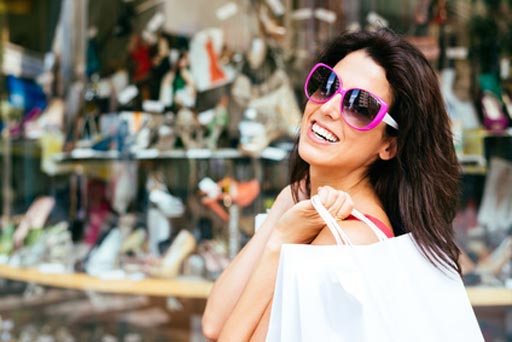 If you haven't yet, don't you worry, we're here to be your fairy godmother and give you Valentine's Day outfit ideas through these cute shoes. Look carefully now because, as you must know too well, the pair of shoes you choose can make or break your outfit. Read up; choose your favorite pairs, and…viola!
Here comes a flood of inspiration for a lot of possible cute date outfits!
The cutest monochromatic pink flats that will make you scream out lout, "I love my shoes!"

Whoever wears this pair of Darling Bow Flats is practically screaming, "I love cute shoes!" Oh yes, we get you girl! These ones are almost too cute for words. They're just the right shade of pink, classy, elegant, and topping it off with a simple bow. You can match this with almost any kind of printed or floral dresses or plain ones, in another shade of pink if you're into a monochromatic style. After all, we're celebrating love.
Perfect flats for any date outfit that won't break your wallet

They may be called flats, but your outfit would certainly not look flat with them! Made of fabric with crocheted material and a slip-on style, this pair is perfect for many date outfits including skirts, dresses, and jeans. It comes in three colors too?beige, coral, and black. (We can't decide between beige and coral!) And the upside these cheap cute shoes are yours for only about $10.
Really cute slings that would go well with a spagetti strapped dress to wear on Valentine's date night

These Trina Open Flat Slings are really cute shoes with a little hint of sexy. The gold and brown tones combined with the gemstones gives off a charming and quirky appeal. We imagine this pair with light and spaghetti-strapped dresses or a more comfy style made up of blouses and shorts. A good look to wear on a Valentine's date with friends, wouldn't you say?
Stylish flats with floral design to help you get away with the plain shirt and dark jeans look

Oui, mademoiselle! Another darling, this pair of cute shoes for women. The floral design and flat heels just spells stylish but practical. Match these sweet ones with a plain shirt and some dark jeans?the picture of a woman with a can-do attitude or the type who pays half of the dinner date bill with these Darling Floral D'Orsay Flats.
Slings that go with just about any outfit, which make figuring out what to wear easier not to mention 4 inches to your height

If Thatcher Wedge Slings were a woman, she would be cute with a serene attitude and a secret crazy streak! The neutral but rich tones of these shoes make them versatile for any kind of outfit you pick. And for girls who are not lucky enough to be as tall as models, the 4-inch wedges are definitely a bonus!
Irresistible boots to keep on V-day

Go ahead and tell us just how cute Tiffany Slipper Boots are! So they're properly called boots but, really, this design with its combination of colors can only be described as irresistible. Well, they're also warm, comfy, and cozy. You can pair these shoes with tights and long, loose blouses or with a pullover sweater and a short skirt over dark leggings. If it's cold outside on V-day, you know which pair of shoes/boots to choose.
Cute and rugged booties to wear with skinny jeans and a blouse

Everyday Lace-Up Booties are a mixture of cute, sophisticated, and rugged. The sort-of gradient coloring plus the stacked heel and specially the lace-up top is definitely an a-okay signature of a Valentine's best-dressed award. Put on some skinny jeans and a buttoned-up blouse or shirt and these booties and you're ready to walk the walk of love day fame.
Cute and gorgeous sandals to make you look fantastic whether you are wearing a dress, jeans, or a blouse on data day

Luxe T-Strap Sandals may not be officially 'shoes' but they made it to this list just because they are that cute and gorgeous. Available in black and blush (either color is fabulous) these sandals feature a T-strap, knotted ankle straps, and a buckle closure. This minimalist design and elegant look will look fantastic with a dress, jeans and shirt, or blouse and shorts. The perfect cute shoes for a day date.
Minimalist slings to wear with Capri pants and a sleeveless top for the simply yet chick look

Here's another pair with a minimalist and chic design, Phiona Gore High Wedge Slings. You can get these shoes in two colors, black and white. We think both hues look great! If your outfit consists of a pedal pusher or Capri pants with a sleeveless top, then this pair of wedges is your best bet to get that simply yet chic look.
Athletic yet stylish wedge sneakers to wear with skinny jeans and a sweater

So you're kind of like Sporty Spice who's the athletic and stylish type? Put that winning punch on your Valentine's Day look and 'knock-out' your date with these Brave Voyager Wedge Sneakers. The gorgeous ethnic-inspired pattern combined with the edgy-feel from the contrasting blacks and whites design will match well with skinny jeans or leggings and a loose shirt or sweater. Wear the Brave Voyager and show your love for the active lifestyle with a fashionable flair.
Heeled sandals that look great with a dress and even jeans

Must-Have Platform Sandals are just the right mix of dainty, sexy, and bold. These platform sandals are available in black, grey, and blue. But we think the blue ones are the ultimate must-have. Made from faux suede with crisscross ankle straps, buckled closure, and 4.5-inch heels, these blue ones will look fantastic with a short black dress, a trouser dress, or even with a laid-back look of blouse and jeans.
Optimistic slippers to keep your feet warm if you happen to come out dateless on Valentine's Day

Finally, for the dateless girls this Valentine's Day, don't you ever despair because... drum roll please... you get to choose the cutest shoes of them all, the Plush Felt Reindeer Slippers! Instead of sulking in a corner for being dateless on the most romantic day of the year, celebrate love at home with a good book to read or a bowl or your favorite ice cream wearing your cute and comfy pajamas and these cute slippers. Just think, you'll be wearing something handcrafted from Nepal by women who are trying to better their lots in life with hard work and optimism. So be optimistic yourself and work hard to change for the better or the best that you can be. Who knows next Valentine's Day you will be dateless no more!