Pool Party Ideas for the Next Roof Raiser
Pool parties can be a lot of fun, but you have to make sure you put a lot of thought in it. You will have to come up with a plan that includes decorations, food, beverages, and entertainment. To make sure that you will have everything covered, check out the tips we have gathered for you. All kinds of parties have their specific time frame. For instance, you don't start looking for unique party ideas for Christmas in June. The best time for pool parties is now!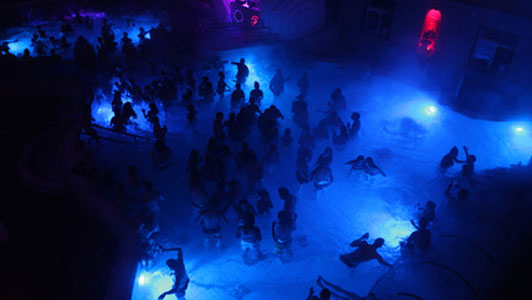 Pool Party Ideas
1. Poolside snacks
Most party ideas start with the snacks. Although you could prepare all kinds of snacks you can think of (both sweet and salty), you should also think about the advantages of being outdoors. There are some special snacks you could come up with.
2. Glow in the dark after-party
The best thing about a pool party is that there isn't too much natural light, so you can play with the lights. Make sure you add a special color through neon sticks or rings. This is something that works for both children and adults.
3. Pool lighting effects
When looking for summer pool party ideas, you should remember that the water reflects light and this gives you endless possibilities. Make sure you have lanterns or other light sources that will light the water up.
4. Pool with a movie
You can have your very own outdoor cinema right in your backyard. All you have to do is to make yourself comfortable and bring out the popcorn. Better yet, you could make it a movie marathon nobody will ever forget.
5. Fireflies in a jar
Everybody loves fireflies, so how would you like to fill jars with them? Naturally, this is one of the pool party ideas you could use and we're not referring to living fireflies. You just have to convince the guests that they are real.
6. Complimentary towels
To make sure that the guests will have something to remember you party by, you could offer them complementary towels with their names on. As obvious as it may seem, you can be sure that none of them would have ever thought of it.
Find the Best Pool Party Ideas to Make Sure All Your Guests Will Have a Blast at the Next Party You Will Organize
So, which one of the summer pool party ideas you think is the most suitable for your upcoming party? Make sure to mix and match the ideas.
1. Poolside snacks for everybody
There is no party without snacks
Everybody knows all the traditional snacks, so when it comes to party ideas, there isn't much you could surprise your guests with. Or is there? Did you ever think about offering them the possibility to roast their own marshmallows in your backyard? You shouldn't think about something very dangerous. Just get a terracotta pot and line it with foil. Add some charcoal and light it up. Maybe you will need some lighter fluid too. How long has it been since you last did this? You can be sure that your guests will be just as surprised.
To make sure that everything will go according to plan with this one of the pool party food ideas, you should update your shopping list and add the marshmallows and some biscuits. The best thing about this idea is that it works both for children and adults.
2. Glow in the dark after-party for fun
If it doesn't glow, it isn't fun
In case you are looking for party ideas for adults, make sure there will be something funky about your party. This can be easily achieved by adding some color to the scene. Neon sticks and rings will boost your decor and it will also be something for the "kids" to play with. If you are having a dinner party, you could use these to decorate the table. Throw in some glowing drink displays and fairy jars and you can be sure that the whole neighborhood will be talking about your party.
Another advantage of this one of the pool party ideas for adults is that it will bring back memories for everybody. For sure they have been to other parties or concerts where they got neon sticks and everybody will have a good time.
3. Pool lighting effects for the night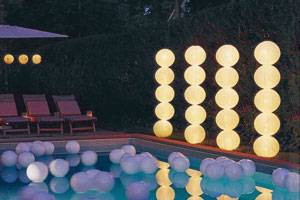 The lighting will set the mood
Depending on the results you would like to achieve with the cool pool party ideas, there are some lighting tricks you could try. For starters, you should remember that water will reflect the light which will allow you to play with it. For instance, you might want to hang some waterproof Christmas lights through paper lanterns. Secure a wooden stick in the middle of the lanterns to make sure that they will be aligned. Another idea is to put tea light candles in artificial water lily blossoms and let them float on the surface of the water. This will create a very romantic and intimate atmosphere.
Using light is crucial for the fun pool party ideas because this will set the mood. Just make sure that you also think about the activities. You have to ensure that there will be enough light so that there won't be any accidents.
4. Pool with a movie with a twist
Your own outdoor cinema
If you think popcorn and a movie are a match, you can't even imagine how well a pool works with a movie. You could watch the movie from the pool, as one of the indoor pool party ideas, or you could set up an area especially for this purpose. All you have to do is to secure a white sheet to the trees or you could also use a DIY stand. You will also need a projector, but you should be very careful with it so that it won't get wet. Now all there is left to do is to decorate the cinema. You can use paper lanterns and Christmas lights for this purpose.
For your own safety, you might want to get some pool lounges with cup holders to make sure that there will be no accidents. Once you (and your guests) get a taste of this, you won't want to watch movies any other way ever again.
5. Fireflies in a jar as decoration
Let there be light
Regardless of what kind of party you are organizing, you will need some special decorations, especially if it is a birthday party. For this one of the birthday pool party ideas you will need mason jars or some other jars with lids. Break a glow stick and empty it into a jar. You will have to shake it a bit to make sure that the substance inside will splash all over the inside or the jars. Add some glitter, put on the lid, and shake the jar. You will have glowing jars for 6-9 hours. These look nice when hung on trees or simply placed on the tables.
Naturally you can use this one of the pool party birthday ideas even if you aren't really a DIY kind of person. There are many different options for decorations of this kind that you can buy at your local home improvement store. The best thing about this idea is that it will add both color and light to the party.
6. Complimentary towels for the guests
Guests need memories
Now that you've got some pool party decorations, it is time to turn your attention towards your guests. Will there be any swimming at the party? If so, the guests will need some towels. It would be a very nice touch to get a towel for each of them with their name embroidered. This isn't something you will have to do on your own. Some souvenir shops sell towels with all kinds of names. However, if you would like to have something more special, you could also place an order and the towels will look just like you want them to. Choose white towels for an elegant touch or colorful ones for a more bohemian look.
You shouldn't worry about organizing a pool party. Just walk through the party in your mind and make sure that the guests will have everything they need. Aside from this, you can be sure that there is nothing to go wrong and your guests will have a blast. This will help you relax a bit and you will be able to actually enjoy your own party. It is nice to have some fun with your friends, right?