Monday is a great day to show off your sense of style. But so is Tuesday, Wednesday, and any day of the week! Every occasion is a chance to look fantastic on a chic outfit that expresses your individuality, your mood, and your creative spirit. For the fashionable you, there's always inspiration waiting to be found in the latest trends, vintage discoveries, and thrift finds.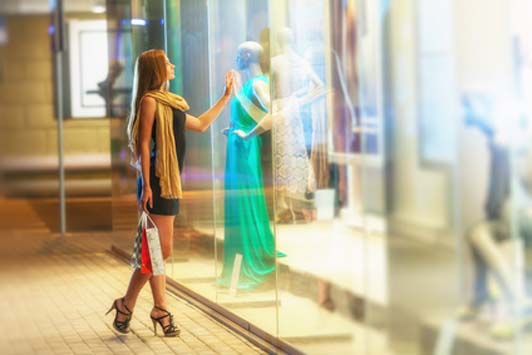 So, to help you keep up with fashion, what's in and what's trendy, we've put together a list of the best fashion blogs—from fancy trendsetters to do-it-yourself stylists to your daily outfit guide—read on and choose the fashion Tumblr for you!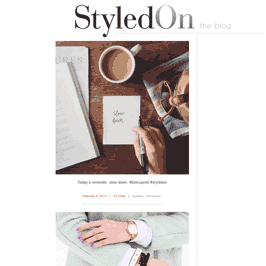 StyledOn. This top fashion blog updates you on what's new with over 4,000 brands from all over the world. Their Tumblr feed features the latest collections of famous designers, the newest accessory and décor craze, the trendiest looks, celebrity fashion and outfit ensembles, best dressed stars on gala events, favorite stylists and fashion bloggers, and even inspirational quotes and images to get you happy and fashionable through the day. They also share chic outfit picks from their online community of fashionistas.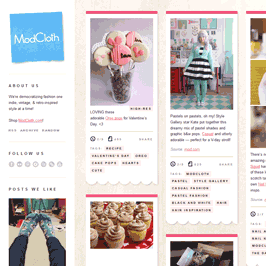 ModCloth. Do you describe your style as retro, indie, or vintage-inspired? If yes, then ModCloth is especially for you! Colorful, quirky, cutesy, pretty, darling, and unique—these adjectives definitely describe the ModCloth 'curated' goods and carefully chosen pieces. But ModCloth's cozy and vintage feel doesn't just come from their retro collections, it's also seen in the overall look and tone of their blog and website. The admins and moderators of the blog just seem like the kind of people you want to go shopping with! Plus, isn't it impressive that the founders of the brand, husband and wife Eric and Susan Koger, got in the "30 Under 30" Forbes list?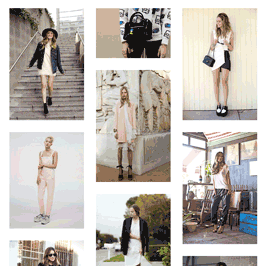 What do I wear? One of the best fashion blogs for women tries to answer the Fashionista's most important question of the day, "What do I wear?" If you're asking this question right now, this blog has some answers for you: Outfit Collages (you can mix and match a set of items), Wardrobe Essentials (browse the must-have essentials to get a certain celebrity's look), Wish List (some suggestions on which trendy pieces you should put on your to-buy list), and DIY (images showing DIY fashion items to give you some ideas on what to pursue). Also, you can submit your hip outfit and be the answer to someone's "What do I wear?"
Closet Collage. "Imagine, Express, Create." Closet Collage's words to live by. This blog does imagine, express, and create a unique and quite artsy way of showcasing the latest fashion trends for women. The blog posts striking and nostalgic collage images of selected outfits in collections from various designers. It's certainly a reminder that fashion isn't just about trends; it's also an art form. Do you make your own fashion collage too?
But I'm a Tomboy. Let's admit it. Most fashion blogs on Tumblr (and anywhere else) mostly caters to the girly girl, the fun and funky young adult, or the sophisticated woman. And that's why this fashion blog is such a breath of fresh air! 'But I'm a Tomboy' mainly features tomboy chic, menswear, and androgynous wear. Finally, a much needed and much appreciated representative of the LGBT fashion style! But don't think that these outfits are exclusively for the LGBT community only. Anyone who's open-minded could certainly take fashion inspirations and style ideas from these tomboy chic ensembles. And let's face it, wearing "men's" clothing is not only fun but cool too!
Nowness. What could be more trendy than the 'it' thing now? Don't worry though, Nowness got you covered! But the 'it' thing isn't just what this blog is about, it's also about telling stories, the digital way. Their blog feed features an eclectic mix of short videos from the likes of Gia Coppola, Roman Coppola, and Jason Schwartzman, evocative fashion photographs, and strange but mesmerizing GIFs. If you're the culturally curious who's not only into fashion but also music, art, and design, then this blog should be your next virtual destination.
Pomp & Circumstance. Perhaps what most people don't realize is that fashion doesn't just happen, it needs a context and a circumstance to anchor itself to. But let's not get too abstract, simply put, you must pay attention to the setting and the situation to be the most fashionable you. The blog Pomp & Circumstance seems to know this by heart. They understand that fashion is more than just what you're wearing; it's the big picture and everything in it. The blog features elegant fashion themes from colorful fabrics to dainty dance shoes to stylish beach hats. You can't help but appreciate your ability to see beauty in many things.
Etsy. This is one of the best Tumblr blogs for sure! Why, you ask? For many reasons, but the most important one is because Etsy encourages everyone and anyone to take advantage of their creative capabilities. Yes, you can make something fashionable on your own. Yes, you can find your own sense of style. Aside from that, Etsy also encourages people to get to know the what, where, when, how of the items they're buying. Think about it, knowing the story behind how your handmade knitted sweater gives a more special meaning to your wearing it, right? Also, you'll surely find some rare and unique pieces that would be the envy of your fellow fashionistas.
Being fashionable means different things to different people. You could be attracted to a street and hip style or a cutesy and colorful fashion or chic and sophisticated ensembles or androgynous outfits and that's okay and great. Fashion is about finding not only what you look good wearing in but, more importantly, what you're comfortable to be in and what you feel best expresses who you are. So go ahead and discover the hottest trends and styles out there, choose the outfits and pieces you like best, and don't forget to enjoy the shopping!