Summer Outfit Ideas + All You Need to Know This Summer
With all the heat recently, we can't but freak out how soon this summer will come when we are this unprepared. Some of us (cough, cough) still have to work on our muffin tops, while others are still not ready to change their skin care routine, or simply are not ready yet to cut back on those carbs. And do you even have plans for this year's vacation? It's getting really annoying, isn't it?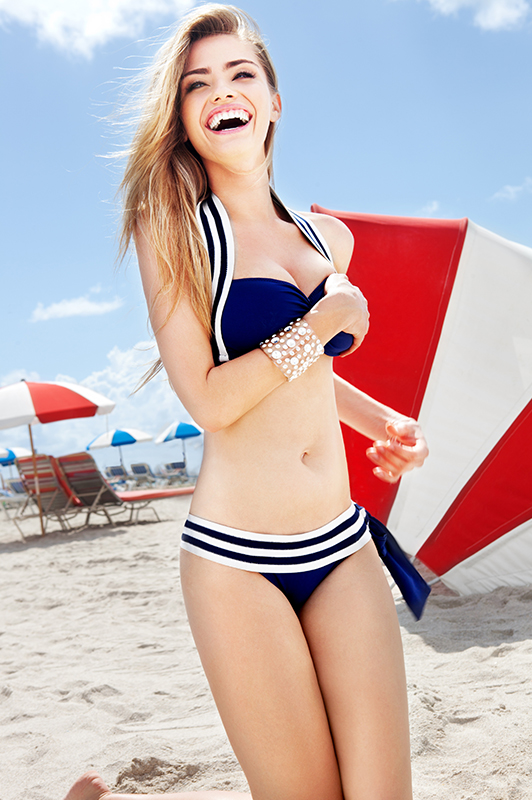 Luckily, we were thinking ahead of you. But as we mostly did that on several different occasions, we agreed to make it all the more practical and have it sorted down for you in one place.
All Your Summer Related Disputes Solved and in One Place: Round up on Your Perfect Summer, so That You Can Enjoy Every Moment of It. Cut down on Carbs the Easiest Way While Enjoying the Cutest Outfits and Romantic Sunsets
First things first: Don't beat yourself up if you still don't have the beach body you want. And please, don't let that stop you from enjoying pool parties and sunbathing. However, you still have time to bring some positive changes to that midriff.
What? Summer is actually doing what to my body?
If you're not the casual summerish person who spends most of the time in the pool, and also doesn't drink enough water on a daily basis, you'll most likely have to face the fact that you're probably going to add a pound or two here and there.
How is that even possible? Well, it's pretty much the same mechanism that makes you gain weight around Christmas, except for the Christmas trees, sweaters, and gingerbread.
Not moving enough, no exercise, just sitting around all day while the heat is slowing down your metabolism can eventually lead you to gaining a few extra pounds. And we don't want that!
Cut down on carbs! For real.
We all know that carbs and trans fat are our biggest enemies in the battle for the perfect beach body. However, we should still make sure to stick to our 5 meals a day if we want to be energized when it's still scorching hot.
Snack time is a very important part of that mission, and that is why we should pay extra attention to getting that part of our daily routine right. Lots of fruit can make that all the more easy, but you would agree that lots of fruit also go with lots of sugar. And we do agree on that matter.
However, frozen fruit is so much useful when you look from that angle. Like it or not, your portions would be smaller, it would take more time for you to finish your snack, and you would feel more refreshed than after eating fresh fruit. But that's not all: A good summer snack can mean so much more.
This season vegetables could be your signature sign
While chopping your veggies, have you ever wondered what is it that that specific kind in your hand can do for your health? Probably not, but that doesn't mean that you shouldn't start thinking about it right now.
If you feel that you definitely should change something about your diet, but you don't know why, or it still seems that you're still missing out on some important info that could help you improve your healthy diet plan, it's probably something from the area of the article on the summer veggies that are really useful while, at the same time, being budget-friendly.
Who would have known that unripe soy beans known as Edamame can boost your estrogen levels? That boost can bring balance back to your hormones, while at the same time working on unclogging on your arteries. And we know how important that is.
We all need a bucket list in our life
Otherwise, what else would give us the motivation to get up and get moving every morning? You know just like we all do, that at least in our mind, if not on paper, all of us have a list of things we would so much want to make a reality.
Let this summer be the summer of your list. Compose your own summer bucket list filled with bucket list ideas that will make you enjoy every bit of these amazingly warm months.
To help you start on this one, we have made our own list, but you feel free to check it out and steal a couple of ideas for yourself. We promise you won't get bored with it. There's something for anyone in there. From enjoy different kinds of animals to visiting music festivals, you can make a memory in a way that can also easily be budget-friendly.
Enjoying summer trends
Thankfully, the fashion industry has made it so easy for us to follow the trends in the several past seasons. Furthermore, you'll see that this year we are simply going to have to enjoy them to the fullest. The prints are incredibly interesting, the colours are so easy to match, and it seems that the so wanted effortlessly chic look has never been easier to achieve with the trend of long waistcoats.
And don't get confused: The waistcoat we should be looking for is the one made of flowy, easy materials. And when it comes to crop tops, just make sure that you try it on before shopping, because you don't want anything feeling stuck and uncomfortable, or overly free in such a tiny clothing item.
And one think we may have not mentioned earlier: Opt for comfortable gladiators if you don't know what else to go for. You won't be mistaken.
What it all comes down to:
If you want to really enjoy this summer, there are some of these ideas always at a hand's reach. If you will, make a list and attach it to your mirror, or type it into your phone.
Drink lots of water, be active, cut down on carbs, freeze your fruit, crop your tops, pet lovely animals, and explore. Don't waste your time: Enjoy it. Trends will go out of fashion, music hits are going to change, your life goals are going to change. But you are the one making your memories. Don't let a pound extra here and there ruin your mood. The same goes for negative people. This is your summer.