What to wear with your denim jacket
Season after season, denim jacket remains our loyal friend for numerous trendy outfits. It's a staple piece of clothing that every girl should have in her wardrobe. There are all kinds of denim jackets but the truth is the simpler the jacket, the more various outfits you can pull. A denim jacket can dress down an outfit, but also make it look more trendy and fashionable.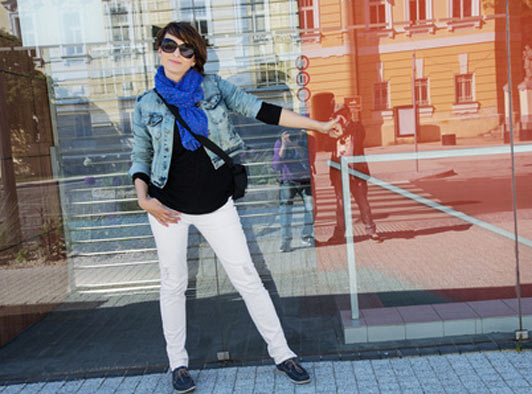 Although you can wear your denim jacket with almost anything you have in your closet, here are some ideas that might help you put the outfits together and get few extra minutes of sleep in the morning.
Tips and Ideas on How to Put Together Outfits with Your Favorite Denim Jacket for Every Occasion
When it comes to choosing an outfit for a particular day, our mood often affects our judgment. There are some days when we only want to feel comfortable and some other days when we want to be sexy, trendy and fashionable. The thing is, that your denim jacket can be worn in both situations and with appropriate accessorize give you any look you want to achieve. Bellow, you'll find outfits ideas for any occasion and every mood.
1. Keep It Simple
Let's start with the simplest thing you can do. Denim jacket is your best friend if you want your outfit to be easygoing and casual. Basically, this one is something you can wear every day. What you need is a pair of trousers in any color or pattern, simple t shirt and your denim jacket. You can also roll up your sleeves and add some bracelets or a watch to make the outfit complete. When it comes to picking the right shoes, you can wear anything you like depending on your mood, or weather. Shoes will definitely determine to what extent your outfit is simple and casual. You can wear sneakers or flats if you want your outfit to be casual, or you can wear high heels or platforms when you want to look dressy.
2. Denim on denim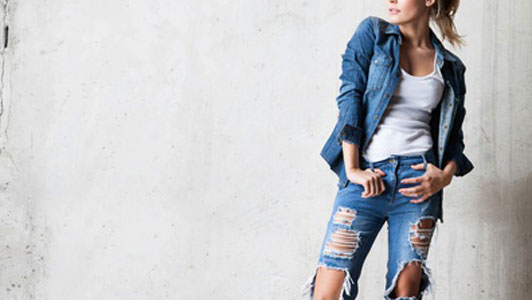 Should you even consider wearing denim on denim?
For those of you who wonder whether you should wear denim jacket with denim jeans, the answer is yes. Denim on denim was fashion don't until recently but nowadays many fashion magazines actually state that denim on denim is a fashionable combination. Therefore, don't feel afraid to pair your favorite jeans with a denim jacket. What you should avoid when it comes to denim on denim is matching the denim wash of your jacket and jeans, because it can make you look uniformed. But every other combination including double denim is completely ok. Denim on denim is combination which leaves you a lot of freedom to experiment with colors and patterns when it comes to the top you're going to wear and shoes. I'd recommend wearing a simple monochrome top and adding a pop of color with your shoes and bag. It's really quite simple and casual but still trendy and fashionable. In addition, a nice outfit for summer is achieved by pairing your denim jacket with denim shorts which could be lighter or darker than the jacket. Chose a floral print sleeveless top or a ruffle top which seem to be very popular this season and they'll give you the feminine look which would be a good contrast to your denim on denim combination.
3. Rock Chick
If you want to achieve edgy look, pair your favorite black leggings or black skinny jeans with an oversized top, ankle boots and a denim jacket! You'll have simple, trendy, edgy outfit! Don't forget sunglasses and put your hair up in a messy bun to complete the look.
Denim Jacket with Skirts and Dresses
You can wear your favorite denim jacket with all kind of dresses and skirts. Depending on whether you're going for a walk, for a drink or to a club and, here are some suggestions how to pair denim jacket and create perfect outfit for every occasion.
4. Romantic Look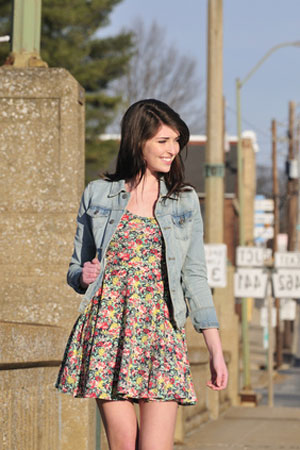 Go floral
If you want to achieve a cute, summery look with your denim jacket, choose any short dress in floral print and pair it with sandals. Depending on the print of the dress you can put a necklace or a stripe around your waist. Instead of sandals you can choose sneakers and achieve romantic but still relaxed and casual look which is perfect for day time.
5. Trendy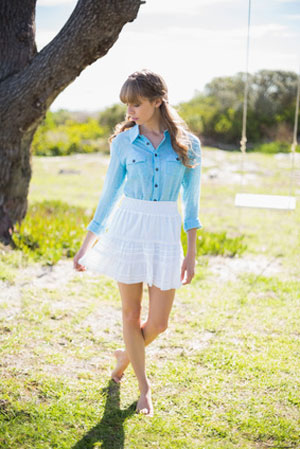 Denim jacket with skirt
You need pleated skirt in your favorite color, a blouse that you can pair with it a hat and ankle boots or flats, and of course your denim jacket. This outfit is trendy and perfect for occasions when you want to dress up and achieve somewhat lady-like look. If you want your look to be more relaxed, complete it with an oversized bag and sun glasses.
6. Denim Jacket with Maxi Dresses
Maxi dresses are perfect for warm weather, because they are thin and flowy. But when you go for a walk at night, for example, or you're out whole day you need something to keep you warm but also to make you look trendy. Denim jacket is the perfect choice. Maxi dresses are best paired with sandals and this outfit will look great with a straw hat which will give the relaxed, beachy look.
7. A Night Out
If you want to dress up and go out with your friends, this is also the occasion when your denim jacket may come in handy. Choose your favorite short dress and your perfect high heel shoes. Denim jacket in this outfit adds more youthful look and covers the skin which is great for the girls who feel insecure about their top part of the body and those who want to avoid going bare shouldered. You can really experiment with this outfit by adding all kinds of accessories. It all depends on how dressed up you want to look.
8. Last but Not Least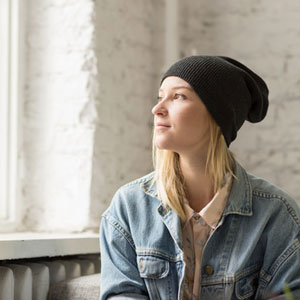 Something a guy would wear??
Here are some must have denim jackets and suggestion on how to wear them:
Regular simple, light washed denim jacket-goes well with any outfit
Crop denim jacket- perfect for simple outfits paired with jeans, trousers in bright colors or high-waist skirts
Oversized denim jacket-best paired with skinny black jeans or black leggings and you will probably find one in your mum's closet
Denim vest- goes perfect with dresses, t-shirt and trousers.
Denim jackets became very popular and necessary item if you want trendy fashionable combinations for every day, a night out or for special occasions. It's a piece of clothing young girls adore and there are so many ways you can wear them so you never look the same. One jacket in different outfits can really change the way you look. You should just choose the combination you like the best. Enjoy experimenting and don't forget to add something unique that will be a personal statement in every outfit!