How to wear a denim shirt
A denim shirt is a timeless piece that never seems to go out of style. Although it has been around for centuries (who's counting?), a lot of women still have questions about it (specifically about what to wear with a denim shirt). Luckily enough, girlstalk has got your back.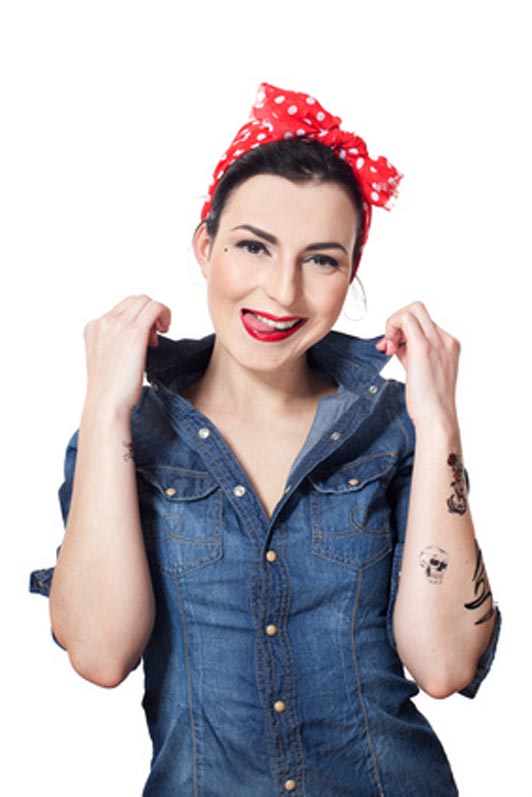 What to wear with denim shirt
1. Other denim
2. Black skirt
3. Floral print pants
4. Maxi skirt
5. Leather
6. Layers
7. Leggings
8. Knee socks
9. Sequins
Ways to Wear a Denim Shirt and Look Good Wearing It
Worry about what you are going to wear with a denim shirt no more! Here are some ways to spend more time wearing denim than worrying about what is good to wear with a denim shirt, if you catch my drift. Here you will be presented a wide array of ways to wear a denim shirt or denim in general and for sure you will get some ideas that you will be able to implement in your everyday life.
1. Denim on Denim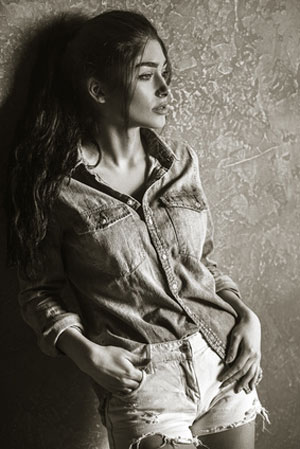 In case you are asking how to wear denim on denim for sure you have heard before that this is a major no-no. However, the truth is that you can have denim on denim under the right circumstances. The key is for the shirt and the pants to be of different washes. If they have the same wash your look might become monotonous and dull so you need something to play it up with. The secret is that the stronger the contrast between them, the better. For instance you could rock pair of light blue skinny jeans with a dark blue shirt or vice versa.
2. Wear it like a jacket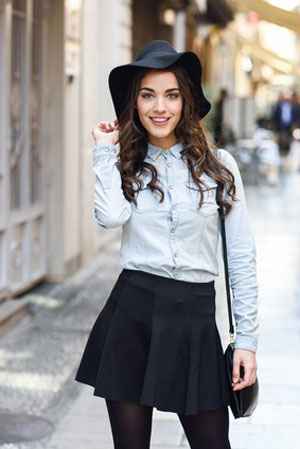 The women looking for ways to wear a denim shirt ought to remember that these pieces are considered to be neutral in the fashion world. This means that you can wear almost anything with them. Besides this, they are also multi-purpose. As a result, you can wear your denim shirt as a light jacket on cool summer days. For instance you may match a white tank top with a black mini skirt and throw in a denim jacket to make sure that you won't be cold. Optionally you could have a pendant necklace as well to spice your look up a bit.
3. Mix and match but make sure you the patterns on your pants matches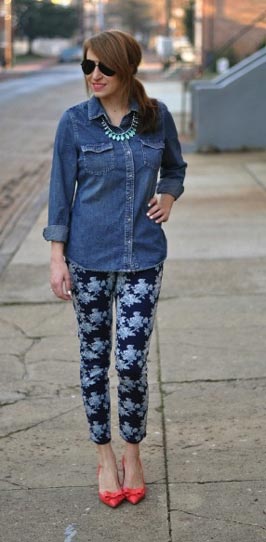 One of the most important questions that women have regarding wearing denim shirts is what pants do you wear with denim? As it has been mentioned before, this is a neutral piece, do you can wear almost any kind of pants. You can wear shorts, skinny jeans, or tights, but one of the most fashionable pieces is the printed trousers. This is a combination that you simply cannot go wrong with. Just think about a simple denim shirt matches with a pair of black trousers with blue floral prints.
4. Wear it with a maxi skirt
There are some pieces that women simply cannot imagine when it comes to what to wear with a shirt and one of these pieces is the maxi skirt. This has been a fashionable item for quite some time now and you should really use it in order to show off your casual side. Wear your shirt with the sleeves rolled up and with a knot at your waist. In order to achieve the perfect effect, you should mix it with a pastel colored maxi skirt, such as bright green. Although the combination looks fabulous, this is suitable only for the women who don't mind showing off their abdomen.
5. Leather over denim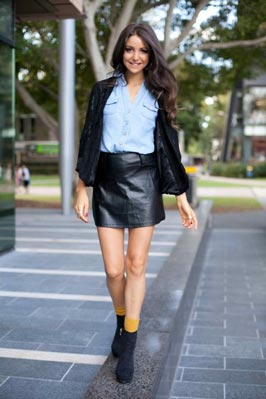 The truth is that the answer to the question how to wear a denim shirt isn't always obvious. Besides the traditional ways there are some bolder and more daring ones that may suit you perfectly. For a wilder look you might be interested in mixing the shirt with a black leather skirt. If you have a slim body and you feel bold enough, choose a fitted skirt; otherwise you could go for the pleated ones as well. In order to finish your outfit you could wear a pair of ballet flats, but to achieve a more daring look, opt for ankle boots.
6. Think in layers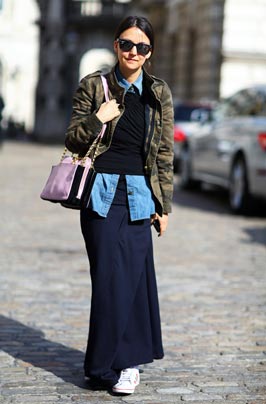 One of the best things about the denim shirts is that you have an infinite ways of layering. So, when it comes to what to wear with denim shirt, the answer is that you can wear almost anything. For an intriguing look, you might be thinking about layering your denim shirt with a black jumper and a khaki jacket and a maxi skirtfor maximum impact. In case of this style it is best to go for darker colors, otherwise you might end up looking like a circus clown. Let's not forget that this is casual and somewhat sporty attire, so you may want to finish the look with a pair of bright colored flats.
7. Make sure you have the right leggings
The majority of women are reluctant about wearing skirts, so they are looking for pants to wear with denim shirt. If this is your case and you have a figure that you don't mind showing off, the best option for you to is to match the shirt with a pair of black leggings. This is the simplest way to achieve an effortless yet fabulous and chic look. You can keep things simple by finishing the look with a pair of boots, or throw in a pair of high heels and some metallic accessories that will catch the eyes of the people who pass you by.
8. Pull up some over knee socks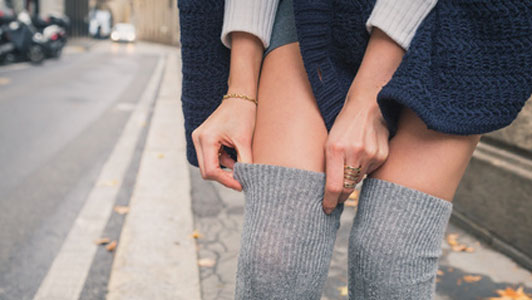 In case you are running out of ideas regarding what to wear with denim shirts and people keep nagging you about what do you wear denim shirts with, there are still some pieces that you may have never thought about before such as tights. For a collegiate look you could be thinking about matching your denim button up with high waist shorts and a pair of tights. Make sure that you wear your shirt tucked in so that it will enhance your waist. The key of this look is to play with different textures such as tweed, velvet, and so on. However, you have to make sure that you will stick to a single color scheme to keep the look together.
9. Cover yourself up with sequins
Nobody ever said that you have to stick to a casual style when you're asking what to wear with denim shirts. In fact there are many different pays to play up your shirts, such as mixing them with a pair of sequin shorts. Add a white blazer, a pair of high heels, a statement necklace and you are ready to party. All in all we can say that the answer to the question what do you wear with a denim shirt is totally personal, but you can broaden your horizons by giving a shot to the ideas presented.