Reinvent yourself with denim on denim
Most of us know the basic rules of fashion, problem is most of us has long since realized that these "basic rules" changes with each generation. Styles and trends rotate and chances are what is in today will go out tomorrow, with the possibility of resurfacing ten years down the line.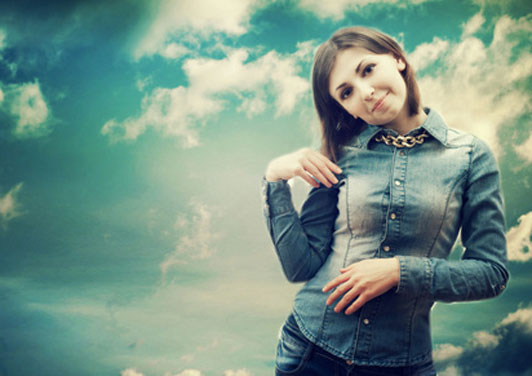 So we might think we have the basics; no plaid and stripes, no floral with stripes, but…
What about the new denim with de denim on denim?
Isn't this a bit off where being stylish is concerned?
Who would have thought it would be one of the hottest trends?
Dive into denim on denim.
6 Ways to Rock Denim on Denim
Here are some hot ways to make denim on denim rock and reinvent your look from head to toe.
Denim jacket on denim dress
So we all know that a cool denim jacket is a great investment to have in one's closet. It is easy to match it up with your other clothing even if the shade is a little different.  In fact you can wear a denim jacket with almost anything you find in your closet. But what other denim can you match it up with? Is it possible to wear it with a denim dress for example? You don't have to be a fashionista to rock this kind of look. A rocking hot denim dress can nicely be complemented by an equally hot denim jacket. If you don't want to look overly "jeansy" add your own style to it. One simple way to make this combination really stand out is to ensure that they are both of a different shade and texture.
Denim shirt on denim shorts
Who says a girl can't look sexy in a shirt? Well a girl can certainly look extremely hot wearing a sexy denim shirt. The great thing about this look is that you can actually wear it in different ways. You get to style it however you want. If you are edgy when it comes to having your top tucked in then you would be happy to know that wearing your denim shirt neatly tucked in a pair of denim shorts is one of the cutest looks. You can wear matching shades denim to make the overall appearance looking more uniformed or you can opt to be different and mismatch you outfit. When it comes to denim, being mismatched is definitely in engaging conversations.
Denim skirt on denim vest
Have a pair of denim skirts but have no idea what to wear them with? This is another great match made in heaven when paired with a denim vest. There are so many different styles denim skirt designs out there, you might get dizzy just trying to find the one that you think is a perfect fit for you. Denim on denim styles is endless. You can easily choose the style skirt that fits you and try to find a suitable top that will make a great impression. Find a shade vest that matches your skirt and your outfit is complete.
Denim vest on denim short
If you have beautiful legs that you want to show off, then donning denim shorts is a sure win for this one. Everybody likes denim, but not everyone can rock the denim on denim. Short sexy denim shorts are the best way to pull attention to a part of the body that you are proud of. Needless to say long denim shorts can still make you look charming. Just add a sleeveless denim blouse to it and you have once again completed a fantastic outfit.
Denim anything on denim pants
If you have a sexy pair denim pants that you want to show off you can find so many different styles of denim top to match them up with. Choose a dark denim pants and top it off with a light colored long sleeved denim shirt. This is a gracious way to look modest and still rock denim on denim style like a celebrity. In the same way you can match it up with shorts, you have the option of leaving your shirt in or out and or an even more retro style, just leave a few of the lower buttons undone and give it a cute tie. This is a poster girl style of the eighties but the look has never really gone out of style. You can also match up your denim pants with a denim vest. You can pair up your denim top and bottom while still incorporating your other favorite pieces in your closet. So your denim pants, denim vest and one of your favorite top can prove to be a stylish combination.
Another way to match your denim pants
Denim trends are timeless. There are no set rules to how you can mix and match as it all depends on what shades and textures brings out the best in you. It also depends on what your favorite denim pieces are. You might not like wearing denim skirts but enjoy wearing denim pants. The great thing about this trend is there are so many ways to mix and match; try different shades. Does a darker shade on top looks trendier than if you switched them and had the lighter shade on top? Look also at different textures. Which do you prefer, a full suit of light textured denim or to wear the light textured top?
Gone are the days when it is only stylish if you match up the denim shades. While having your denim shades perfectly matching is still trendy there are no current rules that say you can't stray from this norm. Switch the shades however way you like and see what fits you best. Your best style might not just be what is out there but what you feel most comfortable in.