Party Snack Ideas to Keep Your Guests Happy
When looking for party snack ideas, you should think about snacks that your guests would appreciate. If it is a summer party, consider the more refreshing snacks, while if it is a night party, make sure you serve healthy midnight snacks. You don't have to worry about preparing very complicated recipes; just go for those you are sure you can handle and your guests will be happy with. It doesn't really matter what snacks you prepare as long as you present it in a mouthwatering way. This advice is most important for the women who don't really know their way around the kitchen.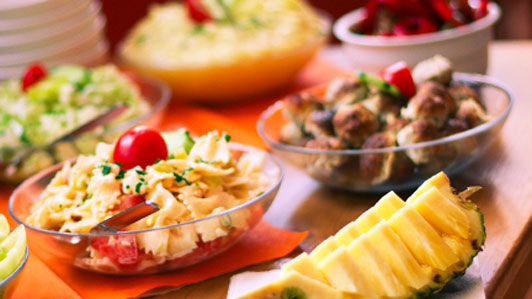 1. Fruit parfait
There are no snack ideas simpler than fruit parfait. As fancy as it may sound, it only consists of yogurt and fruits placed in layers. You can choose any fruits you'd like or those that are in season. There is no way to go wrong with it.
2. Salami and cheese
Just as the name suggests, this is a simple snack to prepare, but you can be sure that soon it will become the favorite of your guests. The best thing about it is that it is easy and fast to prepare, so it is just perfect if you are running out of time.
3. Hummus
When looking for easy party snack ideas, you should consider preparing hummus. It is both healthy and tasty and there are numerous different ways for you to prepare it. As a matter of fact, you could prepare several different snacks using hummus.
4. Grilled chicken wings
You shouldn't be thinking about simple grilled chicken wings; add some homemade sauce to them to make the snack truly special. Make sure that you don't use any store-bought sauce to cut back on the sugar and calories.
5. Blue cheese salad
When people hear about salad, they instantly think about a mixture of ingredients. It is time to show your guests that there are other ways to serve a salad as well through this one of the birthday party snack ideas.
6. Garlic bread
If there is one classic party snack, garlic bread it is. There is no one person in the world who doesn't like garlic bread, so there is no way for you to go wrong with it. The good news is that it is very easy to prepare, so you will be able to handle it even if you aren't a magician in the kitchen.
Prepare the Best Easy Party Snack Ideas to Amaze Your Guests and to Make Your Party One to Truly Remember
So, which snack ideas to choose? Is there one recipe better than the other? The only way to find out is to try all of them.
1. Fruit parfait – simple but amazing
Preparing this one of the party snacks starts with finding the right glasses or mini jars you are going to serve it in. It is important for the end result to look nice and you should make sure that your guests will be able to truly appreciate all your hard work. Start by slicing the fruits of your choice into ? inch cubes. Think about fruits like mangos, kiwis, strawberries, pineapples, or any other fruit in season. Add a layer of fruits to the glass and top it with a layer of low-fat yogurt.
Add the layers until the glass is almost filled. Then you can decorate it. In case of the party snacks ideas presentation is very important. The snacks need to look nice. This is why you shoul add some almonds to the top to make the snack look more appetizing.
2. Salami and cheese – nothing too fancy
When looking for easy party snack ideas, you should know that it doesn't get any easier than this. You just have to buy the salami and the cheese. There are no rules as to what kind of cheese you should get, but it is a good idea to try using Manchego cheese. All you have to do is to cut a piece of the cheese and wrap a slice of salami around it. In order to make the snack even more interesting, you should add a green olive as well and drive a toothpick through the whole concoction. As simple as this may sound, you can be sure your guests will just love it.
Instead of the green olive, you could also add a Fava bean to the mixture. This is rich in protein and it will only make the savor of the Manchego cheese more prominent. If you are looking for simple snack ideas for parties, there is no way for you to go wrong with this idea.
3. Hummus – healthy and tasty
You can be sure that your guests will just love this one of the party snack ideas for adults. As a party snack idea, you could prepare the hummus with mint and pea and serve it on crackers. For this you will need water, green peas, salt, mint, tahini, and flatbread crackers. You just need to cook the peas and let them dry and cool. Add them to a food processor along with the mint leaves and the tahini. Blend the ingredients together and season them with salt. Break the flatbreads in three and add the mixture to them.
Another way to serve hummus is by preparing a hummus guacamole dip. For this one of the party snack recipes you will need guacamole, hummus with garlic, black beans, and medium salsa. All there is left for you to do is to mix all the ingredients and serve the dip with crackers. This isn't only a fabulous party snack, but also a great idea for dinner parties.
4. Grilled chicken wings – and all-time favorite
In case you are looking for easy snack ideas, think about the apricot glazed wings. For this you will need some apricot jam, garlic, red pepper, Dijon mustard, chicken wings, and salt. Before preparing the snack, you should preheat the oven. Get a bowl and combine the jam, red pepper, garlic, salt, and Dijon mustard. Add the chicken wings as well and coat them with the mixture. Let the bowl cool in the fridge for about half an hour. Line baking sheets with foil and bake the wings for about half an hour. Make sure you turn them once. In the end they should have a nice golden color and they should be a bit charred.
Your guests will love this one of the snack food ideas (mostly because it reminds them of the chicken wings they can buy in fast food restaurants). Still, you can rest assured that you serve your guests a healthy snack that they can prepare at home as well.
5. Blue cheese salad – something for the gourmets
For this one of the birthday party snack ideas, you will need low fat yogurt, crumbled blue cheese, salt, black pepper, iceberg lettuce, and cooked bacon. In order to prepare the dressing, you should mix the yogurt, blue cheese, black pepper, and salt. Crumble the bacon into small pieces and set it aside. Cut the lettuce into quarters and cut small wedges from them. Place these on napkins or plates and add some of your salad dressing to each of them. In the end add some crumbled bacon as well.
When preparing this one of the party snack foods, you should know that you can find blue cheese salad dressings in the stores as well. However, preparing your own will help you cut back on the calories, not to mention that it won't contain any preservatives either. This is something your guests will appreciate about your snacks.
6. Garlic bread – everybody loves it
In case you are looking for cheap party snack ideas, you should make sure you give garlic bread a chance. The ingredients include sliced French bread, olive oil, crushed garlic, cream cheese, dried oregano, dried basil, chopped fresh parsley, salt, black pepper, and parmesan cheese. Preheat your oven and line a cookie sheet with aluminum foil. Heat the olive oil in a skillet and add the garlic to it. Mix the cream cheese, oregano, garlic, salt, parsley, basil, and pepper in a bowl. Add some of the olive oil as well. Spread a tablespoon of the mixture over each slice of bread and place them on the sheet. Add a bit of parmesan cheese to the slices and sprinkle a bit of the remaining olive oil over. Let the slices broil for a few minutes until they become golden brown.
There are numerous quick snack ideas for you to find. You will have to try all of them to know which one you and your guests like the most.