How Can You Choose the Best New Year's Food
Although you might think a party of this kind is the perfect occasion for you to show off your cooking skills, you should also remember that you don't want to be running around with trays all night. This is why you should be looking for something simple yet delicious. Nobody will really analyze the food; whatever you serve, the guests will be happy. Take a pick of the recipes we have selected for you.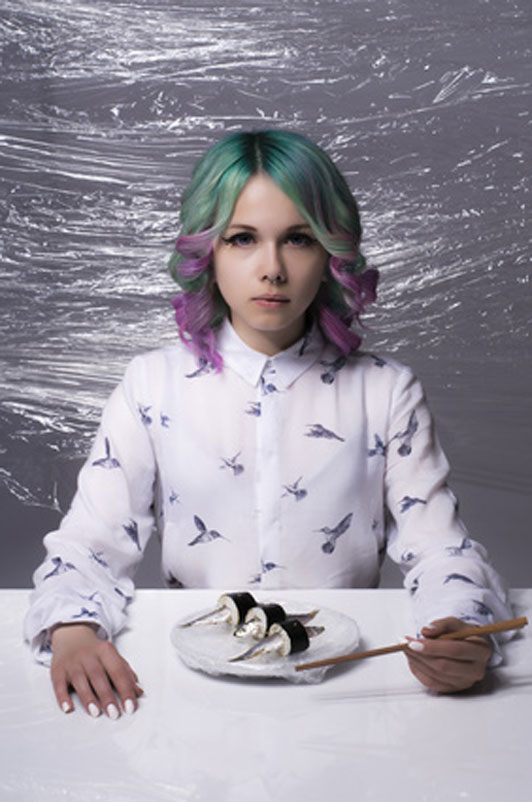 New Year's Food Ideas
1. Chicken fingers
Everybody likes chicken, right? Try this one of the New Year's Eve food ideas and you can be sure the party will be a hit. Serve it with crisp salad and all there is left for you to worry about is the appetizers.
2. Bacon water chestnut
Appetizers don't have to be overly complicated to make a good impression. Just gather all the ingredients, combine them and enjoy all the compliments you will receive from your guests for your cooking skills.
3. Mini sausage quiche
This recipe is suitable for the hostesses who know their way around the kitchen and who don't mind spending over an hour perparing an appetizer. Although it might seem complicated, you can be sure that in the end it will be all worth it.
4. Bisquick sausage balls
When looking for appetizers for New Year's Eve, you should make sure you give this recipe a shot. There aren't too many ingredients you will need and you can also personalize the recipe to make it just perfect for your guests.
5. Bacon onion appetizers
In case you are looking for a simple recipe for New Year's Eve appetizers, you have a winner here. This recipe is fast and easy to prepare, so you could give it a shot even if you aren't an experienced cook.
6. Turtle Cheesecake
If you are thinking about food for your party, you shouldn't forget about the New Year's Eve desserts either. Although there are hundreds of recipes to choose from, you should prepare something that everybody will like, such as a simple cheesecake.
Which New Year's Food Should You Choose to Make Sure That Your Guests Will Be Simply Delighted at Your Party
So, which are the best New Year's Eve food ideas for you to prepare? Take a look at the recipes and choose according to your skills.
1. Chicken fingers Buffalo Style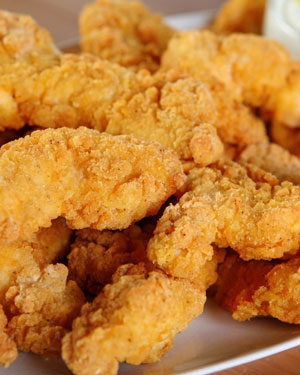 Everybody likes chicken
For this New Year food you will need crushed corn flakes, finely snipped parsley, salt, chicken breast, bleu cheese salad dressing, water, Tabasco sauce, and celery rib. To get it started, you will have to combine the corn flakes, salt, and parsley in a pie plate or shallow bowl. Then cut the chicken breasts into strips and combine the dressing with the Tabasco sauce and water in a large bowl. Add the chicken to the sauce and coat. Place the coated strips on a baking sheet. Heat the oven and bake the strips for 18-20 minutes. You could serve them with celery sticks and some more bleu cheese dressing for dipping.
The best thing about this one of the New Year's Day food is that you could freeze some of it and prepare it at a later time. You can leave the strips in the freezer for up to a month. This means that you won't have to prepare the food right before the party, leaving you more time for other preparations.
2. Bacon water chestnut appetizers
Opt for fast and easy appetizers
The truth is that these New Year's Eve appetizers usually remind people of Chinese food. Nonetheless, there is nothing Chinese about the ingredients: halved water chestnuts, bacon, mayonnaise, brown sugar, and chili sauce. You should start by preheating the oven. Then wrap each half water chestnut into a piece of bacon. Place these rolls on a baking dish, seamside down. Bake them for about a half an hour. The bacon should be crisp and cooked through. Take the rolls out and drain off the grease. In a bowl mix the mayonnaise, chili sauce, and brown sugar. Pour this cause over the rolls. Place the rolls back into the oven and bake them for another 30 minutes.
This is one of the best appetizers for New Year's Eve because it combines a range of tastes. However, you have to make sure that your guests aren't sensitive to spicy food; you don't want any incidents.
3. Mini sausage quiche with a twist
Appetizers with personality
When looking for food for New Year, you should make sure you prepare something that everybody likes. Now, who doesn't like quiche? For this recipe you will need butter, cream cheese, all-purpose flour, Italian sausage, cayenne pepper, Swiss cheese, green onion, eggs, half-and-half cream, black pepper, and parmesan cheese. Start by greasing muffin tins and prepare the dough by combining cream cheese and the flour. Place balls of dough into the muffin tins and form small baskets. Prepare the sausage and cut it up into small pieces. Add these to the baskets. Cover them with Swiss cheese and green onion. Whisk the eggs with pepper and cream and pour the mixture into the baskets. Sprinkle some parmesan and bake the quiche for 20-25 minutes. You can be sure you won't go wrong with this one of the New Year food ideas.
4. Bisquick sausage balls for a surprise
Guests love sausage balls
Don't let the list of ingredients scare you off from preparing this one of the New Year's Eve finger foods. You should have at hand Bisquick baking mix, Italian sausage, garlic, fresh parsley, cheddar cheese, parmesan cheese, half-and-half cream, dried rosemary, black pepper, cayenne pepper, and salt. Use foil to line a baking sheet and spray it with cooking spray. Then mix the Bisquick baking mix, uncooked sausage, shredded garlic, parsley, half-and-half, parmesan cheese, black pepper, and rosemary. You could also season with salt and cayenne. Mix well and shape small balls of the mixture. Bake the balls for about 20 minutes. Serve them with a toothpick inserted and some dipping sauce. This one of the New Year's Eve finger food ideas will be the favorite of both the adult and child guests.
5. Bacon onion appetizers for your guests
Easy appetizers work the best
There are numerous New Year's Eve food traditions you could follow, but why not create traditions for yourself? You could amaze your guests with these appetizers that only need butter or margarine, onion, cooked bacon, fresh parsley, and crescent dinner rolls. For starters, you will have to combine the margarine or butter, onion, bacon, and parsley. Then unroll the crescent rolls and separate them into rectangles. Make sure they can be sealed into a triangle. Spread the mixture on the dough. Roll up the rectangles and pinch them to seal. Cut them into four slices and place the pinwheels on a baking sheet.
You can get these New Year's snacks done by baking them for 15 minutes or until they get a nice golden color. You can serve them while they are still hot. The best thing about the rolls is that they don't need any special way of serving. You just place them besides the other snacks or appetizers.
6. Turtle Cheesecake for dessert
Guests will love your desserts
As you may have thought, when it comes to this one of the New Year's Eve desserts, you will need a New York-style cheesecake, semisweet chocolate chips, heavy whipping cream, chopped pecans, some butter, brown sugar, and corn syrup. Since you already have the cheesecake, all there is left for you to do is to decorate it properly. Place the cake on a serving plate. Add the chips to a small bowl. In a pan bring the cream to a boil and pour it over the chocolate. Stir it in until it becomes smooth. Let it cool while stirring. Pour the melted chocolate over the cheesecake. In the end, sprinkle with pecans. Let the cake cool.
To make sure that this one of the New Year's desserts will be just perfect, add the butter to a pan along with the brown sugar and corn syrup and melt them. Bring the mixture to a boil, then reduce the heat and stir until the sugar melts. You can serve it warm with the cheesecake or let it cool and drizzle it over the dessert. If you can't find toasted nuts, you can toast them yourself in the oven or in a skillet.