Get winter boots that are going to make your girlfriends turn green with jealousy
"Winter is coming!" True, only for Game of Throne's Westeros (Yes, we're fans of the show!). But for most people, like you and me, winter is already here and it's sapping our fashionable energies with endless snow and the relentless cold. Of course, we wouldn't let winter stop us from going out and enjoying the season's unique opportunities to show our fabulous sense of style. And when we think of stepping out of our warm homes and into the cold snow, we think…winter boots for women!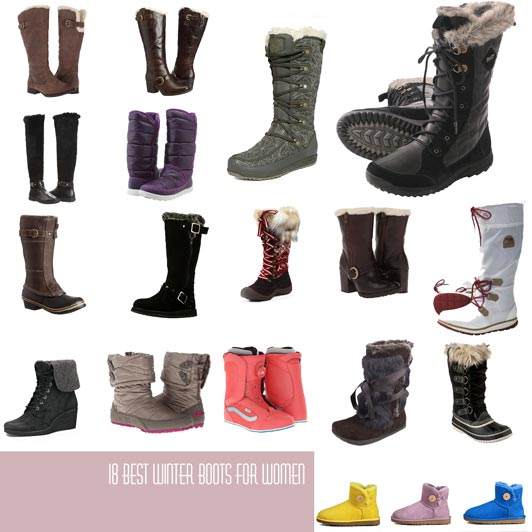 We also think we've outdone ourselves here with this selection of the winter boots for women that we have in store for you. But, no matter, we're sure you'll be glad to feast your eyes on these goodies! So without further ado, please enjoy!
18 Best Winter Boots That All Women Wish They Already Had but Don't Because the Ones They Do Have Are so Last Season
Knee-high boots
What could be cozier and perfect for your legs and feet on cold winter days but knee-high boots? Almost nothing really. So here's some warm winter boots for you to peruse and choose from.
Dark brown leather boots with buckle accents
These stylish winter boots got it right—rich dark brown color, glossy appearance, buckle accents, and not-too-high heels. Plus, the shearling lining, cushioned footbed, and inside zipper for easy on-and-off wear make them luxurious and comfortable for your legs and feet. And isn't it super cool that they are hand sewn?! The catch is that although they're already on sale, they still come at the hefty price of $230.99!
Dark caramel boots with 'crumpled' look
If you've been on countless women's winter boots sale but couldn't find the right ones, maybe this pair from Madden Girl is the one! With the marked down price of $62.99, you'll get a lovely pair of boots with a 'crumpled' effect and a woven back detail. Those buckle closures are also a nice touch. And this dark caramel color is gorgeous too!
Rugged-but-stylish boots with shearling lining
Comfort, style, and a sense of adventure—Sanja's got them all! This pair is one of those rugged-but-stylish women's winter boots that you can't resist but adore. They're hand sewn with shearling lining, lightly cushioned footbed, side zipper for easy wear, and steel shank for better support and stability.
Orange brown boots with faux fur lining
This Michael Kors pair is one of those cute winter boots for women you'd just want to have. Featuring a rich suede upper, belted strap around the ankle, cushioned leather footbed, and faux fur lining, these boots will make you look smashing in any outfit. Any this orange brown color is just sweet, right? We must say though that these cute ones come at a price—$227.50!
Water-resistant, roll-down boots
Think this winter will be the coldest yet where you are? Have no fear for Thermoball is here! These waterproof winter boots for women sure look comfy and cozy. What's more, you can fold down the collars for a different look. And we do love this purple color! You can get these from North Face at only $95.
Boots with mesh upper and lace-up detail
Want a unique and cute winter boots? Look here! This Snowcutter pair features a gorgeous grey green color, mesh upper with stitched patterns, and lace-up style. These boots also have a grip outsole and faux-fur lining for your safety and comfort. The only problem is they're out of stock at the moment. Cross your fingers!
Waterproof, insulated boots with laces
This pair of Sorel winter boots promises serious protection from winter with its waterproof feature, warm felt lining, adjustable laces plus upper gaiter, and grippy rubber outsole. They're also available in five colors but we love these white ones!
Mid-calf boots
Perhaps you fancy boots that are not too short nor too tall? These pairs are for you! Look, like, and choose!
Suede and leather boots with laces
Can suede and leather go together and look nice? These waterproof winter boots prove that they can indeed. Stylish with a hint of an adventurous side, this pair from Teva Leenawe features waterproof membrane, cushioned insole, fleece lining, rubber toe bumper, faux fur collar, and bungee lacing system.
Leather boots with dual zippers
Chic and sleek and stylish perfectly describe Rhoslyn. These fashionable winter boots is made from full-grain leather with dual zippers, shearling lining, and buckle accents. The cushioned footbed, rubber outsole, and hand sewn construction make these ones comfy and durable too.
Funky boots with faux-fur cuffs and laces
Aren't these the best winter boots or what? We just love this gorgeous design in vivid red, the generous faux-fur cuffs, and the lace-up detail. These Muks Luks boots also feature a rubber outsole and padded footbed. And lucky you, they're on a marked down price of $127.80. So get your funk on with them boots!
Suede boots with zip side and buckle accents
If you're searching for a casual-but-classy ladies winter boots, these Easy Peasy ones might be what you want. Featuring a cushioned insole, rubber traction outsole, faux fur lining, side zipper, and buckle accents, this pair from Sketchers got your comfort and style needs covered. Plus, these boots in black are just lovely!
Leather and synthetic boots with zipper and buckle accent
These boots from Sorel are a great mix of a no-nonsense style with a hint of whimsy. Made from leather and synthetic materials with a rubber sole and fleecy interior, this pair thinks of your security and comfort on a snowy day. The zipper in the middle and buckle accent add the whimsy and fashionable into the mix!
Waterproof, leather boots with faux fur cuffs and laces
For the ladies out there who likes punk, these ones are a fit made in fashion heaven. These Joan of Arctic boots are made from leather and vulcanized rubber shell in a waterproof construction. The faux fur cuffs and laces add a fashionable flair. Now you've got the right boots for that punk winter outfit you've been waiting to wear!
Furry boots with bow detail
These boots may be destined for you if you like furry, cute things. How these boots can look gorgeous and snuggly at the same time, we're not entirely sure. But we absolutely love the furry design and bow detail! This suede pair from Kalso also features a pike boot design with rubber sole and internal lining. Snuggle up with these boots and look as neat as a perfectly wrapped gift!
Snowboard boots with automatic retract lace cable
Sporty or sports-minded with a penchant for winter boots sale? These snowboard boots from Vans are for you! Made from synthetic materials with thermal lining, high-wear traction outsole, an edgy design, and dials for an automatic lace cable adjustment, this pair is made for an active lifestyle on the winter season. Plus, this bubblegum pink color is such a nice soft touch to a practical, sporty outfit.
Nylon boots with foldable cuffs
Another gorgeous boots for the athletic ones! This pair from Merrel is made from treated nylon that resists water and stains. They also feature a fleece thermo insulation lining, inside zip, durable traction outsole, and foldable cuffs for varied wear options. Yes, we absolutely love this grayish, metallic color and the fuchsia accents!    
Ankle boots
We know you want to be covered up to stay warm and alive in these cold months, but we just can't resist including these lovelies in our list. So here are some extra boots for you!
Waterproof suede boots with sheepskin collar and laces
Talk about stylish ankle boots! This beautiful pair from UGG Australia may not be on the list of winter boots on sale at $175, but its suede material, elevated heel, and sheepskin collar are the perfect mix of elegant and sensible. Style up if you dare with Zea!
Mini boots in brilliant blue, lavender mist, and banana
Finally, the cutest and most colorful three pairs of mini boots are here! What better way to ward off the winter gloom but with a cheerful attitude and colorful boots! Made from sheepskin with wooden button and elastic-band enclosure, these UGG Australia boots will just give you smile when you wear them.
What to take home with you if not the best winter boots ever!
I hope you had as much fun as I had picking these lovely boots. Remember ladies to be fashionable and cheerful this winter, especially during the super cold days. Your style and your smile will go a long way on keeping winter an enjoyable experience!