Stylish Long Coats for a Winter Wonderland Adventure
Is the biting cold of winter getting you down and gloomy? And the chilling wind freezes you deep to your bones and ruins your bubbly stylish spirit? Hey, turn that frown upside down and cheer up 'cause we got your back!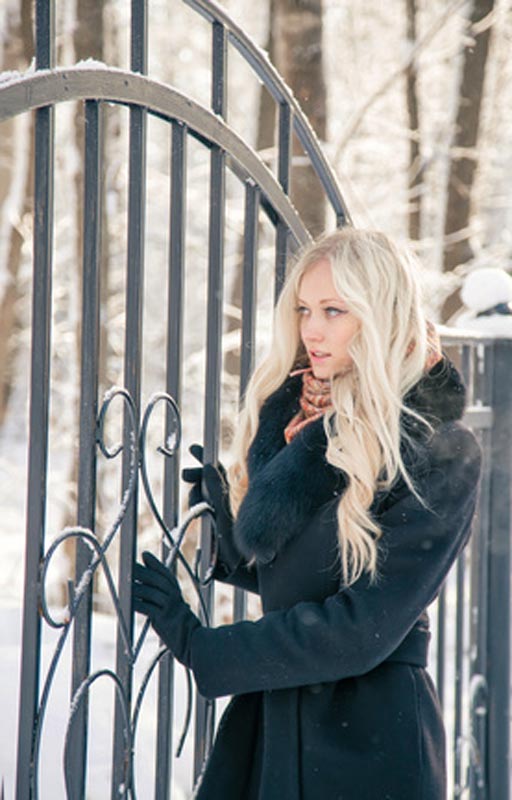 We'll show you how to make a winter wonderland adventure with this selection of winter coats for women. So show us that pretty smile, get your style notepad ready, and we'll be out on a great fashion adventure together!
11 Long Winter Coats for Women in-Style That You Might as Well Freeze than Be without
Dark Elegance
Maybe it's because winter is so white that the contrast hues of dark coats is just so appealing! Or maybe it's the inherent elegance and simplicity of dark colors. Still, it could also be because black has a slimming effect. But whatever the reason, we happily adore the dark elegance of these coats!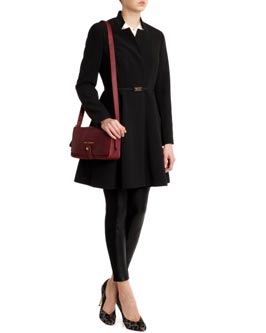 Black flared skirt coat
This black beauty from Ted Baker is a great winter coat for women. The combination of its gorgeous full skirt, long sleeves, and attached slim belt makes this coat such a lovely piece to wear. With the Oryla Flared Skirt Coat on you, you'll look chic and elegant even in a cold winter day!
Dark A-line coat with unique asymmetric design
This coat comes in three dark colors: black, ink, and charcoal. It's made from Italian wool and features an A-line slim shouldered coat; funnel necked collar, and an asymmetric front fastening. The City Monument Coat is perfect for busy and fashionable career women who won't let a little snow get in the way of their goals. Plus, its edgy and one-of-a-kind design makes it worthy to be in anyone's collection of stylish winter coats.
Long velvet coat with corset lace-up detail
This long, dark coat looks like it came out straight from a fairytale. Featuring a slim fit, soft flare from the waist down, satin linings, trumpet sleeves with faux fur trim, the Anastasia Coat will envelop you in its velvety softness and dare you to believe in magic. But the best thing about this coat is its corset style lace-up detail on the back, just like in fairytales! This is surely one of our favorite long winter coats for women.
Check duffle coat with fur trim
If you're looking for women's winter coats on sale but don't want to compromise your sense of style, then this coat is is a great candidate. Now on sale at 29% off! Featuring a cool check design, a funnel neck, toggle and button fastening, and a detachable hood with faux fur trim, this coat will get you styled up in a hip and youthful fashion. It's your go-to coat for a laid back cold day at home or fun winter activities outside. Yes, you can do snow ball fights and still look fabulous!
Bright and Easy on the Eyes
The only way to dispel the gloomy grays of the cold months is through a bright and cheery disposition. We think these light colored and lovely coats will help you feel happier and look easy on the eyes too!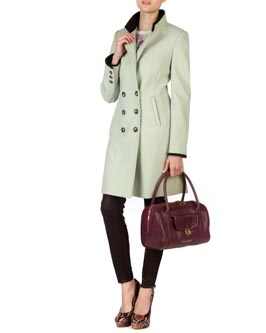 Mint double breasted coat
Ted Baker says this one is fit for a style goddess. We agree! And apparently so do many others as it is out of stock at the moment. We love this coat's contrast cuff and collar detail, metallic branded button fastenings, and double pockets. Wearing this mint color will have you oozing coolness and chic even on harsh winter days. Cross your fingers ladies for the return of Caliee Double Breasted Coat!
Wool coat with zip detail
This beautiful white coat features a graceful-looking texture and a stylish zip detail. Made from wool, acrylic, and cotton, the Biker Zip Wool Coat encourages you to seize the day with fashion on your side. It's machine washable so you'll save on dry cleaning. And if you're a student, be sure to present a valid student card to get a 10% discount from Miss Elfridge.
Semi-puff shoulder coat in rose pink
This pea coat will make your snow-filled day rosier. Its short collar and semi-puff shoulder combined with its rose pink complexion and lovely minimalist design make this coat a dear darling fit for anyone with a sweet personality. Students get a much rosier deal too since its 10% off with a valid student ID!
Beige parka with faux fur inner
This parka is probably the warmest winter coat you'll have! Its faux fur inner must feel like a much-needed warm hug in the winter season. We love its beige color, hood, and button and belt detail. What's more, this cozy coat comes at a low price of $53!
Collarless fur coat
If the previous coat got fur on the inside, this coat got fur all over its outside. Completely made from polyester and machine washable, the White Collarless Fur Coat will make you feel like a million dollars at a 10% student discount! And isn't this the perfect coat to go out on a snowy day and make snow angels?
Twill trench coat
"Hello, gorgeous! Please be mine?" Isn't this what came to your mind too when you saw this beautiful coat? This must be in every girl's wish list of cool winter coats. We love everything about this coat?its iconic design, metal buttons, funnel collar, twill details! It comes in four colors too: camel, dark camel, olive brown, and black. Whoever wears this must feel like a smart, sophisticated detective or a good-hearted vampire! But all this sleek style and beauty doesn't come cheap. This coat from Burberry comes at a hefty price of $1,195.
Bonus: A coat fit for the glamour queen!
We concur; this is the loveliest and most glamorous coat of them all! It's almost too beautiful for words, but we'll try to describe it. The one coat fit for the glamour queen is not found in any boutique but in a museum. This evening coat was created by designer Shannon Rogers in circa 1968 with design inspirations from the 1930s glamour. Featuring an ankle-length coat in flesh color with a fabric-covered thick belt and, its most striking detail, the generous white fox fur trims, this lovely evening coat is only designed to be admired from a far. Still, it's great to daydream about your perfect winter wonderland adventure wearing this one!