Who doesn't love hoodies? Seriously, who wouldn't love any of these cool hoodies to boot! You can tell it might be about time to take a chill pill. But who can blame us, right? They're comfy, they're cozy, and they're just simply adorably cool! Hoodies make it possible for anyone to look cute and cool at the same time.
We're telling you, we're just one cute hoodie away from believing they might have some sort of magic powers. And with our list of must-have zip-up hoodies for women, you might just believe it too.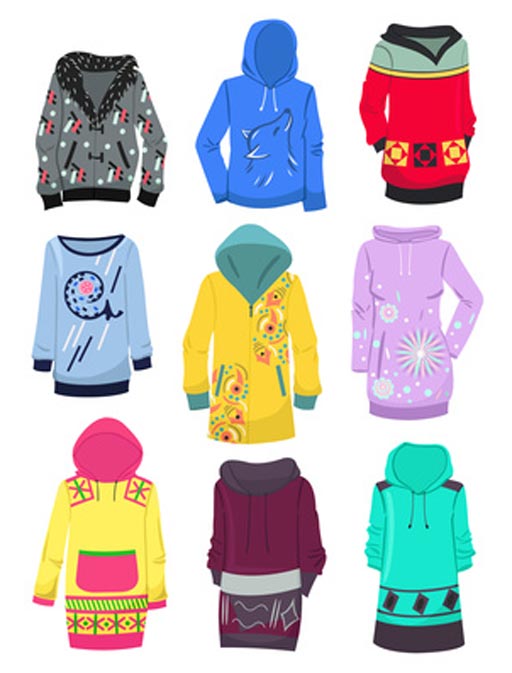 10 Zip Hoodies You Would Be Crazy Not to Put on Your Shopping List
Prepare yourself to be stunned. Ready? Now, read up!
Why is it so hard to pick between hearts and angels?
Because you just want to have them all, that's why! Victoria's Secret "The Hoodie" collection features angel wings and hearts in pastel color combinations for the off-duty type of relaxed fashion. Featuring the long and slim fit, these cool hoodies for women are perfect for a comfy-but-fashionable look. So, did you pick a heart or an angel? We picked both too!   
Can you be happy and lucky with fangs and a band aid?
Yes, yes, and a thousand times yes! That is, if you're talking about Attitude Clothing's SO SO Happy Fang Hoody! Yes that's hoody with a y—this one's not only happy and lucky but British too. With its bright red color, blue and yellow striped pouch pocket, fang face front print, and spikes on the hood and back, the SO SO Happy Fang Hoody is certainly in our cute hoodies for women's category. Definitely cute with an attitude!
How about a 3-in-1 type of situation?
If you're into Korean fashion, we think this hoodie is the one for you! Available in black, yellow, red and made from cotton down material, this casual hoodie is also described as a jacket coat. We therefore conclude that this one is really three—a hoodie, a jacket, and a coat! But the best part is it's in our list of the must-have cheap zip-up hoodies for women because it's only $18.99!
Will the combination of fleece, collars, zippers, and buttons make it a one of a kind?
We surely think so! Doublju's Fleece Zip-up Hoodie with Zipper Point is unique in many ways. It's high-neck design, snap buttons, unique style side and bust zippers, and its rusty orangey color make for a hoody that says "I'm youthful and I'm stylish." You can just picture this one in the collection of zip hoodies for women who work hard and play hard.  
Any girl would go patch floral, wouldn't you?
Come on and wistfully sigh with us! Indy Brand's Hoodie must be on your wish list too (if you haven't got it already). With its gorgeous floral prints and vintage feel, The Patch Floral is just one of those charming hoodies for women that'll make you feel lovely and girly when you wear it. And its greatest feature, you ask? Well, it's made from eco-cotton and recycled polyester. So with Patch Floral, you won't only go flowery pretty, you'll also go eco-friendly!
Why not go back to the basics?
Because you must start with the basics to move on to more complicated things. This is nowhere truer than in choosing cool pullover hoodies. And you can start with a basic one from Aeropostale, the Heather Core Full-Zip Hoodie. Available in teal, grey, and coral and made from 60% cotton and 40% polyester, this hoodie is comfy, light, non-bulky, and perfect for the everyday, cool and casual look.     
Is it possible to be plain on the outside but rich and vibrant on the inside?
If you don't think so, the Volcom Samba Water Resistant Zip Hoodie will no doubt change your mind. Don't let its plain outside appearance fool you; it has got a rich print in vibrant hues of purple on the inside. And because we just love this plain mustard color, this one gets into our favorite plain zip up hoodies for women list. It's also hydrophobic, meaning water resistant. So when you forgot your umbrella and it rains, this zip hoodie got your back. And what's more, it's 20% off and there's only one stock remaining! This is certainly in our list of the must-have hoodies for women on sale.
Ever wonder if polka dots really do bring good fortune?
Perhaps yes, perhaps no. Who knows what the goddess Fortune has in mind? But what we know for sure is if you're in this polka dot hoodie, you'll definitely be attracting positive vibes! And when you ooze positive vibes, good fortune almost always comes along. Not only that, it's loose, comfy fit and eco-friendly material will surely get you psyched into a fortunately good mood.   
What is it they say again about purple and pink?
We can't remember what they said neither. But we know these hues of purple and pink go along so well together in North Face's Fave-our-ite Full Zip Hoodie. We think this hoodie's color combination can only be described as delicious! Featuring a relaxed fit, three-piece hood with liner, pop trims, and hand pockets with interior media pocket, this hoodie is absolutely one of our fave-our-ites! But this sleek and gorgeous thing comes with a price. It is $65 a piece and the priciest in this list. So sadly we crossed it out on our cheap hoodies for women list. Still, Fave-our-ite is a beauty, wouldn't you agree?
Have you ever worn your heart on your sleeve?
If you're the hopeless romantic or the endlessly optimistic type, you've probably had. Hey, we feel you. It's hurtful and embarrassing sometimes, putting your real self out there. But we commend you for your courage and honesty. And we think this hoodie is ideal for you! Not only can you wear your heart without worry, you'll also wear your ribs, front and back, and look cool about it! How awesome is that?! This is unquestionably one of the coolest hoodies we've encountered and we've seen a lot. Plus, who wouldn't want a soft pink heart that melts for hoodies? We surely do!