How to Make Yourself Look Skinnier in Clothes
Losing weight is undeniably not an easy task. It could be very frustrating and disheartening to try out products, diets or the gym and not getting your desired body. But there are other ways to look skinny and appreciate your body size, wearing the right clothes for your body type.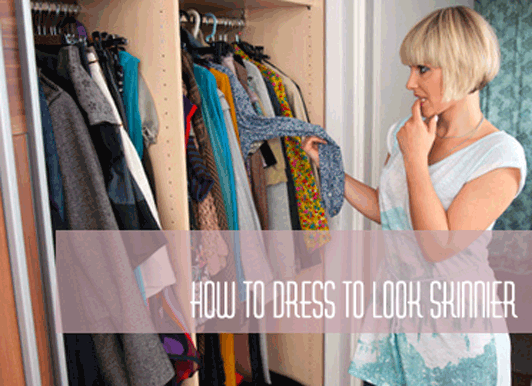 Clothes can make or break your look, determining whether you look heavy or slim. Luckily enough, all you need to know is how to dress according to your body type in order to keep your clothes from making you look heavier than you really are.
As long as you wear clothes that fit and are appropriate for your body shape, you'll never have to worry heavier than you are just because you had a bad clothes day.
Here are some of the fundamentals of dressing to look skinnier:
10 Ways to Dress That Will Make You Look Skinny in Clothes for Any Body Type
Do not forget to make your skinny side captain obvious
Dress in a way that won't hide your thinnest parts. Dress in such a way that when one piece is unfitted, the other piece should be more fitted.
Do wear clothes that fit obviously
Your clothes should be fitted but not so tight that the parts you are trying to make less apparent bulge out of your clothes. Wear clothes that look tailor made for your body and avoid wearing loose clothes to hide parts of your figure you're not comfy with.
Do disguise red-alert areas wearing dark colors
Consider darker colors that would disguise your red-alert areas. Think of chocolate brown, deep red, purple, navy blue, maroon or even black. It's a well-known fact that black makes you look thinner. Colors that are too bright for your body can make you look heavier. But don't be too obsessed with dark clothes, or clothes that drain the color off your skin, as they may as well make you look bigger!
Do think about going waist-less with your top or fitting your skirt
Ladies who tend to be more bulky in the upper part of your body and carry less weight in your legs would probably look better with a waist-less top or a skirt that is fitted on your bottom half.
Do choose a fabric that will drape perfectly over your curves
Choosing the right fabrics for your clothing can take pounds off your figure. There are certain types of fabrics to avoid when you are trying to look slimmer. Any fabric with a good drape will hang closer to your body skimming your curves and molding gently to your silhouette rather than standing away from it and making you look larger. Stay away from rigid fabric or thick materials, ruffles, heavily textured cloths, shiny fabric or fabrics that are quite thin and hug the body. You should as well avoid wide horizontal stripes, and large horizontal patterns.
Do avoid wearing anything baggy
Avoid outfits with bulky elements like cargo pockets. Also, be cautious of shiny fabrics such as silk, velvet and satin as they will mirror the light drawing attention to bumps and bulges on your body.
Do not wear clothes tracing over your circumference
The world is a jungle, even when you dress. Camouflage areas you want to be unseen in by choosing clothes with patters that work towards your advantage. Tread carefully with prints, layers, and stripes. Do not mix them. Do not under any circumstance do wear clothes with large prints as they will make you look big. A great alternative would be trying out vertical stripes as they give the illusion of tall and thinner.
Do find the right pair of shoes, preferably something that will raise your body a few inches more off the ground
High heels and ankle boots are your best friend, ladies. A long leg creates the leanest look; meaning a couple of inches will visually lengthen your legs and definitely make you look thinner, at the same time improve your posture. Remember to practice good posture by pulling back your shoulder. Suck in your gut and look forward instead of looking down, as it builds confidence and makes you look tall and slim.
Do camouflage yourself in a jacket
Jackets are a great way to look slimmer. They tend to 'camouflage' your problem areas like tummies and large waists. The trick with jackets is wearing one that compliments your body and ends at one of your narrowest points of your body.
What if you have narrow hips and a broad waist line?
If you have a broad mid-section and waist-line but moderately narrow hips you try to avoid short jackets that end at your waist because this would be like pointing an arrow at your widest point. You should instead consider wearing a jacket that ends at your narrow hips.
What if you have a broad mid-section?
If your mid-section is broad, you would probably look better in a jacket that has at least 3 or 5 buttons. Two buttoned jackets usually stop at the stomach area. This, again, is like pointing an arrow at your broadest body part.
What if you have a large waist?
If you have a waistline that is larger, the same ratio, or only slightly smaller than your hips, you will need a jacket that does not taper at the waist. If you have a distinct waistline, probably an 8 to 10 inches smaller waist compared to your hips, you can consider a jacket that narrows in at the waist.
What if you have a skinny waist but a big behind?
If you have a lesser waist and a large buttock or large hips, a jacket that ends at your waist will accentuate your buttock or hips. An alternative for you is a longer jacket that narrows down at the waist and stops at the narrowest place near your thighs.
Caution on wearing a jacket that is too long
Be careful not to wear a jacket that is so long that it hangs over the rise in your pants. If it is too long, your legs will look shorter, making you look shorter. Looking short skews your figure, making you look heavier set than you ought to be when wearing clothes that are the right fit for your body type.
Do make sure your underwear fits to avoid a panty line disaster
Buy underwear that fits your body perfectly. Do not wear loose bras or even panties if they are a size too small. Your underwear are the first things that come in contact with your body providing the basic shape that clothes add to your figure in the exterior. If the basic silhouette of your body has bumps because of the tight elastic waistband of your underwear, wearing tighter clothes won't help you look slimmer any time soon not to mention leave pantie lines inside and outside of your wardrobe. Wearing teeny-tiny bra will make your chest appear to be spilling out, making it look like you could not find any other clothes to wear.