Get a tattoo that has you written all over it
For sure you have seen numerous women having tattoos and while some really appealed to you, you may have thought that you could never wear some of them. When looking for tattoo designs for women it is a must to search for those that feel right.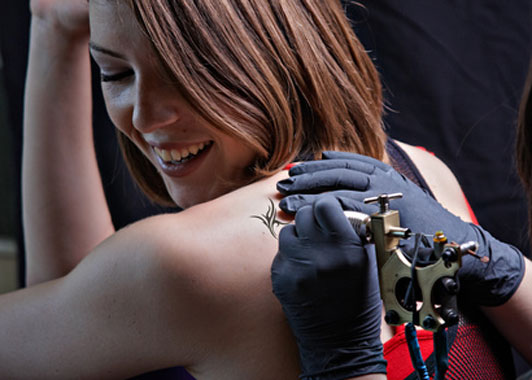 There are some tattoos for women that you can imagine having while others seem too much. Let's not forget that women have smaller and more delicate bodies than men so it is just normal for them to be looking for unique tattoo designs that are smaller than the tattoos of guys and that are more delicate.
8 Designs You to Think about Getting Just in Case You Are Wondering What Tattoo to Get That Actually Means Something
Since there are so many girly tattoo designs, which ones would you prefer?
The Lotus Flower
Have a lotus flower on your body
The people looking for small tattoo designs for women may search for the motifs that have a strong symbolic meaning, such as the lotus flower. This is a powerful symbol in the Buddhist religion and it is especially well-known for being able to grow from mud and become a symbol of beauty. In case you are looking for simple tattoo designs for women, you might want to consider having the outlines of a lotus flower. There is no need for shadows or other details. You could have this tattoo on the back of your neck (don't forget that a tattoo doesn't necessarily have to be highly visible).
The Butterfly
Butterflies to bring spring in your life
In case you are looking for free tattoo designs for women for sure you will see a lot of variations of the butterfly tattoo. This motif may be the most popular of them all because of the beauty and grace of butterflies. They are just as delicate as women, so they represent one of the best girly tattoo ideas. You can have these mini tattoos on many different body parts such as the wrist, ankles, back of the neck or on your side. In fact, you can turn the design into a large one as well. While you could have a realistic picture, some of the tattoo artists can turn the butterflies into a surreal image.
The Dove
Fly on with your dove
The majority of girls are looking for unique tattoo designs for women. This is because getting a tattoo is a form of self-expression and people shouldn't waste it on conventional designs. A lot of women wish to show the world that they are free through their tattoos. If this is the case, you might want to consider getting a tattoo in the shape of a dove carrying an olive branch. In order to make the design even more interesting, add a text to it such as "Be free". A good tattoo artist will be able to make the text look like it is part of the dove's body.
The Star
Be a star and shine like one
Although you might think that the stars can't be unique tattoo designs for women because every other woman has one, the truth is that such a tattoo can be as simple or as elaborate as you wish it to be. In case you take a look at some pictures of tattoo designs for women you will see that the options are infinite. The best thing about the star shape is that there are a lot of shapes that you can combine it with. However, no matter what you do, you have to make sure that there is some harmony in the design. The feminine tattoos are known to be relatively small and with few colors.
The Heart
Give all your heart to your tattoo
For sure you have seen numerous pretty tattoos featuring a heart of some kind. Although you might think that this is a cliché, you can turn it into something interesting and special. In case you are looking for cute small tattoos, you should think to combine different elements with a heart or more. Abstract tattoos are more than hot at the moment and you could use a heart as the starting point for your tattoo. Such designs are suitable for the wrists, ankles, and the back side of the shoulders.
The Flower
Flowers
Have you ever seen Lady Gaga's flower tattoo? Then, you know The Flower is most definitely on your list of tattoos to get. Just in case you are looking for pretty girly tattoos it is simply impossible for you not to stumble upon floral designs. In case you keep the design to a minimal one, you can achieve the cutest tattoos ever. The most tasteful tattoos are considered to be the ones featuring one or more roses. However, in case you would like to have something simpler, consider combining the floral pattern with abstract patterns. This way you can achieve some of the coolest tattoo ideas in the form of infinite tattoos. These designs are just perfect for your feet because they can twirl around your ankles.
The Motto
Immortalize the motto of your life
Although they can't really be considered unusual tattoo ideas, having a text tattoo isone of the best ways to express yourself. You can share your motto or your mantra with the entire world or just those that have the privilege of seeing your tattoo. As another advantage, you can make sure that you will never forget it. While in the majority of the cases women choose something inspirational or motivational, there are also some stylish tattoo ideas that are special because of the calligraphy. As one of the most simple tattoo ideas you should find a quotation that you like or come up with something on your own to write on your body.
The Infinity Sign
Make the tattoo last for infinity
The infinity sign is the most popular symbol used in cute mini tattoos. If you are looking for simple tattoo ideas, you could have an infinity sign on your wrist or on the back of the neck. However, in case you are looking for something more interesting, you could have text written in the shape of the infinity sign. You can be sure that this is one of the best ideas for small tattoos. The design won't be screaming at people, but it will be highly visible and it will have a strong impact on your life.