Things guys love to snack on
It is really not difficult to figure out what men eat men are really not as picky as we would all like to believe. There are those who eat almost anything and there are those who really watch what they eat. Unlike women, they do no watch their weight as religiously or ensure that all calories are accounted for. They really are not overly concerned about which direction their midsection is headed. This is not to say that some men don't eat healthy. Some men will watch their weight and ensure that they incorporate hearty foods in their diet at the correct proportions.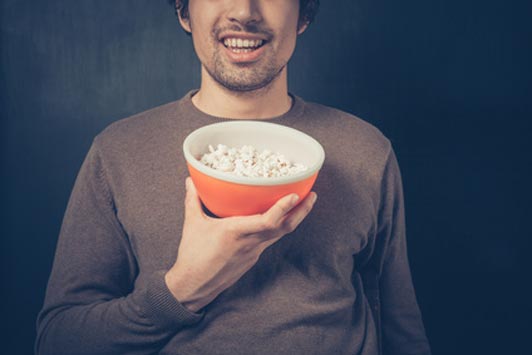 What do they do during snack time though? Do men even have a snack time? Yes they do, for all those who might be thinking that snack time is just for kids. Here is a healthy snacks list of things that men love to eat. Some of the best snacks for men can be found in the natural environment in the form of unprocessed food.
Any kind of nuts
Men love nuts and grains. These include peanuts, cashews, pecans and sesame seeds etc. They are an excellent source of protein and are as tasty as they are healthy. Nuts are always seen as a "man food" in fact, look up any food gift basket idea for men and you will find a pack of nuts lurking around in there somewhere. It is easy to handle this packaged food and one great perk is that it is not messy. Can be a nice grab and go option in between mealtime.
Fruits and berries
Yes men actually love fruits too. Whether it is an occasional apple or a bunch of grapes or even a slice of watermelon, men do enjoy eating fruit. In fact you are more likely to see your guy devouring cantaloupe instead of a bar of chocolate. Strawberries, raspberries, blueberries, any berries. Men tend to love them all. Something about eating berries makes him feel outdoorsy. What is double lovable about his man food is that it can be added to his smoothies.
Guys love shakes
Men like sports snacks; something that is packed with protein for that extra energy boost. A favorite sport snack option is to have a shake. No not milkshakes, but rather power shakes. There is something about the ingredients that makes it seem like the ultimate power tool some men in fact, absolutely cannot start their day without it. The great thing about shakes is that you can easily use whatever ingredient you think you want in it; fruits and vegetables are the leading options.
Granola bars or energy bars
Energy bars are now healthy and tasty. Gone are the days when they would taste likes cardboard. These days, men get to enjoy delicious bars that taste great and are not getting in the way of him and his six pack. This is one of those on the go snacks that are packed with all the energy needed to survive especially after skipping breakfast. They have the best ingredients such as oats, nuts, and raisins.
Anything oatmeal
Well maybe not quite everything. Men love oatmeal and rightly so as it is heart healthy. Bake some oatmeal cookies for the kids and he often becomes the first culprit to start devouring them. Whether they are using it in their shakes or in some other secret concoction, it is often easily, one of their favorite foods. It is quick and easy to prepare, adds a valued punch to whatever it is being added to and can be eaten raw or cooked. Guys tend to like these kinds of options.
Pretzels
They don't make them like they used to; today there is a myriad of options when it comes to snacking on pretzels. Most notably the ones in the healthy food isle. It is an easy to reach for snack during TV time and won't come with the guilty feeling of having cheated yourself.
Sandwiches
People will often say that when a man makes a sandwich it is "different"; bigger better and seen as more, much more than a snack, it turns into an entire meal. Men have a tendency to pack a sandwich with so many things (lettuce tomato, etc) it will have you feeling full in no time. They don't call it man sandwich for nothing.
Wheat crackers
No doubt, men absolutely enjoy snacking on crackers. Again they have so many options to choose from they can choose wrong. To be on the safe side always opt for wheat as it has more fiber to help during digestion. What is chosen to go along with the cracker is also important.
Popcorn
Just avoid the extra butter and salt and you should be good to go.  A bowl of freshly popped corn is one of those snacks guys love like a woman loves chocolate. It is a great option not just for TV time. Guys like to kick back and relax. A bowl of popcorn is a great comfort food and is a much healthier option than ice-cream and chocolate.  
Many people think guys snack a lot. Not true though. Men like their food just not in bits and pieces so you will hardly find them snacking. To keep a healthy trend going indulgence is key. Eating too much of anything will have unwelcomed results. Even though there healthy snacks for men , eating healthy alone is not the sole contributor to having good health. Exercise goes hand in hand with having a healthy diet. Getting to a healthy point and staying their does not have to be bland and boring, try some of these healthy snack ideas and see which ones will easily become your favorite.