Short, Simple, and Tasty…
Snacks to Stash Your Desk up With
I don't know about you, ladies, but in our case, it is pretty obvious to realize when one of us has got a huge deadline approaching. And it's not for the messy hair, and the number of coffee mugs surrounding us: that's regular with us. It's for the sounds of bills being swallowed by vending machines, and the bags of chips being crack opened. Also, you can sometimes even follow the trail of chocolate wrappers. That is why we've recently decided that something has to change about that, and we've made a list of some pretty tasty and healthy snack ideas for work.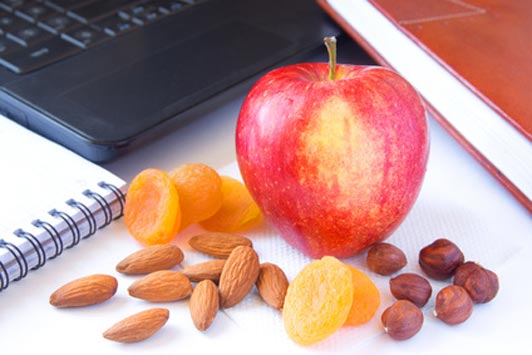 What are some healthy snacks? What's a banana? Hold on. There's more! But before we dive into what you can eat while at work to snack healthier, there is one question you should ask yourself before packing your lunch box for work do I want to be eating this in front of my co-workers!? ? No and yes: your office environment isn't the kind where you should be breaking things in your mouth (as you have noticed every time you crack down on an apple chip); nor should you let office-peer pressure break you down until you have no freedom left to snack.
Here are our recommendations for healthy snacks to eat at work. That's right! Must-stash snacks for your office desk.
6 Must-Stash Healthy Snacks for Work: Want a Bikini Body but You Don't Always Have Time for Gym? Here Is an Awesome List of Healthy Snack Ideas for Work
As we know how tricky it can be turning from junk food to healthier snacks, we did our best to create a list that will suit different tastes and needs. Stress-caused overeating can make quite a trouble, but nibbling a couple of raisins during your coffee break not so much. So depending on whether you are a fruit person, a rice person, all of the above, or even a chocolate fan, we are almost assured that you will find something that you like here. And if you get inspired by our ideas and come up with your own, share with us: we love diversity!
The Basic One… Fruit!
If you want to keep it simple…
It seems that you can't go wrong here, even if you are not really a true fan of fruit, there must be at least one sort you like. Strawberries? Peaches? At least orange? Fruit will give you a nice protein boost, and if in addition you reward yourself with a cup of milk, you will also get your share of calcium and vitamin D. And if, however, you are a fan of bananas or grapes, our friendly advice to you is to not eat them in the evening or afternoon, because they contain more sugar then other fruits. Otherwise, they are great and very nutritive. Before going to work, stop by to get a couple of peaches or whatever else you might like, get some milk and then move on to work and eventually enjoy your healthy and refreshing snack.
When in Rome… Frozen Fruit Salads
For days when office air conditioning isn't cutting it
As the scorching hot days are right in front of us, and air conditioning in our offices is not always at its best, we also have to think about other things while looking for healthy snack ideas. And in this case, frozen fruit salads sound absolutely great.
They are easy to prepare, they are very refreshing, still healthy, and it seems that there are no rules about combining the fruits. You can combine any fruit you like, and it will still be great. And if you want you can add some yogurt, low fat whipped cream, or even some cinnamon to spice things up. But if you are one of those who like keeping it simple, just a bowl of frozen fruits can be enough.
Tune-in with Tuna
Eat it plain
We love tuna because it comes in so practical packages that you can easily carry it to work, and it is still incredibly delicious, and, most important, very healthy. And that is what makes it one of our favorite healthy snacks for work.
Depending on your personal preferences, you can eat it plain, or season it with some of your favorite seasoning. You can make a nice and very easy to prepare salad just by adding some onion, finely minced celery, and some low fat mayo.
Nom-Nom Corn
I don't know about you, but I've been a huge fan of pop corns since I was two. And even as a child, I've always loved pop corns more than potato chips or similar fatty non-healthy snacks. And I'm really glad that is the case, because when it comes to healthy snack ideas for work, popcorn is probably my No.1 suggestion if there is a microwave in your office, but when I come to think of it (even if there is) maybe not. You can make your own pop corns at home and just bring it to work in a bag.
A great thing about pop corns is that they are not only tasty even though they do not contain many calories, but they also help your stomach work better. Just make sure to not overuse salt!
Nope, Not That Kind of Peas
Nothing will make your day more than a cup of peas. Seriously!!
And not that kind of chickpeas, too! The tiny little tasty buds, that's what we are talking about! Rinse them, season them with some paprika, lay it over baking paper and roast them to get the most amazing crispy healthy snacks for work or home.
Apple Chips
Healthy and…
Unusual
Yes, we have already mentioned fruit twice, but, truth be told, never in this way. This healthy snack idea is probably more suitable for winterish time, but true cinnamon fans won't give up on it that easily. Slice apples in very thin pieces, place them on a baking sheet so that they don't overlap, sprinkle them with cinnamon and bake them with occasional flipping until they are completely dry. This snack is very healthy and unusual, but still very simple to prepare.
Where's my chocolate?
Yes, we are aware that we have mentioned even chocolate in the beginning, but that there is still no sight of it. Don't you worry, we, as great fans of chocolate ourselves, have left the best for last. But before that, we would like you to remind you of the importance of healthy diet. We are very well aware that with this fast lifestyle it is not all that easy to always find time for a healthy meal, but as you can see from our examples above, some of these snacks can be prepared in less than 10 minutes, and that is really worth a healthy snack for work. And don't even think that you shouldn't be bothered because it's "just a snack", snack is actually an important part of our everyday diet: it is what keeps us up in between two other meals. And, especially while we are at work, that is a very important thing.
And now, our chocolate secret is revealed for you: dark chocolate! A bar of it with a glass of milk, dark chocolate chips with a fruit salad, melted dark chocolate as a dipping for apple chips… Oh, there are ways and ways. Enjoy your healthy snacks!