A few simple steps to go from sadness to happiness
Life can be hard sometimes. Some unexpected things may happen that would make your world fall apart. It may be a bad hair day, or you've been waiting the whole day for your boyfriend to call; your favorite dress doesn't fit you anymore because you gained a few pounds without noticing; you wake up and there it is, a big red pimple on the top of your nose; "there are ten thousand spoons when all you need is a knife" or you just got up on the wrong side of bed.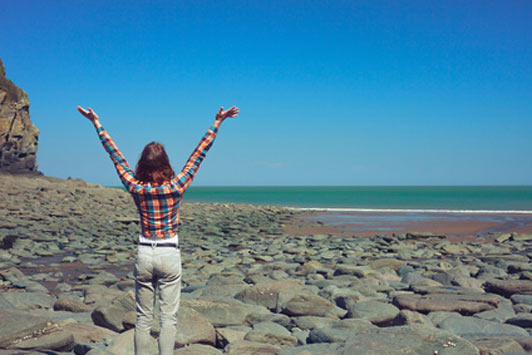 Whatever the reasons for you being miserable, don't forget that every cloud has a silver lining. Days like these are inevitable but nevertheless you need to be prepared to deal with them. In order to do this you need to give yourself a chance to get to know yourself better, to find out what are those things that you really enjoy doing, something that's neither too expensive nor too hard to find. To help you get going, we have prepared a few examples of the things to do that will make you happy.
If You've Been Feeling Down and You are Constantly on the Brink of Tears, Don't Worry Because We Have a Few Simple Tips to Make you Feel on Top of the World Again
Here are 5 things to make you happy that you can start incorporating into your daily routine.
Breathe in and breathe out
Keep calm and breathe
When there is something bothering us, a problem of any kind, we tend to overthink it. We focus more on the problem itself than on finding the solution or we have a panic attack if our first attempt fails. All we need to do is change our perspective, approach the situation that is making us sad from a different angle, and after a few moments the solution will be within easy reach. So, just stop doing whatever it is you're doing at the moment, close your eyes and take a couple of deep breaths, trying to concentrate only on your breathing. This simple exercise should remove the focus of your attention from the problem to your breathing, so that your thoughts could have a break and could fresh up a bit in order to be more productive (happier) in the future.
Explore the world around you
Go places
All our daily duties and routines can make our life monotonous. We may forget those times when we were kids and everything was new and interesting, everything was an adventure. In order to be happy we should nurture that little kid inside of us, and once in a while treat ourselves to some "trip to unknown". It would be great if you are able to afford yourself a trip to some exotic country or a round-the-world cruise, but it doesn't mean that the less expensive experience would bring you less happiness. On the contrary, you probably won't need to go farther than a few blocks from your house to find a street that you have never been to before, a street that is so close but still not visited by you. If there is still left but a little part of the child that you have once been, you won't be able to help yourself but go and discover the beauty that the street has been hiding. In the end, the emphasize shouldn't be on how far you go but on how curious you are along the way.
Make a list of the things that make your life special
Build a bucket list
Being sad makes you forget about the good things in your life, so while still happy you should make a special list to make you happy when you're sad, something like a first aid list for those days when you feel a bit down in the dumps. This list should contain every single thing in your life that you should be happy about. Start by listing all your good qualities, things that you're proud of, like being caring, honest, hard-working etc., then list the people that you love and who love you back, like members of your family, your friends, boyfriend etc. Don't forget about your pets and all the fun memories you have had with them. At the end of the list you could even write a note of comfort that you know will bring your smile back and your hours of misery would be over.
This also could be the first step of decluttering both your emotional and material baggage. One you realize that most of the things around you are not that important and only abuse your energy, you will learn which things are worth your focus.
Do something nice for you or those you love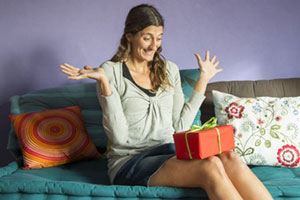 Give the gift of giving
Improving oneself is always important, because the better we are the happier we will be. But don't forget that the inside is as important as the outside. So while you are eating some healthy food and choosing some clothes that match, remember to read some book or learn some new skill once in a while. When you have done something for yourself, you should try doing something nice for the ones you love. Surprise your mom with a flower, or your dad with a warm snack, have a picture of you and your friend framed and show how much your friendship means to you. A smile on the faces of those you love would warm your hearth so that there would be no place for sadness.
Find a hobby that you really enjoy
Appropriate time to your hobbies
If you like to deal with the problems beforehand, you should definitely find yourself a hobby that you enjoy, some activity that you're good at. Try photography, model making or if you don't mind your hands dirty, pottery or gardening. A right hobby for you will prevent you from being sad because you won't have much time for feeling bad. You will be so anxious to finish with school or work, with all your duties, so that you will finally have the time to spend on that activity that makes you happy. Proving yourself good at this hobby of yours will certainly bust your confidence, but remember that you doing it for the sake of enjoyment and not to compete.
Even though it doesn't always seem that way, life is a gift and it's too short to be wasted on moments of sadness. We should make most of it by finding the things that make us happy and make life a place worth being in. So, whatever the reasons for you being miserable, don't forget that every cloud has a silver lining and that every obstacle can be overcome with a little bit of effort.