Prep right for speed dating
Being single sucks, especially if it's for a long time. You might be stuck in one of those dating ruts that everyone is talking about. What's worse is that you want to be in a relationship and experience all the pampering and lovey dovey looks. You know it. So why not take the initiative and try speed dating? It may be the fastest way to get you unstuck out of a rut in the dating game.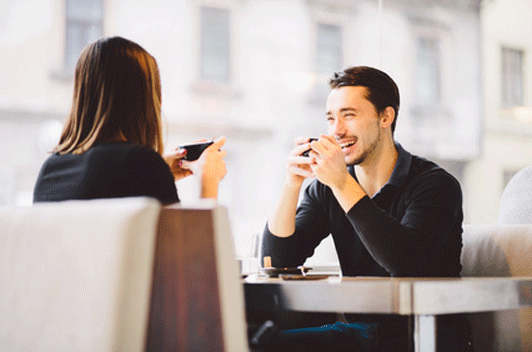 Finding a boyfriend willing to pamper you can be difficult to say the least. However on the exterior of the problem of finding a guy to date is his location. If you are looking to increase the odds of hooking up with a guy that you can tell will do all this for you; then, you should know you are at the right place!
Here you will find out how you can find a perfect match through speed dating!!
What is speed dating? Should you try it? Is it as ridiculous as it sound? Share you experience.
Let me first explain what speed dating is and is not. Please don't be shy about your own personal experience if any. We and many of our readers would love to hear how much fun speed dating is in reality.
1. Breeding ground for matchmaking
It is a formal event where several men and women meet with the sole purpose of looking for a match. That is to say there is nothing that puts matchmaking into an event like speed dating.
2. Where everyone brings their A-game
Candidates have to register prior to the event with a copy of their brief introduction. When you go to speed dating, you bring you're A-game (and so does everyone else). Think about it. How else do you think you could survive packing a date meant to last for hours into minutes minus the anticipation? If you are reading this just before heading out of the door off to a speed dating even, know this: your fight or flight response will be triggered more than once, multiple times, more than you would like (with nowhere to run); so enjoy yourself and enjoy the ride.
3. Place to expect the unexpected
Though the procedure of different speed dating companies may vary, the idea remains same for all.
Bringing all the singles under one roof!!
Many people think speed dating is for those singles that are desperate to be in a relationship. But believe me girls; it is not like that at all.
In this busy world speed dating provides an opportunity to meet new people.
It is the modern day technique to find a boyfriend.
To know more about other ways to find a boyfriend please read how to find yourself a boyfriend.
Coming back to speed dating, it is important to keep a few pointers in mind before going on such events
After all like any other social event speed dating also has some etiquette to follow.
That is there are some unwritten unsaid rules that every girl should keep in mind when planning to go for speed dating.
Speed dating tips for finding a boyfriend when you speed date
How do you speed date and find a perfect boyfriend through it? Good question. You are in the right place because here are some tips on speed dating-
4. Do not pretend to be something you are not
Girls, you are going out there to find a match for yourself. It is very important that you be your normal self. Being pretentious can be misleading to both you and the guy later on.
Be yourself
If you are outspoken and prefer to speak your heart out, be it. People may love your profound show of candor.
If you are rather a shy girl then just be that. Someone may fall head over heels for that blush on your face!!
5. Be open minded
We often categorise men into 'my type' and 'not my type'.
When you are attending an event like speed dating you are bound to meet different people with different attitude.
It is very important that you meet them with an open mind.
If you go there with an image in your mind of a guy you may like, you will always end up comparing the guys you meet with the one you have created, who does not exist at all.
Coming out of this preconceived notions and meeting all with an open mind gives everyone a fair chance.
And who knows you may end up liking someone you would not have otherwise thought of?
6. Have fun
So, you have finally taken charge for yourself and have decided to attend an event to find a perfect match for yourself.
That does not make this a life changing event for you.
It is not necessary that you have to choose a guy out of the ones you meet. Your future partner does not have to be the one among them. So relax and enjoy.
Do not put extra burden on yourself.
7. Be polite
Like you, there are many other singles who have come with the same purpose of finding a match.
There may be a lot of guys who do not seem to interest you or are just not someone you would like to spend time with.
It is completely okay. If you meet a guy like that, engage yourself in a general discussion and move on as soon as possible. But no matter what, be polite.
You cannot be rude to someone you have just met. It would not only hamper your image but also make a bad impression on other guys who you were interested in.
Talk openly, share your views, stay firm but do not be rude.
8. Lower your expectations
It may be a special matchmaking event but at the end of the day you meet the regular guys you could have met at any bar or discotheque.
If do not find the one for you, it is completely alright. There is nothing wrong with you, nor the ones you met.
It is just that you did not find anyone you could connect to.
Enjoy the event and be happy that you took time out for yourself.
Now these were some tips you should keep in mind before going for the event.
Suppose you went there and found someone you really like and vice versa.
What next? How do you take it ahead? What do you talk to him about?
Speed dating questions
Let's face it. Unless you ask the guy a few questions about him, it is not possible to actually know him. But what questions to ask in speed dating? He is a stranger after all. One personal question or asking about something that he is not comfortable with can spoil the whole thing.
So, how do you know where to mark a boundary? What questions to ask?
Here are a few questions you can ask to any guy in a speed dating event. They are not up close and personal but will definitely give you an idea about him.
9. Getting him to talk with 4 questions to break the ice in speed dating
Here are some questions for breaking the ice.
What are your hobbies?
A man's hobbies can say a lot about his personality. Whether he is an outdoorsy who loves adventure or a stay- at- home -reading -book kind of person, you will know if you see yourself doing those things with him.
What do you do for a living?
Some may feel, asking this to a guy you have just met is not polite. But I see no harm in it. Asking about his income would be rude but about his profession is completely okay.
You cannot simply go out with a guy without knowing his profession. Who knows he may turn out to be a mafia don!!? Okay chill. Not a mafia don but you have to know about his work.
What is your idea of a perfect vacation?
Asking this question, gives you an idea if he is romantic or not.
What is your favorite cuisine?
It would be great if you had common taste buds!
These may sound very common and old school questions but believe me, they are very useful.
It does not have to be as serious as it seems. Keep it light and funny too.
You do not want to make this sound as a job interview.
Show your sense of humor by asking some hilariously funny questions.
What was your favorite cartoon character?
It's funny how many people get all mellow when talking about their childhood. For most of us, keeping a grumpy face while talking about our favorite childhood memories is nearly impossible. Those are some of our best memories!
Meaning that if you ask a question that almost certainly evokes positive emotions, you can be sure that the next couple of minutes you spend together will be in good spirits. Plus, you'll get a chance to find out more about his personality based on the type of characters he felt most compassionate about. It might seem like a vague method, but it's the best one for the fast occurrences like speed dates are.
How often do you do your laundry?
Don't give me that face. I know that you too want to know that! You'll might take him aback for a couple of moments, but it's really only a straight-forward question with a simple answer.
The point of this question is not to confuse him or anything similar (we have a hidden method here).
As a matter of fact, speed dating questions like this one can help you find out more about his cleaning habits.
And, in my personal opinion, that is really important. Messy guys and messy apartments are a kind of pet peeves of mine.
Don't get me wrong, I don't base my decision solely based on this, but I do find it repelling in certain situations. And never have I ever seen a guy who is meticulous about his laundry and messy in his living space.
Cats or dogs?
We have to stick to the basics at some point, and you definitely know the drill about this one.
However, I do have a little secret: I. Can't. Decide. My Prince Charming comes with both.
Do you know who TotalBiscuit is?
And 10 points goes to Gryffindor! You have the ultimate question for catching a gamer in disguise. There are two reasons for this, but let's first cover the basics: TotalBiscuit is a gamer who has his own channel where he reviews video games. Basically, he's the Jaclyn Hill of the gamers world. You can look him up for the sake of illustration if you want to.
And this question is one of the best speed dating questions because it will a) leave a nice impression in case he is a gamer (trust me, this makes them so happy), and b) help you find out in no time if the guy you're talking to is a gamer (and let's just reminder ourselves how cool it can be to date such a guy).
'Game of Thrones' or 'Parks and Recreation'
This is one of those questions where you can quickly check what is your common ground. As that's a pop culture question, you can easily elaborate on favorite characters, plot twists, binge-watching… You get the idea.
On the other hand, if he looks at you as if he has no idea what you're talking about, you'll might want to proceed with the questions below to avoid awkward silence.
10. Raise the laugh meter with 3 question to take his breath away
Some funny questions to ask in a speed dating event can be:
What came first, hen or egg?
Do you hate Mondays as much as I do?
If you had to give a makeover to Charlie Chaplin, what would you change?
The giggles that follow with the answers can make both of you feel comfortable with each other. It surely will enhance your speed dating experience.
Now that you know all the speed dating tips and the questions you may ask, what are you waiting for girls!
Go ahead, dress up, look your best and rock your speed dating event!