Have fun with your best friends before they are missed
Whoever said having fun is just for children must have a very boring personality. Being an adult doesn't mean your life should be boring and hum drum. To live a more fulfilling life, one must find time for the finer things in life. This does not necessarily mean fancy restaurants, nice cars and such.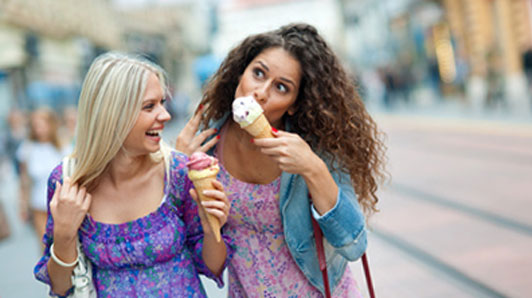 When it comes down to the basic structure of how one can really live a fulfilling life, sometimes taking a fun approach is not only more effective, but also more rewarding.
Here are some fun things to do with your best friends that will make you realize just how much you can erase the stresses of being an adult.
10 Things You Don't Want to Miss Doing
with Your Best Friend
Who said not being a geeky teenager means you have lost your ability to have fun? Hanging out with your best friend gives you time to catch up, reflect and just have some crazy fun.
Take a road trip
Finding fun things to do with your best friend does not mean you limit yourself to the backyard. Take a trip to a fun and unfamiliar place. Road trips are fun and with the right company you will be making memories in no time. Taking a trip with your best friend is a fun way of spending quality girl time together. It is one of those times that you can let your hair down. That's right, spending quality time and finding things to do with your bestfriend, means you are at liberty to live a little.
Book a spa date?
What would be more relaxing, fun, and exciting all at once than booking a spa date? Booking a spa date with your best friend. This is one of the fun things to do with your friends that have the added benefit of not just pure fun but lots of relaxation. Book a massage or a few therapeutic treatment, enjoy holistic food (or not) depending on what you prefer. Bottom line is to just relax, enjoy each other's company, and have a whale of a time.
Go to a movie
Not being a teenager anymore does not meant you are prohibited from going to the movies and having some girly fun. This is a great moment to loosen up and probably harmlessly flirt with a few guys or find funny jokes to exchange. Being grown does not mean you can't find fun things to do. With your bestfriend only adds more excitement to your experiences and will definitely strengthen the relationship. Whatever you decide to watch it's up to you to make it memorable.
Have a cookout
Good food and good company always go well together. Having a cookout is one of those fun activities to do with your best friend that can easily incorporate your families or extended friends. Gather everyone, organize some music and food of course, fire up a grill, and then all else will fall into place. A good cookout brings friends and family together in a way that is sometimes unexplainable. It is a heavenly feeling like something good is happening and everyone is glad to be a part of it.
Double date
This one is tricky. Double dating with your best friend can be fun but be careful when threading this path. You and your friends might share similarities but you will have some differences that if not played out carefully might cause conflict. For example, you might both have different taste in men. You and your date might like joking around while your best friend and her date might tend to be on a more serious side. You might end up avoiding funny things to say to your best friend's date so he doesn't end up feeling offended. If you both know what the other wants or can easily reach an agreement then go for it. 
Just hang out
Ah! The ever faithful comfort food! If you just want to have a relaxing evening with your find just taking a walk or going out for ice cream are both things to do with your best friend. Not all fun things mean it has to come down to mega excitement. Sometimes just sitting and taking in the scenery can be rewarding. The park is a great place to start. You can spend the time just talking about old times, watching people go by, talk about what your dreams still are, plans for the future and such things. Even relationship issues will make for an interesting conversation.
Go jogging together
Even if you are not on some weight loss regime, going jogging or organizing a workout routine with your best friend is something that you might both enjoy. Yes jogging alone can be relaxing and makes you more focused. But getting your best friend to come along will add much needed encouragement and will boost you to continue living healthy and promoting wellness
Go shopping
This should definitely hold the number one spot on your list of fun stuff to do with your best friend. Shopping alone is fun but imagine the super-fun you have with your best friend on a shopping spree. This way you get to enjoy all the things you love all wrapped up in one place, great shoes, clothes, food (cause you have to stop at a nice café for lunch right?) and if there's a sale going on then count your lucky stars that you are definitely in heaven.
Take a hike
Yes! Hiking is loads of fun even if you are not a nature fanatic. Hiking is one of those things you can both enjoy without the stress and distractions of regular everyday life. You just need enough food and water and off you go into the wild or wherever. Hiking fills your spirits and will lifts you in ways you could never imagine. Being one with nature will allow you to leave most of your troubles behind and clear your head. This has a double benefit; you get to spend time with your best friend and you get to renew your spirits. Who would pass up on that one?
Bungee jumping?
Because you only live once right? Right… This is one of those funny things to do with your best friend even if you don't consider yourself to be that brave. My advice, do it fast and get it over with before you change your mind. This is crazy but unlike getting a tattoo, you can get over it. It will be written as one of the craziest thing you ever did together. Just don't try it if you are afraid of heights.
What are other fun things to do with your best friend?
As much as I would like to believe that the list of things to do with your best friends listed above goes on forever; it is not. However, keep in mind that there are plenty of fun things to do with your friend just think outside of the box and be determined to live a little and have loads of fun, whatever that may be doing. Live a little.