So you are all ready for your first date! You have put on your best outfit, wearing your favourite heels and done with your makeup. You know how to look sexy and drop dead gorgeous for your date.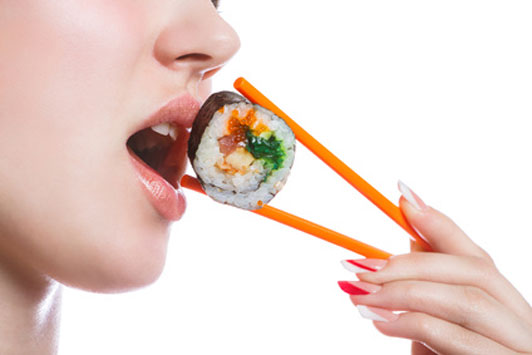 Now what?
What do you do? What food do you order on your first date? Ever thought of it?
The food that you order is as important as your looks and clothes for your date to be a successful one. If you really like the guy you are dating and want your first date to move on to second and third and many other several dates in future, then remember, the food that you order and the way you eat plays a great role in it.
You must have heard the old saying "the way to a man's heart is through his stomach"
The intention here is to prepare a good meal for him, however ordering some nice and sexy food can also win him over.
The food we eat has a great impact on our moods. While some food are known for its aphrodisiac powers, others are great mood enhancers.
Ever thought why some days you feel lazy and drowsy without any reason and at times you feel all cheerful and light?
It is all about the food we eat, girls.
On your date you want to order some sexy food that screams romance and is of course easy to eat.
Now by sexy I mean, "The kind of food that brings in a romantic mood" and which you look sexy while eating.
Confused? Read on to find out how important sexy food is on a date.
I have come up with a list of food items to order to help you rock your first date.
What Food to Order While on a Date? 9 Sexy Foods You Need on Your Date Night Menu
Here is a list of the most romantic foods to eat on a date that will make a perfect evening. There are nine, so pace yourself. You don't want to get full before reaching dessert.
Sushi - Order sushi to show your bold side. If you handle your chopsticks well, it is your chance to show it off. It is elegant as long as you keep the bites small. You do not want to mess with a large sized tuna and look ridiculous in front of him.

Steak - If you have perfect carving skills, steak would be your best option. He will love watching you take control over the piece of meat. Guys find it super sexy when the woman dominates. Who knows if he is already imagining you taking control on the bed as well?

Tapa - Let loose and order some finger food. Finger foods bring instant connection to the people sharing it. It is hassle free. Sharing small bites with your date would be lovely. And if he offers to feed you with his finger, do not hesitate. What can be more romantic than that!

Wine - Wine has been associated with love and romance since generations. It is something that completes your perfect date.
Order a bottle of wine. It is romantic, elegant and classy.  Besides, you will relax after a few sips and begin to enjoy yourself.
But do not order red wine.
You do not want stained teeth on your date!! That is not sexy at all.

Cappuccino - Coffee makes a great option if you are not a wine lover. It also has some surprising aphrodisiac powers. No wonder we keep hearing "Let's meet over a cup of coffee someday" …
Ordering your cappuccino exactly the way you want it shows, you know your things and are quite clear about your choices. He will love it.
And if you leave the froth deliberately on your lips for some tongue show we definitely won't judge.
He will find you super sexy doing it.

Dark chocolate - Chocolates are wonderful aphrodisiac. Romance and chocolates go together. They do wonders to your nerves. It relaxes your mind and releases endorphins that make you feel happy and loved.
So order some. A truffle, lava cake whatever be it and instantly switch on your sexy mood!!

Ice cream - You scream, he screams, we all scream for Ice-cream!!! Yes Ice creams have that magical power to bring smile on anyone's face. They are a great mood changing food. No wonder we crave for ice creams when we feel low to cheer ourselves up.
Guys love watching girls eating their ice cream cones. Not to mention when licking the cream off. They find it sexy and the scene itself can make him fall for you. Order one and you will know for yourself!!

Burger - It is completely alright to order a burger on your dinner date. It shows you love simple things and do not live your life counting calories. It says that you are easy going and not some high maintenance show off.
Go on, enjoy your burger and let it speak for you. And of course if you manage eating a burger while looking sexy all the time, he wouldn't be able to take his eyes off you. Would he?

Strawberries - What can be more romantic that a heart shaped red fruit!! Strawberries are considered the symbol of love. In Rome, honeymoon couples are fed with strawberries for that perfect romance. End your dinner perfectly with a strawberry dessert. Dip them in a chocolate sauce or milk cream, choice is yours. Plus you can always lick your finger for that last drop of chocolate sauce. Now that is incredibly sexy!!
 Beyond eating sexy food while out on a date
These were some food to order on a date to change your mood into a sexy one.
Remember, it is not just the food that you eat but also the way you eat that can make or break your chemistry with your date. You do not want him to see you attacking the food as soon it arrives as if you have eaten since long.
Be elegant, take small bites, and eat slowly. It not only shows you are confident about yourself but it also gives time for conversation in between your mouthfuls.
Go ahead girls, order these sexy foods, eat them sexily and watch your guy go crazy for you in no time!!!