Get your sexy back in no time
So you want to look sexy and do not know how? Do you want to know what attracts men and everything else about the rules of attraction? Before we go any further let me ask you something. Do you want to look sexy for yourself, for your friend or for other women? Do you want to be slim or sexy? You must be wondering slim is sexy! Right? Sorry but it is not.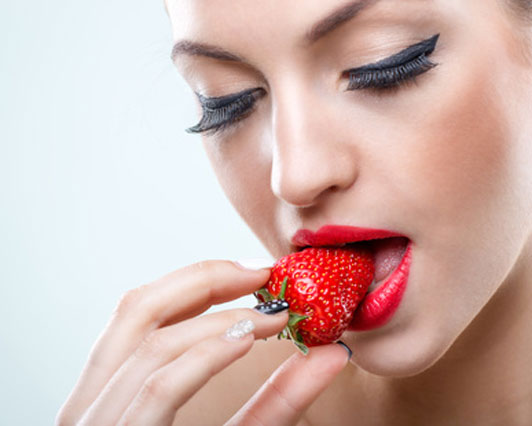 To look and feel sexy, one does not necessarily have that smoking hot body or lovely skin, actresses so proudly flaunt; in other words, be the woman-in-the-red-dress that guys find it impossible to ignore. Media has related the term sexy with being slim and beautiful by publishing those edited photographs of models and movie stars. Yes, they are mostly edited ones.
Let me tell you one thing, feeling and looking sexy has as much to do with some of your psychological elements as to your physical appearance. Of course looks does matter, but you do not have to have angelic beauty to look sexy.
And please note if you do not feel sexy in your mind, you can not look sexy from outside. Discover that and more in the feel-good how to be sexy poem that follows.
I look at the mirror and I see
A pale face and puffy eyes,
Staring back at me, horrified,
I open my palette and start
Concealing those circles dark,
Slathered some powder and painted the lips,
cheeks I blushed with a bronzer.
I tried and tried to look sexy but
Something there was missing out,
Adding some liner for a final touch,
I fluttered my eyes for a sexy ground.
All efforts seemed to go in vain,
I looked good, felt worse inside,
Breathing deep, I tried to calm,
And smiled to ease my nervous mind.
A smile I saw, changed a lot,
It gave my cheeks a golden glow,
It even spread to my made up eyes
Giving them a shiny show.
Now I guess I am ready to go,
out with my hot date tonight,
Oh so sexy, do I look and feel,
He is bound to love me at first sight.
45 Get-Sexier Tips—Honest Advice to Help You Feel Sexy and Really Good about Yourself Without Having to Overdo It and Confirm to the Stereotypical Ideas in the Media and Look Trashy or Too Daring, Make It Possible and Sexy It up
Here are some tips on improving or creating sexy looks for women. Technically there are two main aspects of how to be sexy; physical that addresses the outer being and conscious, focusing on what a person believes is sexy..
Let's see what are the physical ones
Wear high heels—Not only do them make our legs look amazing, but they make us feel amazing, too, when we see guys checking us out. But only once we accomplish having a skill to walk in them, otherwise, if we are not comfortable wearing them, others can notice. But if we are good with walking in them, we can feel sexier, too.

Wear smoky eyes—Again, just like with lipsticks, it may seem that guys can't notice, but they do. Some are even pretty aware of the effect smoky eyes can have. The tone of mystery and sensuality smoky eyes bring look incredibly sexy, and guys can and will notice it. And they will love it!

Put on more makeup—There is no second thought in the old adage, if you look good, you feel good. Take a few minutes extra to primp those eyes and lips. See what this small change does to the way you look. You will instantly feel sexy when a beautiful you with bright lips smile back in the mirror.

Try on a new pair of stockings—Stocking are a great way to stay away from the cold yet show off your legs. The subtle see through and the soft fabric caresses your legs and improves your sex appeal immediately as you put them on.

Put a few drops of essential oil in your bath—Nothing beats the feeling of smelling like a goddess after your bath. The oh so soft fragrance and those wet hairs are simply irresistible for any man. Not to mention you instantly fall in love with yourself.

Flaunt your assets—You need not go on crashing diets and day long work outs to look sexy. A fit body does help but takes time. Until then know your assets and try dressing smart. Wear dresses that takes the eyes away from your problem areas and focus on your assets. When you are dressed properly, you feel confident and sexy.

Make sure your hands are manicured—You do not want him to hold your hand just to see that chipped off nail paint or even worse dirty nails!! That is a big turn off.Get a manicure. Clean soft hands makes you feel more feminine. He would never want to let go off your hands. Now that's sexy!! Right?

Work out—Experts say that working out releases hormones that build up confidence and arouse your feelings. Plus you get a fit body!! Go ahead, hit the gym and feel sexy about yourself.

Dress macho sexy think sexy baggy pants—Laces and sheer may make you look feminine. But dressing macho can gain his attention like never before. Baggy pants or boyfriend jackets can never go wrong. Wear them with a belt to show off the waist and let him go drooling over you.

Smile a lot—Harsh face with a lot of attitude is a sign of being self obsessed. Smile a lot. It shows you are happy person. It's friendly, its inviting, its attractive and make you look downright sexy.

Get a blow dry and play with your hair—Play around with your hair. Blow it dry to add volume and see him go crazy every time you toss around or pull those locks at the back of your ear. Long hair with volume has a sort of spirit on its own, and it can't not attract his attention.

Take a hot shower—Indulge yourself in a hot shower. It will relax your body and mind instantly. It will give you an opportunity to observe your body and realize how gorgeous it is. Once seeing yourself from a different point of view, you will be amazed. You will love yourself, your body and feel super sexy!

Wear sexy heels, wear hip-gripping jeans—Some of you are probably already aware of the magic high heels and a nice pair of jeans can do to us and the effect we can have on guys. To seem, and feel sexier, pick a right pair of hip-gripping jeans that would emphasise your curves. Add a pair of high heels you feel comfortable wearing, to emphasise the shape of your legs and movement of your hips.

Wear hot lipstick/gloss—Lipsticks can do wonders once you figure out which ones to use based on the shape of your lips. Even though, some men say that they don't notice such details like lipgloss, they do have some sort of reaction on it. Red, nude, sparkly, choice is up to you!

Wear nice lingerie—No matter if you are already alone in the room with your guy, or dancing the night away in the club nearby, nice lingerie can help you look sexy and feel even sexier. Lace, cotton, silk, thongs, tanga, boyshorts, bras, stockings, there are endless choices, all you have to do is pick!!

Wear an outfit flattering to your body—Very many ladies make mistakes when it comes to this. The plain fact that something is considered to be a sexy clothing item, doesn't mean it looks good on everyone. Let's make it clear: midriffs and leggings are not for everyone. Choose an outfit that flatters your body, and not that makes other people look away.

Dress Nice—Feel sexier in the clothes you wear. Your clothes say more about you than you think. Before stepping out, step in front of the mirror. Does the person you see come off as sexy? Here are some tips on improving or creating sexy looks for women. Technically there are two main aspects of how to be sexy; physical that addresses the outer being and conscious, focusing on what a person believes is sexy that reflects how you feel about yourself. Ensure that your dress code is comfortable, a style that you love and something that exudes your confidence.

Wear Less Makeup—Make yourself sexy by wearing less makeup. Many women have yet to understand that the key to fantastic makeup is to wear it well; that is, do not allow it to wear you. If after completing you makeup routine you are unrecognizable, tone it down. Makeup is meant to enhance, not hide you.

Get a Spa/Foot massage—Nothing makes a woman feel sexy like getting a foot massage or having a spa treatment. It makes you feel rejuvenated; almost as if you are made anew. The feeling stays with you after a spa treatment makes you feel sexy on the outside and lifted on the inside

Use the right perfume—Using the right perfume does not always mean the most expensive brands. Choose something that reflects you and send the right message. Smelling like you accidentally tripped in a vat of perfume might not be the right move, if sexy is what you desire. Try dabbing a subtle fragrance about your ears; Give a hint of a smell not a choke of it.

Bite your lip—Drawing attention to parts of you such as your lips will make you seem sexy. Men love lips! If you can pull their eyes in that direction you will get the desired outcome. Bite on your lips a bit as if you are unconsciously contemplating a point. Sexy does not get any better than that.

Let your hair loose—Pulling your hair up in a bun, tying it back or wearing it in a ponytail will say "I am organized and boring". Ever seen a scene in a movie where woman's hair is blowing in the wind so the character looks sexy and carefree? Well, you too can bring sexy back by simply let your hair down and live a little.

Strut your stuff—Bring out the feline in you by strutting your stuff as if you are on a catwalk. Hips swinging out with a slow and sexy walk are all you need. The cats do it to attract the opposite sex and so can you. Practice in front of your mirror. You will be surprised how soon you have thrown out the drab "slumped shoulders with head down" walk.

Eat sexy food—Now van food really be "sexy"? Can you eat to make you seem sexy? The answer is yes and yes. Some foods are said to be made to excite and ignite feelings. Eating chocolate or strawberries for example will say sexy but it depends on how you eat it. Slow and sultry is definitely the way to go; don't just devour it.

Wear soft fabric e.g. chiffon and lace—Some types of fabric such as chiffon and sheer, are associated with sexiness. Soft flowing and gorgeous fabric will scream sexy if you wear it well and if the style is tasteful. Lace says you have a bold kind of sexiness and not afraid to flaunt whatever assets you have working for you.

Wear red—Be sexier by taking bold steps in red. Red is the ultimate danger color but if you want to add a little zip in your sexy step then it is the best color of choice. It without a doubt makes you stand out and seem bold, exciting and of course sexy.

Let your hair down—Girls with short hair, sorry. But don't worry, that look can also be very sexy. But one of the huge rules of attraction is that long healthy hair let down will čeave a lasting mark of sex appeal on any guy. Sensual waves, edgy straight, or passionate curls: doesn't matter, if you let it be free, you will make yourself look a lot sexier.

Wear sultry fragrances—Fragrances are tricky, but can be very sexy. What usually works if you want to make yourself sexy is to find a fragrance with a subtle but seductive note. Put a few drops in a very strategic manner (wink, wink): behind your earlobes, behind your elbows, and your knees. The point here boing not to shower yourself with it, but to put it on the warmest parts of your body.

Wear the right accessory—Let's get it straight: the guys don't particularly pay attention to your accessory. If they do, they are most likely not your group of interest, or you are not theirs, to say the least. But they do notice when we pretty ourselves up, and if we feel more confident, and that is what matters here, if we feel sexier with our accessory, we will seem sexier, too.

Have confidence—Now that we have covered the easygoing part of all of it, we could move on to some more subtle, but sometimes more challenging ideas: Being sexy does not always have to begin on the outside, having confidence to put your best foot forward is a must. You can get the sexiest outfit and the trendiest jewelry but if you lack the confidence to wear it and put it all together you might come across as boring and lacking

Throw away poseur habits—There is nothing wrong with trying to impress someone once in a while but continuous habits that screams for attention is not wise. Love yourself and you will be as sexy as they come. Act in whichever way you feel and that will make you sexy enough for you; if that is not good enough for anyone else, then so be it.

Enjoy yourself—What is the use of wearing sexy clothing and getting into that sexy mode if you are not enjoying yourself. The idea is to ensure that you have fun while doing it. Remember that being sexy is not about how someone else if feeling but rather how you are feeling.

Don't be too pushy—What is the use of wearing sexy clothing and getting into that sexy mode if you are not enjoying yourself? The idea is to ensure that you have fun while doing all that. Remember that being sexy is not about how someone else is feeling but rather how you are feeling.

Boost self esteem—Find little ways to feel good about yourself and boost your self esteem without relying on the compliments of others. Find the inner you that see all your great qualities. Know what you are worth and allow yourself to feel. All you need is to realize that there might be many ways to feel happy but they all start with you.

Believe in yourself—This is the most crucial part in not only looking sexy but for a strong personality. It shows on your face if you have doubts about yourself and no makeup can conceal that. Men usually like strong and sorted out women who know what they want. So before indulging in any makeover, make sure you start believing in yourself. Everything else automatically falls in place.

Build on your strengths—Take time out to know your strengths and improvise on them. Instead of cribbing about what you lack, focus on what is it that you do the best. It will not only change you to a different person but also lead you to the path of success. When you are successful, you are powerful. And power, my dear readers is an absolute aphrodisiac.

Keep your heels and head high—Heels improve your posture and make you stand out. You feel instantly sexy when you wear them. We-ve mentioned that several times so far. Walk straight, with your head held high for men to keep ogling at you. If you know that you are worth the shot, they will know it, too.

Talk slow and husky—Instead of talking as you normally would, linger over those words and talk with a low pitched husky voice. He will be bound to look at your lips. With every new topic, he will seem more into it. You will love the way he will be staring at your mouth!!

Don't question mark everything you say—If you ever questioned yourself about how to be sexy, here is a good one for you: don't think about it while you are talking to him. If you've been chitchatting for some time, keep on going, and concentrate on the flow of the conversation, make sure you are out there while you talk, don't lose it wondering what you say is something he'll like or not.

Be comfortable in your body and dress—Yes, sexy outfit can do wonders, and toned abs can look amazing. But that is not all that can make you sexy (as you can see it from our lengthy list). If you are not comfortable with what you wear, or how you look, there is no right accessory that can make you feel better. Feel good about yourself and you will feel sexy in no time!

Keep a good attitude—Don't be a whiny girl. Good attitude and a bit of sense of humor can help you long way. Cheerful voice can improve your self esteem and his opinion of you. Make him addicted to your positive way of thinking and he will soon be interested in hearing a lot more from you.

Make eye contact—Eye contact can be a true stimulans sometimes. With a right choice of smoky eyes, and a pleasant smile it can attract man from across the room. If you want to be sexier and to improve your sex appeal, don't be afraid to look him in the eye and make him weak in his knees.

Know your limits—Don't overdo it! Just like everything else in life, this is also one of the things where we should respect ours and other people's limits. Too much sexy is not sexy, if you dress up way too provocative, use way too much make up, and wink at every guy you see, you will attract guys, but all the wrong kind.

Hang with sexy crowd—Ever wondered why do we keep hearing 'keep good company'. It is said we become like the person we spend most of our time with. So choose carefully. Hang out with a sexy bunch of people. Make yourself a part of them and you too will feel sexy about yourself.

Be sexy—Yes, we know it's a sort of a cliche, but give us a break! However, we are not wrong this time, you can improve your sex appeal a lot if, firstly, you are the one who feels, knows, and believes she is sexy. Be sure that you are, and the rest of will surely believe you!
Reach out and make your rules count, too!
People can get creative when it comes to being sexy and learn that it is not just physical but also a state of mind. What might be sexy to you might not to someone else. The bottom line is that you are truly enjoying who you are, how you feel, and can recognize your own sexiness. Take our advice to improve sex appeal or better yet, Share your own unique ideas on how you create unique ways to look sexy.
And remember, sex appeal is not something unreachable: if you want it, you can have it, you just have to work on it!