Double Dating is quite fun, according to the majority of people. Better time is spent when another couple joins in. It feels great on a whole new level.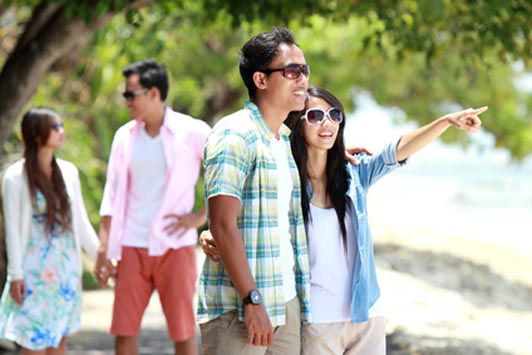 Girl's night out with the guys, here we come!
What are some of the best ideas of double dating?
Let's talk about some of the best ideas of double dating for men and women
Below are some of the coolest girly double date ideas you need to know!
Dining
You two would like to have an interesting chit chat with as well as have an amazing time when you're hanging out having dinner. However, if you two have been together for some time, the chit chats that might track for a short while are ones that include laundry, work, fancy china as well as lamp shades for the house that you see when you're eating at a restaurant or talking crap about other gawky individuals dining at the restaurant.
It's quite normal. You know we've been there, done that. Basically, you don't really have to pretend that you know nothing about it. When you start to include another two partners, the chit chats can be quite invigorating as well as might even start feeling like you're spending time with new people and therefore, it's a new date! When you two are hanging out with a different couple, you get the chance to say jokes that you've said a million times before and you get to repeat old memorable stories. You then eventually have a good time. You acquire the chance to hang out with two decent buddies as well as at the same time start feeling like you've come on a date. Isn't that exciting?
Parties and clubbing
When you're a couple who's extremely fascinating, you get that wrong sort of attention. This happens particularly when you're far away from your home as well as you have nobody around you. Ever encountered a guy who's been drunk and been trying to repeatedly make a move on you? It's annoying and not safe, especially for a woman.
When you're double dating, clubbing, as well as having party nights, you can have a fantastic time when there are people around to give you some company. There would be people to cheer you up no matter what your mood is. And you'll have people around who can protect and take you home when you're very drunk.
Double dating's great side
First of all, there is no such evil side to double dating and that's confirmed. And that's if as long as your lovers of double dating are buddies and you both enjoy being around them without any problems.
Fascinating chats
Double dating for sure can carry a new perception towards dating as well as dating chit chats. You do feel like a pair and however you've got four fresh view points as well as four new stories of those people to share. On a double date, chit chats can turn out to be so much entertaining for your partner and you, particularly when you've been in a relationship with someone for a long while.
Learning from one another
You both look picture-perfect, when you've been together for a while. You might look gorgeous together, but let's face it; you can't actually step out of this picture perfect relationship at all. So, double dating really hands you the chance to get to know another couple, their stories, and much more whether they are good or bad. For sure, it can aid you to know, in the long term, more about what's happening in your romantic life as well as how you can improve it in many ways.
Have your own love life thrilling
On a date, when you spend time with two different love partners, it can really bring back the excitement into your own love life. Double dating's best part is that you have the ability to truly get passionate with your own other half without stressing about unnecessary PDA around your buddies. You are hanging out with another passionate couple, after all, and not with some buddies. And no matter what, it's at all times a turn on when you're getting all affectionate with your partner publicly. This makes your own love life extremely exciting.
Seeing your other half having a great laugh or a chit chat makes you want to just relax as well as admire your partner without any stress of talking back. This will make you realize how amazing and truly special your partner is.
Lovers and friends
Whenever you spend some good time with your pals, you never actually realize that you're not spending enough quality time with your own other half. On the other hand, when you decide to hang out as double dates, you get to do some socializing as well as spend good time with a few buddies of yours and still have the feeling that you're on a date as well.
Tiny day trips
Basically, whether you're camping or hiking, even enjoying at a distant resort spa or relaxing at a fishpond, is a lot of fun when you're out with another couple. There is double fun, double chit chats, and double stories.
Going out to camp with your other half can seem romantic as well as cozy, but it doesn't actually feel harmless most of the time. Little day trips can be filled with lots of fun when you have more people to go with. If you're napping, your partner won't get bored because he'd have two more people giving him great company. That way, the trip's going to be more romantic, easy, and amazing!
A holiday for four
When we go to regular romantic vacations, they are the dream of each and every couple to get to know one another more and just have a great time together. Nevertheless, every time you travel with your other half, it's only you two. You really can't discover being crazy or the zigzagging streets without being scared of getting lost along the way or getting in trouble.
A vacation of four can be fun as well as private. But when you're double dating on a holiday with a different couple, you just feel very much safer as well as confident hanging out when it gets dark. You'll just be so much more comfortable and have tons of fun when there's double dating!