Save money on date night
Dating is fun. But dating can be cruel to our money. Don't worry; you're not stingy if you are reading an article about cheap date ideas. Today's economy doesn't allow us to have our dream dates, and go by plane to Bahamas one day and travel to Paris the other day. That would be romance, wouldn't it? But, with a little imagination everyone's date can be frugal, fun and memorable at the same time.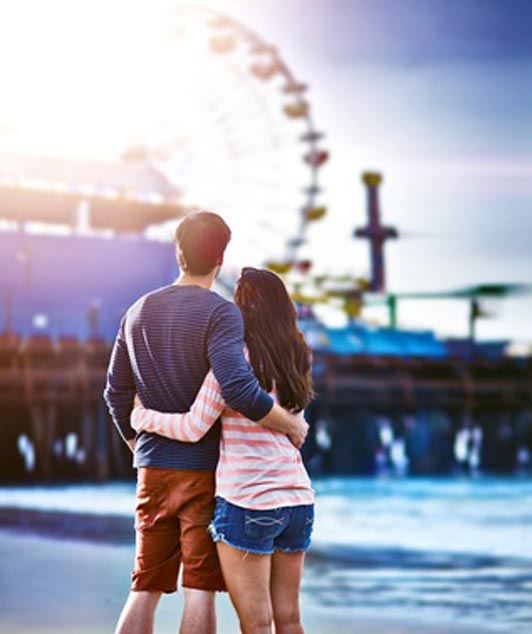 Looking for cheap date ideas because you are stuck on a shoestring budget? Then keep on reading for fun and amazingly cheap date night ideas that will guarantee you a successful date.
Cheap or Free Date Night Ideas for Those Who Are One a Shoestring Budget but Still Want to Have an Amazing Time  
Here are 10 date ideas that you would have to be crazy to ignore when you are trying to spend less dating.
Have a game night
Grab the controls and have fun
This is one of the most inexpensive date ideas, since it really doesn't cost a cent. And it can be so much fun. Even if you both aren't games, you have probably played games in your childhood. It's fun to have throwback day where both of you will feel like little kids again and let loose. Get a bunch of your favourite games and play until you win.
Visit a fair
Or go to a carnival
There are so many things to do at a fair, so you are both bound to find something you enjoy. It's one of those fun cheap date night ideas, that won't cost you a lot, and you will get out of the house, and do something unusual. Maybe he will even win you a plush.
Go to a sports game
A local, amateur one
Some of you ladies might not have money for season tickets to the Nick's and that's okay. If your man is the athletic type and likes watching games and matches, take him out to a game of your local amateur team. This is one of the cute cheap date night ideas because your guy will find you so thoughtful and caring, that you took him out to a game, he is sure to pay you back! Not with money, but with double the care.
Play board games
Test your skills
Looking for date ideas for cheap nights, yet fun? Take out your dusty board games that have been sitting on top of the wardrobe. Monopoly is a great way to have fun, even if it's just the two of you. Or, you can always play UNO. Always have something to drink and eat while you are playing board games, because they can get long and tiring, and you don't want your guy to get bored. The point is to have fun.
Go stargazing
Enjoy the romantic moonlight
Get a blanket and prepare yourself for a romantic night you have never had before. Drive out to a nice place where you can see the stars. All you need is a blanket, him and you, and you are guaranteed to have an amazing date. Nobody ever thought stargazing was boring with their partner, and neither will you. Just try it!
Go skating or sledding
Bust out your winter spirit
Here are some more cheap date night ideas that will guarantee you a fun time. If you want an outdoor date, yet you are on a budget, go ice-skating or sledding. Given that it is winter time. If not, you can always go roller blading. It's important to try something new, that way your dates don't become monotonous and you don't become bored with each other.
See the town
Be a travel guide
If you live in a big city, you've probably never seen it all. And if you're asking yourself what inexpensive date night ideas could be, then stop doing it. Act like a travel guide for a day, go on the Internet, and find some fun places you can do in your time. Some places both of you have never visited before. Make sure to take a map and don't get lost. It's fun and definitely cheap, but at the same time exciting because you are doing something new.
Volunteer for a charity
Help others to feel good
It's never a bad idea to help others, but why not turn it into a date? Who says you can't have fun volunteering? Of course, you can, especially if it's with the person you like. What's good about it is that you will feel good about yourself and fulfilled that you helped someone in need. It will bring you closer and create a special bond, as well as create great conversation topics.
Plan a scavenger hunt
Be mysterious and creative
Scavengers hunt have been fun since... well, forever.  This can cost basically nothing, and you can organize a scavenger hunt around your house and turn it into something romantic, or go for a real adventure. Set clues all over your town and have a friend help you. Surprise your partner. Make a note that shows him the way to his first clue, he'll be speechless! Once his adventurous spirit wakes up, you're in for an exciting and fun night!
Go to a museum
Educate and entertain
You don't always have to do something exciting and adventurous on your date. You can go low key and go to a museum together. Museums can be fun, since they have evolved so much from being just a walk through a building. Visit an interactive museum where you can participate, learn something, and have fun together.
Cheap enough for you?
We hope that our cheap or free date night ideas have sparked interested in you. And if we helped a single soul on a budget out there, then we have succeeded. Always keep in mind that dates are not supposed to be about how much money you spend on a person, or whether you go to the most expensive restaurant. Dates should be about getting to know each other, helping each other, laughing to each other's jokes. You should create bonds, spark interest, and have amazing conversations that will keep you both coming back for more. That's what dates are about!