Send him a love song and make him care
Being a romantic girl, you probably sometimes find it hard to express your feelings or you simply refuse to use plain words when wanting to show your affection. Don't despair because there are many people who have shared your love aches and some of them have been so nice to turn their deepest feelings and emotions into songs. So we as members of 21th century have an abundant heritage of love songs on our disposal.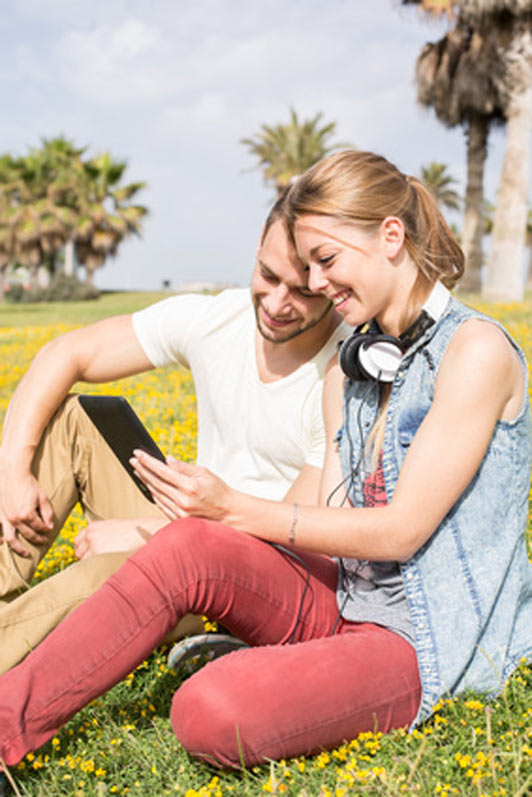 To save your precious time, we have done a little research in an effort to find best love song ever for him. Then, let's go through the song that we have chosen, 2 songs per every decade of the second half of the 20th century.
Every Period Has Its Own Signature Music, and There Is No Better Way to Express Your Feelings but through a Love Song. For You and Your Significant Other, Here Are Some of the Best Love Songs Ever
Here is our staff's picks of best long songs ever from old to more recent.
Top '60s Love Songs
"You Don't Have To Say You Love" a song by an English singer Dusty Springfield is a 1966 hit. It has been remade a couple of times, the first being by Elvis Presley. The song is about a woman who unconditionally loves her man, but is betrayed by him, neglected and even abandoned. Nevertheless, she is prepared to forgive him and restore their love. So, if you are in a similar situation, disappointed but willing to give it another try, this is the best love song to make his see that you are the one for him.
If you feel that the new feeling of love has boosted your life energy and made you shine in a new way, a song "Something's Got a Hold on Me" by American singer Etta James, can make a perfect way to show your gratitude to the object of your love. It makes one of the classics of the era, covered by many musicians from its first release. It speaks about the feeling of love at the dawn of its existence in a woman who finds it at the same time strange and agreeable. She openly admits her sweet miseries to her man.
Top '70s Love Songs
If you are not certain how he feels about you and you want to make him stop playing games with you, "How Deep Is Your Love" by Bee Gees could help you out. The lyrics are so straightforward that there would be no need to say anything else. If he loves you he will come clean about his feeling which will may a way for many happy moments without the shade of the doubt that has been preventing you from really enjoying all the good sides of being in love.
"I will always love you" as we all know is an evergreen song, but when performed by its original artist, Dolly Parton, it could serve well when you want to put a stress on the genuineness of your feelings. Deep inside we are all insecure, so every now and then it would be nice to reassure him of your love, even if you run the risk of spoiling him. Don't be afraid because the right guy would never take an advantage of you, he would only admire your courage and be motivated to do something special for you too.
Top '80s Love Songs
"Absolute Beginners" was written and performed by David Bowie himself, but don't be put off by the male voice because this pearl from the '80s can be considered a unisex present, or to be more precise, a token of gratitude for the most perfect beginning of a romantic love. This song reminds you that you don't have to be young to have a new beginning. Every age is perfect to start all over again and to find a true love. One could fair enough name it the hymn of all beginnings, so don't waste your time and send it to your guy.
If you think that your precious one is more into some alternative stuff, then the best choice for you is the "Lovesong" by The Cure. This gothic-new-wave song was written by one of the members of the band as a wedding gift for his girlfriend, so if you are hoping for an engagement ring, this song could shake up your boyfriend a little, and make him courageous enough to ask you to be his life partner.
Top '90s Love Songs
"Kiss Me" by Sixpence None The Richer, is a perfect thing if you want to reveal your soft side. The sweet female vocal could tell your boyfriend how romantic and vulnerable you are, and we all know that these are the qualities every guy wants to find in his girl. If he is the right for you, he would take this song as a sign that you want a strong protective man by your side and he would not help but become just that.? He would take you in his strong arms and would never let anybody hurt you.
The Wannadies' "You and me song" would make a perfect anniversary present for him. If you have known each other for a while and there are a lot of memories of the moments spent together, this song could make a unique atmosphere for reminiscing. It would make him remember all the things you have been through and he would appreciate you more than ever.
If in search for best love songs for him you should look no further because we have traveled through time and found? best love songs ever to help you with your love troubles. It's not by accident that we decided to look a bit further and dig a bit deeper into the music history. It's because we know how important it is for you to be original when showing to him how much you care, and because we know that there is a person beside you worthy of? all the troubles you have put yourself through with only one goal on your mind, to be the best girlfriend ever.