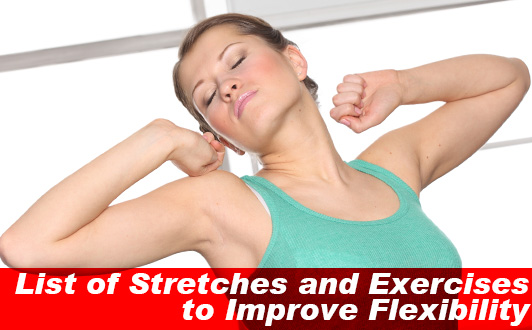 With a list of stretches to improve flexibility along with exercises of varied levels of difficulty, you are on a great start to what you may call a winning diet and exercise routine. Just as balance nutrition is important to your diet, stretching for flexibility give you the juice you need to make out big in exercise for your overall healthy.
DifficultyBeginner / Intermediate / Advanced
Something to try out right way… DIFFICULTY: Beginner (Easy Stretches / Exercises)
Stretches list for everyone!
Even for people not used to exercising, these stretches and exercises are not hard at all.
Recommended for people suffering from the lack of exercise or if you feel exercise is just not your thing.
Burn fat faster stretching your back out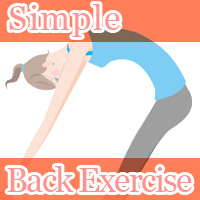 Here is a simple back exercise to stretch out your back. Depending on how it is done, it can be used to practice correct posture. In addition to helping you fix your posture, due to the fact that it stimulates muscles in your midsection, you can expect it to help you burn more fat.
That all it takes!? You may be wondering. Yes, of course! And the best part is that you can start doing it from the beginning.
Correct posture and start burning fat fast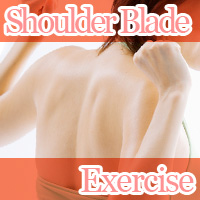 It turns out that your shoulder blades are a nesting grown for brown fat cells that are said to aid in burning fat. Do shoulder blade exercises to activate brown fat cells.
Activating brown fat cells help your burn fat faster.
In addition to burning fat stretching, you can count on these exercises to help you with your posture.
Tighten waist in minutes a day stretching
Exercise at home when you want and where you want, here are some simple stretches you can do anywhere, even around the office.
Simply by continuing to practice this exercise minutes a day, you can tighten your waist.
There is no stress associated with this exercise making it easy to continue doing.
Prevent thigh cellulite stretching your thighs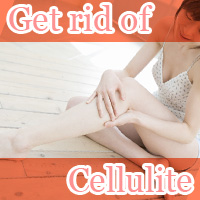 For women worried about getting cellulite, here are some ways to prevent and get rid of cellulite in your thighs, train your muscles, and block the absorption of fat and body toxins from getting stuck in your body.
Improve circulation by stretching to simulate your thigh region to send body toxins out before any damage is done to your legs.

Prevent cellulite.
Slim down lying down on the floor
Life changes such as your daily life or giving birth have a way of making it easy to gain weight.
What can you do to keep your pelvic area strong?
Pelvic distortion like any other health problem can be remedied in house. Make your own pelvic pillow for weight loss.
Get rid of pot belly forward posture
Reason you back muscles grow weak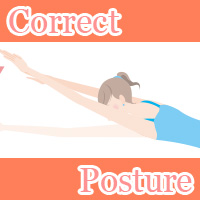 Correct forward head posture while getting rid of superfluous flab around your back.
Exercise can help slim down your back. For people not ready for hard exercise like swimming and jogging, working these simple exercises into your routine is recommended.
Meant for the weekend warrior… DIFFICULT: Intermediate (Regular Stretches / Exercises)
Get active in the morning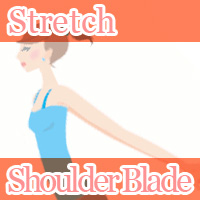 Stretching your shoulder blades helps active brown fat cells
The best time to stretch your shoulder blades is in the morning.
Being active in the morning brings oxygen to your brain
Developing a morning exercise routine is a lifestyle change that promotes healthy weight loss.
Activate brown fat cells stretching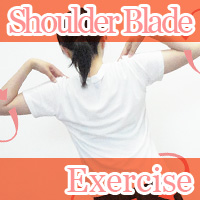 Moving your shoulder blades is said to activate brown fat cells making it easier to burn fat.
There are a lot of dynamic stretch exercise you can do to activate these brown fat cells.
Getting the fat burning results you are looking for may take some time.
However, for women looking ways to get a better looking chest, shoulder blade exercise delivers.
Exercise around the office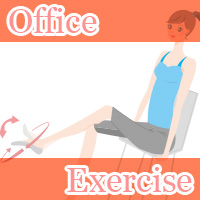 Working out around the office without interrupting your job… that will be the day.
For people worrying about desk work making the fat, office exercise is a definite must.

Stretching on the way to the water cooler all adds up in good time. Keep it up and you will be on the road to fitness in no time.
Never worry about getting bowed legs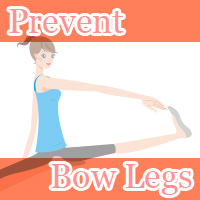 Real Japanese women are doing these exercises to prevent bow legs and knock knees.
Work towards a life without complications in your legs by strengthening your hip adductor muscles lying down, sitting on the floor, or on a chair.
Keep your adductor muscles from weakening. Weak adductor muscles may result in pelvic distortion that you don't want.
Remedy constipation with flour exercise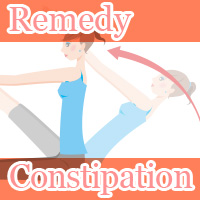 Let's face it… constipation isn't something you want to have to deal with when on a diet trying to lose weight. Bloated feelings behind, there are things you can do to quit being constipation.
To improve the condition your body, you can remedy constipation before it causes collateral damage on your diet and exercise routine.
Do flutter kicks and eat fiber rich foods like avocadoes to help cure constipation.
Improve flexibility in your hips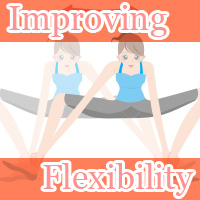 Improving flexibility in your hips is as important to your health as it is to exercising.
Developing bodily flexibility helps improve circulation and is said to raise your core body temperature.
This help you burn more calories as well as increases the rate at which body toxins get flushed out of your body.
Just as breathing has the same effect, regular stretching helps you relax.
Try if your dare! DIFFICULTY: Advanced (Hard Stretches / Exercises)
Tone down upper arm flab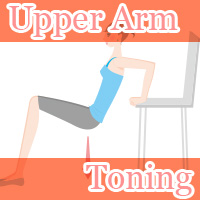 Japanese women don't get fat flabby arms because they are always training their triceps.
Chair dips are a great upper arm toning exercise.
One advantage of doing chair dips is that workout intensity if fully adjustable. That means you can easily adjust the intensity you workout at to fit your physical condition perfectly.
Bottom Line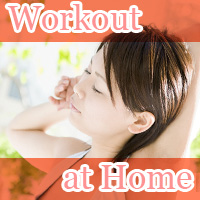 As eating right getting enough calories into your diet with optimal nutrition is important to your diet, stretching and exercise are intermarried make either one indispensable to the other.
When you are looking to workout at home, there are all kinds of exercise you can do to stay in shape without have to commit to a gym member ship. This approach is perfect for people just breaking into diet and exercise
Whether you are looking to burn calories around the house cleaning or dancing your way into the womanly figure that defines you, at home exercise has what you've been looking for.