If I told you start seeing dramatic results in ONLY 3 MINUTES A DAY only by getting up in the morning would you believe me? That's really up to you to decide.
This article touches base on the importance of stretching, being active in the morning, and the synergetic effects of both applied at the same time.
That's right! The morning shoulder-blade stretch diet, or whatever you want to call it, works. Continue reading see how.
SHOULDER STRETCHES similar to the way frozen shoulder exercises work to relieve stiff shoulders, unravel knots in your back, improving blood circulation, increasing metabolism.
GETTING UP IN THE MORNING is a lifestyle choice that is undeniably good for your health.
You would be surprised to find out how many people don't know about the synergy between morning exercise and dieting.
How simple would it be if all you had to do to drastically change your figure was to wake up in the morning to stretch?
If you knew it was that simple you would be reading this article giving us a big plus one. Be sure to stop by anytime, even in the morning because that's when I'll be stretching outside enjoying the cool breeze.
Morning People Don't Get Fat!? Delicious Facts Only Early Risers Seem to Know About
Eating late is a sure recipe for gaining weight. Even people less diet inclined know this fact.
LOSING WEIGHT
The reason why eating late causes you to gain weight is that in the late hours your metabolism slows down. That is why eating during this time is the only explainable reason why you gain weight.
GETTING IN SHAPE
If that's the case, what can be said about the opposite? A morning lifestyle makes it harder to gain weight. The logic is sound. How strange is that? It isn't people who are active from the get go in the morning are strangely in shape.
GETTING OUT OF BED
There is really something special about the morning that makes it happen. Once reading this article, you won't want to be sleeping in no longer.
Morning Shoulder-Blade Stretches – The Secret to a Beautiful Body Line
Stretching helps relax your tendons and removes knots in muscles and is highly effective in improving blood circulation, not to mention the beauty and health effects that come along with it.
SLIM DOWN BY ONLY STRETCHING
Morning shoulder-blade stretches improve overall blood circulation relaxing your mind and body, in addition to giving your metabolism the boost it needs to achieve real slimming fat burn.
3 Shoulder-Blade Stretches for Better Health
You may not know it yet; but the shoulder-blade stretch is the stretch you may want to add to your morning routine.
STRETCHING MAKES YOU LIMBER
There is a fine line between stretching and bending too far. The first rule to stretching is that it has to be easy. This ensures that you don't hurt yourself while innocently trying to stretch. That would be no good.
RESET YOU DAY EVERY MORNING
After stretching you won't remember how tired you were that morning, putting your mind and body in a good place ready to start your day more conformably.
THE 1ST STRETCH - GETTING STARTED
Position feet should width apart. Sit down if you have to.
Raise then slowly lower one shoulder in front of you, focusing on stretching out your shoulder blades.
Repeat on the opposite side up to 5 times alternating.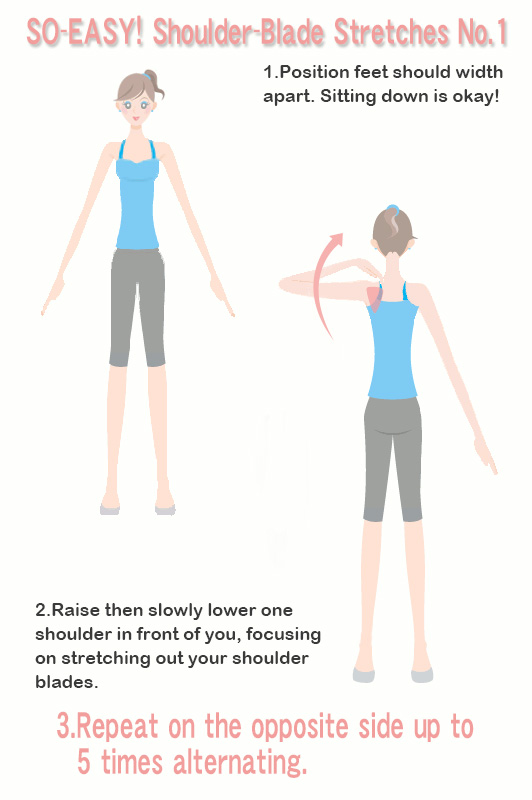 THE 2ND STRETCH – TURNING OUT KNOTS
Spread your feet about shoulder width apart.
Raise arms up as for as possible bringing palms together.
Twisting at the waist, bring one shoulder forward while pulling back the opposite shoulder.
Repeat 5 times alternating between sides.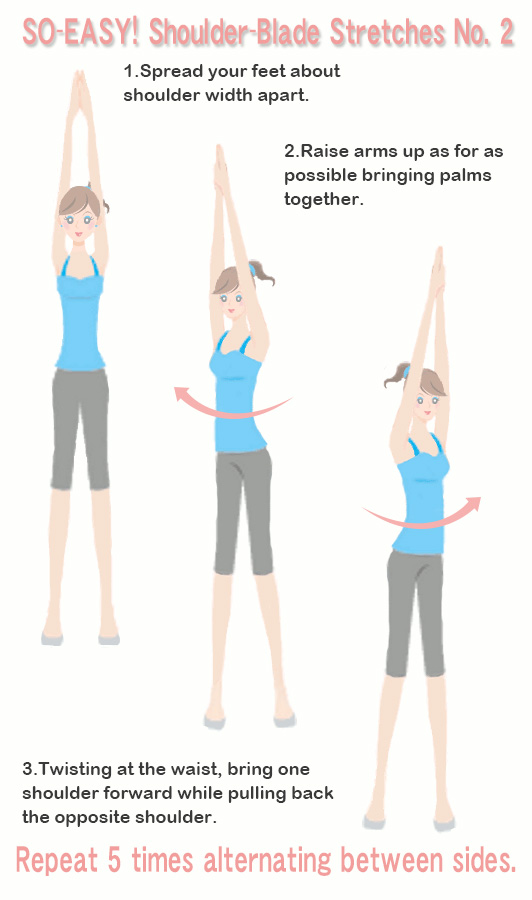 THE 3RD STRETCH – RELAXING BREATHING
Bring together arms behind back at the palm of your hands. For people unable to reach their hands, using a towel to bridge the gap is highly recommended.
From this position rock arms up and down at least 30 repetitions.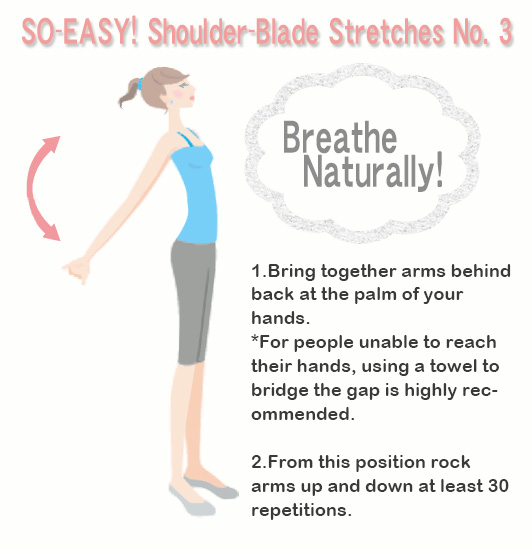 There are two things to keep in mind while performing these stretches, or any other stretch for that matter: breathe normally and avoid situations where you are overexerting yourself.
What Makes Mornings so Special
Stretching in the morning not only helps to loosen up your muscles after a restfully night of sleep, it gives your body the natural push it needs to get you blood circulating and firing up your metabolism. This in turn, gives you yet another tool to use in RESHAPING YOUR BODY.
STAYING ACTIVE MAKES YOU SMARTER
You may already know this, but I'll reiterate it anyway. Blood circulation has a large influence on brain activity. When your circulation is impeded so is your brain. This is one reason you may feel like you are a vegetable at times.
SHOWER OFF UNPRODUCTIVE STRESS
The secret behind why being active in the morning is special has to do with being able to BATHE IN THE MORNING SUN. When the sun hits your skin, your body releases Serotonin aka the Happiness Hormone that is essential to manage stress.
DRIVE OUT THE CAUSE OF OVEREATING
When your serotonin level drop, you start to feel naturally depressed. However, there is another side effect to low serotonin that you need to watch out for. It can cause you to overeat. That's like driving without breaks. A danger that is often overlooked by many people perplexed about why they're diets flat line.
A SPICE OF LIFE FOR A HEALTHY DIET
You might be thinking now that awe that's where the BENEFIT OF BEING ACTIVE starting with the morning was hiding. Who would have thought that all you need to cement results was getting up in the morning. Now that you know, there is no way your conscious will let you sleep in any longer.
PHOTOSYNTHESIS FOR YOUR WELLBEING
Why can't the opposite be said about living a nocturnal lifestyle? It turns out that the amount of serotonin your body produces during the hours of the night is at a minimum. Could this possibly be your body telling you that you need to get out more? Finding ways to prevent serotonin levels from dropping is essential to diet success.
THE RIGHT STUFF TO BE A GO-GETTER
As there are more and more things working to deter your diet and fitness endeavors from going the way you envisioned, you are going to need all the help you can get. Combining shoulder-blade stretching with the morning-sun is a sure way to get results and be more productive.
What to do After You Stretch - Natural Slimming Effect at Breakfast for Healthy Weight-Loss
Thinking about the negative influence nocturnal behavior (night lifestyle) may have on your diet, it's almost impossible to not have the conversation about how SKIPPING BREAKFAST IS BAD FOR YOU DIET.
DETOX YOUR BODY
There are pros and cons to choosing to eat breakfast on to fast. One are that sparked the skip-breakfast diet craze is the important rule breakfast plays when it comes to detox.
START YOUR DAY OFF RIGHT
On the other hand, it is not stressed enough the importance eating breakfast has in being able to do your job at work or concentrate at school. In that respect, some say that breakfast is an essential part of your day that one shouldn't try to throw away.
GET ENOUGH VEGGIES
Put together a diet menu and start by adding foods beneficial to your health such as vegetables to that list. If you are not a vegetable person, i.e. feel that dietary fiber in vegetables are too rough, drinking vegetable juice is also okay.
COMBINE FOOD SMARTER
Think proteins before gorging down on carbohydrates. Dietary fiber and dairy products is a safe and sure way to bring up your blood sugar without spikes. Carbohydrates put off digestion, which is good for your diet.
TAKE A LETTER IN YOUR DIET
Although you may be one of those people who like to save the best for last, because the order in which you eat your food matters, have a healthy salad or a bowl of cool yogurt before eating carbohydrates such as bread or rice.
GIVE IT A CHANCE
Even if you feel you are too busy to be eating breakfast, morning stretches are a good way to wake up bathing in the sun. You never know, you might find some time to have a bite in the morning before taking on the world.