Vitamin Rich Foods make it possible to get the nutrition you need in your diet while eating less. Foods rich in vitamins are closer to home than you think. When you are not sure what foods are rich in vitamins, it is best to get started with a vitamin rich foods list.
Quick Vitamin Rich Foods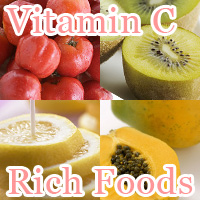 Fruits such as papaya, oranges, and strawberries are the richest source of vitamin C in your diet. Vitamin C rich foods are just the anti-aging solution you need to keep your skin looking young. That's only one of the benefits of vitamin C in your diet.
VITAMIN RICH FOODS FOR ANTIAGING
Including rich sources of vitamin C such as persimmon kaki, kiwi fruit, and chocolate vine quinata, this foods list of fruits high in vitamin C has it all and more!
When it comes to vitamin C, Acerola has no comparison. With 1700mg of vitamin C per 100g, it is possible to get your daily dosage of vitamin C in only 6 grams of Acerola, That's only 1 Acerola.
Sure, where are you going to get Acerola from anyway? The answer lies in drinking Acerola Juice. Simply by drinking 1 glass of Acerola juice you get your daily vitamin C in one sitting.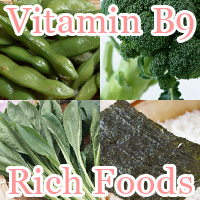 When it comes to establishing a firm lifelong health perspective eating health incorporating vitamin rich foods such as foods rich in vitamin B9 otherwise known as folic acid is a definite must.
VITAMIN RICH FOODS FOR PREGNANCY DIET
Getting enough folic acid in your diet plays an important port in the health of red blood cells and your metabolism. Since it plays a role in the part of your metabolism responsible for amino acid breakdown and protein synthesis, you can expect it to affect the blood forming functions of your body.
Eating edamame, broccoli, and foods such as spinach will provide a rich source of vitamin B9 in your diet. However the richest source of vitamin B9 is in fact liver.
Depending on the type of liver whether that be beef liver, pork liver, or chicken liver, you can expect the folic acid content to differ across the board.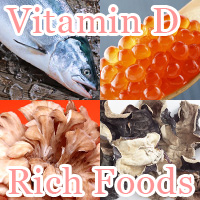 Although vitamin D is produced naturally by your body when exposed to sunlight most of the time this just doesn't cut it. Vitamin rich foods with vitamin D help you get the vitamin D you need in your diet without having to rely entirely on the sun.
VITAMIN RICH FOODS FOR OPTIMAL BONE HEALTH
Getting enough vitamin D in your diet is said to aid in the nutrient absorption of calcium. In other words, eating foods will keep your diet out of the water helping you make use of the calcium you are getting from sources like milk to good use.
By going out and taking walks more frequently or eating mushrooms and seafood you can max out on vitamin D in your diet helping your build strong and healthy bones, a facet of antiaging that is easy to forget about.
Getting your daily dosage of vitamin D can be as easy as eating vitamin rich foods such as chum salmon, dried cloud ear fungus, or raw herring. Either way, you can expect to get the vitamin D you need in a day under 100 grams.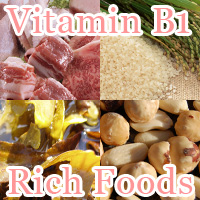 Eating foods that aid in burning carbs such as vitamin B1 rich foods like peanuts, soybeans, and wheat germ gives your diet the balance you need to succeed. It all starts picking up vitamin rich foods to help your metabolism pull through your diet as well as prevention potential health hazards.
VITAMIN RICH FOODS FOR HEALTHY LOOKING SKIN
In addition to helping your body burn carbs, a diet rich in vitamin B1 is said to be essential for maintaining healthy skin. Quick sources of vitamin B1 include: Japanese leek, onions, and foods with Allicin said to help improve the absorption of vitamin B1 in your diet.
In general, you can get vitamin B1 from meats, poultry, grains, seaweed, soy products, and nuts. Vitamin B1 content is one reason why brown rice is preferred over white rice in terms of nutritional value.
Roughly speaking you are going to need at least 1mg of vitamin B1 in your diet to prevent beriberi and Wernicke's encephalopathy. This can be accomplished by eating around 100 grams of a pork filet or 300 grams of salmon per day.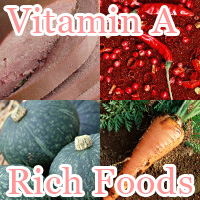 Foods such as carrots, liver, and spinach high in vitamin A play an important role in keeping your eyes healthy. These vitamin rich foods hold the key to healthy vision as wells as the nutrient absorption of other vitamins and minerals especial that absorbed inside your mouth.
VITAMIN RICH FOODS FOR HEALTHY EYES
Fat soluble vitamin A can be found in animal products like liver and egg yolk. However, they can also be found in vegetables such as carrots, lettuce, and spinach. Sources of beta carotene serve as a substitute for vitamin A as provitamin A.
Getting between 650μg and 2700μg of vitamin A including sources of provitamin A ensures that you getting enough vitamin A in your diet keeping your eyes healthy and immune system strong.
The top sources of vitamin A include the stems and leaves of Tossa Jute, Perilla Leaves, and Carrots. However, red peppers, parsley leaves, and basil are just as potent.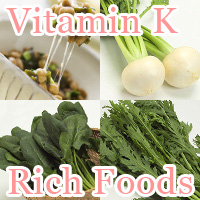 Japanese natto, shiso perilla leaves, and turnip are all vitamin K rich foods essential for improving your blood health. These vitamin rich foods are indispensable to your healthy diet, especial when it comes to promoting healthy blood clotting.
VITAMIN RICH FOODS TO PROMOTE BLOOD CLOTTING
In addition to serving as a rich source of protein in your diet natto fermented soybeans gives you all the vitamin K you need in your diet in only 1 serving. Combined with rice giving you vitamin B1, there is a food combination supporting a healthy diet that may even help you lose weight.
If fermented natto is just not your thing, there is always turnip. In fact, the part of turnip with the most vitamin K content is in the leaves. Turnip leaves gives you all the vitamin K you need in a day without only 4 calories in 20 grams.
The recommended daily dosage of vitamin K in your diet is between 60μg and 75μg depending on your sex. Men are said to require more vitamin K in their diet than women; however the difference is not significant enough to make a difference. Japanese people are said to get at least 3 times as much as this amount.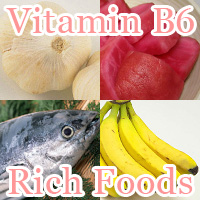 Garlic, turnip, and even bananas serve as vitamin B6 rich food sources that are said to reduce the risk of cancer in your bowels. However, these vitamin rich foods are only effective when not inhibited by alcohol consumption. This is said to be one of the reasons behind cancers of the colon and rectum.
VITAMIN RICH FOODS FOR COLON CANCER PREVENTION
Coming up 10th on the list of top 10 vitamin B6 foods we have bananas with 0.30mg of vitamin B6. There is to the Banana Diet than eating bananas in the morning than weight loss after all. To cut it short, you can count on each banana you eat in the morning moving your steps away from developing unwanted colon cancer.
Tuna comes up in 4th in the vitamin B6 foods rankings with 0.76mg of vitamin B6 per 100 grams. That's over twice the amount contained in bananas. While tuna is an excellent of vitamin B6, it is said to help lower cholesterol in your diet.
Garlic is one of the best sources of vitamin B6 you can fine. Containing twice the amount of vitamin B6 than tuna with 1.50mg of vitamin B6 per 100 grams there is no comparison.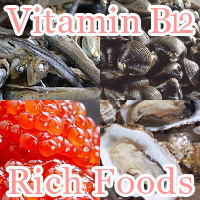 Japanese Ikura, Tarako, and Tazukuri are great example of vitamin B12 rich foods that you can eat to get the nutrition you need in a balanced diet eating less. Vitamin rich foods especially those rich in vitamin B12 provide your metabolism with the support it needs to help you lose weight.
VITAMIN RICH FOODS TO SUPPORT METABOLISM
Although you only need 2.4μg of vitamin B12 a day there are foods rich in vitamin B12 such as fried orient clam, striped mullet, and boiled oyster than make it possible to get your daily dosage of vitamin B12 in 10 grams or less.
Japanese anchovy is an exemplary source of vitamin B12. With 64.5μg of vitamin B12 content per 100 gram serving size getting vitamin B12 in your diet is easy.
In addition to the vitamin B12 you can get from animal foods sources, there is always see vegetables to give a try. Aonori grean laver, dried nori seaweed, and iwa-nori are good sources of vitamin B12 from non-animal food sources.