What are some of the best scary movies you can watch with him?
There are tons of scary movies you can watch with your boyfriend, but there exits some of the best and classic horror movies you can comfortably watch with him that are for sure worth you're and his time.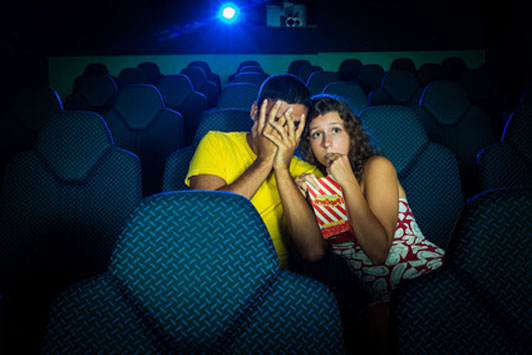 Want a thrill with your boyfriend? You both are into scary movies. He's at your house and you two are craving for some good scary ones to watch together, but can't really pick any.
Top 12 Horror Movies That You Can Watch with Your Boyfriend Anytime
Below are some of the best scary movies guaranteed to scare his pants off! You won't regret watching these, I assure you!
Game of Death (2006)
What would you do if you got a random call from someone asking you if you want to earn $100 million?
A salesman has recently lost his car, his job, as well as his girlfriend. He also has to pay a debt he just cannot pay now. One day, he gets a mysterious call that offers him to participate in a reality show so that he can earn $100 million. That is if he finishes off thirteen certain tasks. Slowly, the tasks get very dangerous.
1408 (2007)
1 Movie 2 Words 3 Stars 4 Numbers 1408 - based on a Stephen King story
In this horror movie, we have John Cusack, Mary McCormack, and Samuel L. Jackson. It's centered on a Stephen King story. A paranormal investigator as well as writer Mike Enslin is very much firm to disprove the scary stories at the Dolphin Hotel in 1408 room by staying as a guest personally. The hotel manager, who was quite reluctant, cautions him regarding the room as well as offers him a different one. However, Enslin desires to write another book regarding hauntings and Room 1408 might just get him lucky. Will he survive the night?
28 Days Later (2002)
Face an incurable frenzy virus
After twenty-eight days, the influential as well as incurable frenzy virus was set free by mistake from a British research facility; some survivors are trying to bring back their lives. They instead have to find out how to escape from groups of homicidal freaks strong-minded to finish them off!
5150 Elm's Way
So, Yannick is having a pretty good day and has recently been accepted to the film school, which is of his choice. But then, for Yannick, all is about to change. He is riding his bike when he falls. To clean up, he knocks on a house's door. Should you go into a house of a stranger?  Yannick now has to play an awkward game so that he survives in the end.
6 Souls/ Shelter (2010)
Cara Harding is a forensic psychiatrist. She has spent most of her career years revealing cases that are completely made up regarding multiple personality disorder. But then she encounters with Adam and is bewildered when she is met with multiple personalities and the best part is that all are murder victims! She investigates deeper and discovers the past of Adam and is forced to question her views in God as well as science. Cara now doesn't have much time and has to solve the mystery as quickly as she can. If she doesn't, she will meet deadly consequences.
A Tale of Two Sisters (2003)
This Korean horror movie is about two sisters.  After spending some time in an institution, they start living with their father as well as their unpleasant stepmother. The sisters' mother passed away under circumstances that were completely mysterious. At this time, strange as well as mysterious events are taking place once again and it is all because of the return of these two sisters.
Absentia (2011)
There is something very strange happening in the Los Angeles city. Several people have gone missing from an explicit region. Seven years ago, the husband of Tricia went missing, and now she has learned to move on. On the other hand, creepy events have been making Tricia crazy lately. Now, her world is about to forever change.
Afflicted (2013)
Derek boards on a lifetime's trip with his best friend, due to fresh shattering medical news. However, his life is about to turn into a living hell when he encounters a romantic meeting and is left with an uncommon as well as destroying illness. His body is now changing and Derek's friends must save him before it's too late.
After Life (2009)
Teacher Anna Taylor wakes up in a funeral parlor desperate to head back home, after a fatal car accident. However, the funeral director says to her she's has died. The funeral director has an ability that is supernatural to help dead people go to the other side of the world. But it might be possible she's just between life and death. When her boyfriend gets to know by a kid who has seen her somewhere, he starts looking for her so she can be saved on time.
Black Death (2010)
England is consumed by the Bubonic plague, back in 1346. Osmund, a monk, is requested to go to a faraway village to find out why it hasn't still been affected by the Black Death. They think that a necromancer is survives in this so called village. Weird stuff has been taking place in the village, those things that just can't be explained. Young Osmund now must fight his journey's sheer horror before it gets too late.
Bless the Child (2000)
In this horror movie, a psychiatric nurse named Maggie O'Connor is upbringing her 6 year old niece Cody, who is supernaturally gifted. Ever since an infant, she was abandoned. Maggie's orderly as well as peaceful life turns into hell when her sister all of a sudden resurfaces and kidnaps her niece. Stranger things happen when an FBI agent named John Travis, who has a lot of experience in ritualistic murders, provides his help when he finds out that Cody as well as other missing kids has the similar birthday. Before it's too late, Maggie has to find a way to get her niece back from Satan, the ultimate evil.
Bug (2006)
The Exorcist's director has made this horror movie. It is regarding a crazy war veteran named Peter and a lonely waitress named Agnes with a past that is awful. The mark between delusion and reality become blurred as soon as Agnes starts to learn that in its citizens, the government is inserting insects. She has to stop all of this before it's too late.
So, there you go. You now have a list of some good scary movies to watch with him! Watch these and you'll be blown away!