Amazingly entertaining things to do online when you are bored
Yes, it is true. Girls really do just want to have fun. But fun can be achieved in different ways. If you're sitting alone at home, it's raining outside, you can't call anyone, because nobody would even come over during a storm, what have you got to do. You just read the last interesting book you had at your home, but what's next?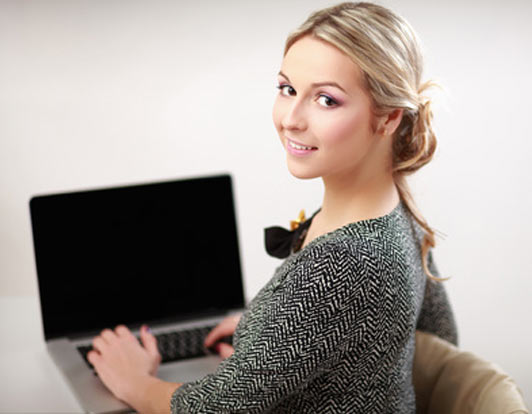 Luckily, you have a powerful ally – the Internet. Internet is full of possibilities to have fun and spend time not being bored. Wondering what are the fun things to do online that won't cost you a dime if you are smart. Then don't miss our favorite tips.
Escape boredom at home with the help of the Internet and join in on the virtual fun parade
So, what are unbelievably fun things to do online when bored? Stay tuned to find out.
Optical Illusions
Challenge yourself
What are the fun things to do when you are bored? Optical illusions! They can be tricky, and mind boggling, but they are definitely fun. You can gaze at them alone, or with a friend, it doesn't matter. But they will definitely lead your mind into a sphere it doesn't usually go in your everyday life.
Youtube is your friend
Be completely random
One of the fun things to do on the Internet when you're bored is go on YouTube. We all do that, but don't browse for the same old stuff you do everyday. Fluffy kittens are fine and cute, but try searching for completely random things. Type in whatever comes to your mind and see what comes up. You can learn something or get a few kicks out of it, because you never know what you are going to find.
Listen to audio books
If you are a bookworm
All right, you don't have an interesting book at your house, but the Internet understands that and it is there for you. Looking for fun things to do when you are bored can be exhausting. So why not take our advice, and relax with an audio book that you can find online. You don't have to do anything, expect listen, and you can find pretty much everything online. From the classics to romance novels, so take your pick.
Explore Google Earth
Take a 3D Tour of your favorite city
This is one of the best fun things to do if you're bored and have nothing else to do. Google Earth can take you on a virtual trip to your favorite city. Log in, and pick a place you'd like to see. Use the street view to get even closer and see all of the details of your favorite place, and you can do all of that just by sitting in your chair.
Instant chat
If you are feeling social
Some of you out there might be more extrovert types, so even in days where you can't go outside and surround yourself with many people, you are still wondering what are fun things to do when you're bored that include people online? There are several very popular websites that you can log on, and be connected to a chat partner straight away. You can meet someone new, exchange interesting stories, and you didn't even have to leave your room.
Browse through NASA
Files, which are legal and available
Not a lot of people are aware of the fact that NASA has an amazing archive of photos and recordings that are free of copyrights. These are fun things to do when you're bored and with your friends as well. It's amazing how many things you can see and read for yourself, if you've got that kind of a curious spirit for historical events.
Write a story            
Be creative and contribute
There are many websites out there where you can write your own stories and poems and you can get some extra cash for that. If you are the creative type, you can have some fun and be productive. There are so many creative and fun things to do online when you're bored and you just haven't discovered them yet. Writing is just one of them.
Do a quiz
Challenge your knowledge
The Internet is filled with quizzes of all kinds, and you can choose whichever you like. Are you feeling extra witty today or are you feeling romantic? Whichever it is, you can find a quiz for that. Give yourself a test and see how well you do, you might find out something new about yourself. There are so many websites that offer free quizzes just for fun sake, or you can be even more serious and take on a knowledge quiz.
Play a game
There is virtually and endless choice
If you are bored and don't know what to do online, and all you want is to have fun, then play a game. There are thousands and thousands of small games you can play online. Single or multiplayer, it all depends on you. From complex strategies to easy solvable puzzles, you name it. It's basically a click away and lurking on bored individuals to make them have some fun!
Use the social media
Facebook, Myspace…
We live in the age of social media, and sometimes we just don't have time for it. Our profiles get outdated, our pictures old, and our information incorrect. If you're feeling particularly bored, take the time to organize your social media. Remove people who you don't know, upload an even sassier profile picture and update your information. Maybe even take the time to check what's going on in your friend's lives.
Boredom eliminated
Since boredom can take over, and make you feel low escape it with the help of Internet. We hope that our suggestions for fun things to do online when you're bored were helpful, and saved some of you from a boring afternoon. Try new things out and accept a little bit of excitement. Even the Internet can bring you excitement, that's how far technology has gone. The World Wide Web is a huge place, and it's there just for you, so have fun with it.