How to Find Common Interests with Men You Meet
When you meet someone for the first time, for sure you will be looking for some common interests to help you maintain a conversation. Being able to ask about and share interests and hobbies is also important in case of speed dating prep. If you come to think of it, the whole dating scene is like speed dating. The only difference is that you have an entire date to share something about yourself and to get to know the other person instead of 5 minutes. But how can you make sure that your time will be well-spent? We have gathered some tips for you to help you with this dilemma.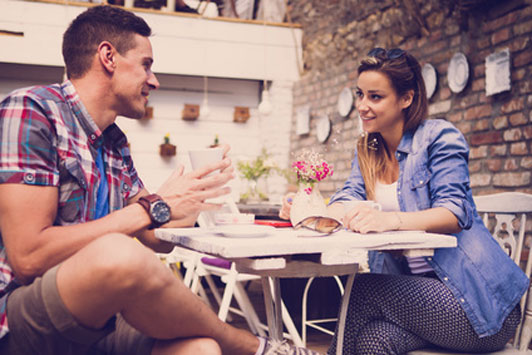 What are you hobbies?
1. Meet new people
The first step for you to even ask someone "what are your hobbies" is to get out there and meet new people. You can be sure that the love of your life won't just show up knocking on your door one day (unless he's the pizza guy).
2. Ask many questions
There is no better way to get to know a person than to ask a lot of questions. Although you should seem interested, you have to make sure you don't ask too many questions (especially personal ones) so you won't scare him off.
3. Talk about your interests
In order to find a common interest, you have to share a little something about your interests as well. Most probably he will ask you some questions as well and you should do your best to give honest and relatively concise answers so you won't monopolize the conversation.
4. Share stories
All people have some good stories that are worth to be shared. You might have some funny or impressive stories that will help the other person to get to know you better. You shouldn't hold back from sharing them.
5. Be creative
Your date should give you the perfect opportunity to share about your hobbies. Instead of a traditional dinner, you could go ice skating on the first date, which will bring back memories you can share with each other.
The Best and Fastest Ways to Finding Mutual Interests with Men You Have Just Met so That You Will Have Something to Talk About
So, what are your hobbies? What is it you could or should share about yourself for your date to be able to decide whether or not he'd like another date with you?
1. Meet new people – you have to get out there
Here is a fact for you: unless you don't meet any new people, you will have no one to share your hobbies with. A lot of people have a problem with going out there and making new friends. If this is the case, you should do your best to "force" yourself to get in new situations where you will be surrounded by new people. This is something your friends could help you with. Just ask them to present you to other friends of theirs. If you are brave enough, you could do some volunteering where you will find other people with similar interests.
In order to find people with mutual interests, you could be looking for groups handling something you're interested in. For instance, there are numerous animal hospitals or shelters you can volunteer at. The same goes for youth centers. Another thing you could try is to attend events on your own. There are numerous group activities you might like, such as cycling groups or groups going on hikes. These offer the perfect opportunity for you to meet someone you will be interested in.
2. Ask many questions – be interested in the other person
If you meet someone and you'd like to find a common interest, the best thing you could do is to ask as many questions as possible. Some people are too shy to ask questions, thinking that the other person will believe they are prying. However, you should know that people like it when someone else has an interest in them and they just love talking about themselves. As a result, you won't have any trouble getting to know a person if you ask the right questions. There are some general questions you can ask, such as where they're from and what they do for a living.
Once you are past these cliche questions, you can move to more personal ones to find a mutual interest. You could ask them about what they do in their free time and whether or not they have any hobbies. Who knows, you might find out that you like the same kind of music and you both like attending the same kinds of concerts. You may also ask whether or not they like animals and if they have any pets. Books are also a good topic and ask them whether they like attending museum exhibits.
3. Talk about your interests – they want to know about you too
Now that you know a little something about the other person, it's only fair to share your hobbies as well. It's ok for you to ask questions as long as there is a balance. If the other person finds themselves constantly answering questions, they might feel like they are interrogated and you don't want that. In case your partner shares something about themselves, you should make sure to share something as well. Don't be afraid to share your opinion on a given matter even if it isn't the same as the other person's. There will be some things you will agree on and there will be some things you won't agree on; this is totally fine.
You may not share your favorite hobby, but that doesn't mean you won't get along. There are numerous couples who don't have the same hobbies, but they manage to make time both for their hobby and for themselves as a couple. As a matter of fact, when being in a relationship, it is nice to have something that's only yours and that you don't have to share with your partner. This means that you will get to have some alone time. However, this isn't something you must think about at this stage.
4. Share stories about yourself
Everybody likes a good story and for sure you have some too. You can talk about your hobbies and share something interesting that happened last time you practiced it. If your hobby involves spending time with other people, for sure you will have a lot to tell, since something always happens when people gather. Naturally, your stories don't necessarily have to involve your hobby. They could also be about your work or the last time you took a trip somewhere. Just make sure that your story has a point and it is relevant to the current topic. Otherwise he might think that you are a bit awkward.
One of the best ways to get to know someone is based on the stories they tell and the way they tell the stories. You don't need to be a comedian to tell a good story. Be sure not to embellish the story and you can be sure that the other person will appreciate the fact that you are opening up to them. You could say something like "My favorite hobby is (your hobby), which reminds me…" This is the perfect intro to a good story. In a short period of time the other person will get a lot of information about you.
5. Be creative to have a blast
When deciding to have a date, the majority of the people chooses the safe path and invites the other person to a movie and dinner or only dinner. While this might work out just fine, why not think about what are some of your hobbies and do something related to it? For instance you might like ice skating. Ask the other person if they like it as well and have your first date at the skating rink. This will be a date they will never forget. Maybe they used to skate as a child but they haven't practiced in years. This will bring back some nice memories. It is also possible they never skated before and you will be the first person they try it with.
If your favorite hobbies involve hiking or spending time outdoors, your first date could be a picnic in the park. This way the conversation will have a jump start since you have already found something in common.
In order to have something to talk about, you will have to ask yourself what are your favorite hobbies and come up with an answer even before someone else asks you. This way you won't have to think before you answered them so it won't look like you just made things up.