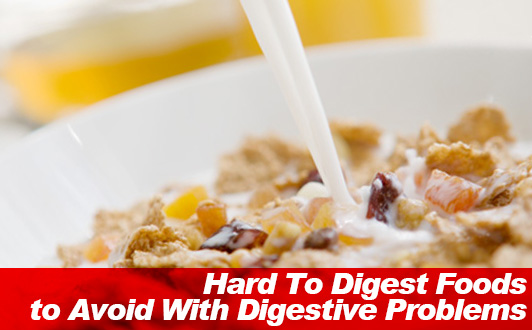 Who would have thought there were such benefits to eating hard to digest foods such as keeping down your blood sugar helping to block fat in your diet? It may be time to go on a low gi diet right about now.
What foods are hard to digest?
Hard to digest foods in your diet can mean digestion problems when you need to get going to the gym or on a run around the neighborhood park. Digestive problems get in the way of your diet and exercise program. That's why it's helpful to know about foods that are hard to digest.
When you are on a diet does the digestibility of your food matters when it comes to calorie consumption and putting on fat? When comparing easily digestible foods with foods that are hard to digest, the consensus is foods that are hard to digest are less likely to make you fat giving you leverage in your diet promoting healthy weight loss.
In this digestible foods Slism, we will talk about the pros and cons of eating hard to digest foods along with presenting a list of foods that are difficult to digest that you can use to keep down your blood sugar and be less hungry during the day.
Quick Digestible Foods
Hard to digest foods are low-gi foods?
Before breaking into hard to digest foods, let's talk about the low insulin diet. It is a diet where you only eat foods less likely to raise your blood sugar level. Note that the hormone insulin is responsible for storage of energy from sugars in your blood to fat.
Blood sugar level is used to measure the glucose in your blood during digestion or otherwise being absorbed by your body. The glycemic index is a measure of the speed at which foods raise your blood sugar level.
Easily digestible foods get absorbed by your body faster raising your blood sugar level giving them relatively high glycemic index values. In contrast, hard digest foods spend longer amounts of time in your body soaking it up giving them lower glycemic index values.
Eating foods that are difficult to digest due to the fact that they have lower glycemic index values are the best solution if what you are looking for are ways to keep your blood sugar level from spiking up causing fat to be compounding in your body.
Harder to digest foods make you full
Difficult to digest foods take longer to digest spending longer time in your stomach making you feel full longer. Once these foods are completely digested you should feel hungry.
Eating difficult to digest foods helps eliminate frustration caused by having to snack between meals or otherwise having a growling empty stomach. Surely eating these foods give you leverage in your diet.
Foods with dietary fiber are hard to digest foods
What makes foods hard to digest is the amount of dietary fiber they have. Difficult to digest foods contain dietary fibers forcing your body to expend mass amounts of digestive enzymes in the process during which fat and sugar in your diet gets carried out of your body attached to dietary fiber.
What are foods that are hard to digest? Difficult to digest foods list
Eating food difficult to digest may give you digestive problems. With a list of foods hard to digest you can avoid digestive problems all together to help you for digestion problems.
In addition to dietary fiber rich foods, foods with high fat content are harder for your body to digest easily. Eggs, potatoes, and dairy products are relatively easy to digest foods. However, hard boiled eggs or any other food using oil to cook with tend to become hard to digest. Frying potatoes such as in making French fries doesn't help out with digestion.
Here is a list of foods hard to digest foods by food group.
Hard To Digest Foods
| GRAINS | BEANS AND NUTS | SEAWEED | SEAFOOD |
| --- | --- | --- | --- |
| CEREAL | NATTO | WAKAME | OCTOBUS |
| SOBA | FRIED TOFU | HIJIKI | SQUID |
| RAMEN | ADZUKI BEANS | NORI | KAMABOKO |
| BROWN RICE | PEANUTS | KOMBU | SUJIKO |
| RYE BREAD | EDAMAME | MOZUKU | SEA SNAIL |
| FISH | MEATS | FRUIT | VEGETABLES |
| --- | --- | --- | --- |
| SARDINES | BEEF | PINEAPPLE | CORN |
| MACKEREL | SAUSAGE | MANDARIN ORANGE | BURDOCK |
| PACIFIC SAURY | HAM | WATERMELON | BAMBOO SHOOTS |
| JAPANESE AMBERJACK | BACON | KIWI FRUIT | LOTUS ROOT |
| EEL | SALAMI | JAPANESE PEAR | GARLIC CHIVES |
| SEASONINGS | SNACKS | DRINKS | OTHER |
| --- | --- | --- | --- |
| BUTTER | RICE COOKIES | CARBONATED DRINKS | KONJAC |
| MARGARINE | CAKE | COFFEE | CURRY |
| MAYONNAISE | CHOCOLATE | BLACK TEA | MUSHROOMS |
| WASABI | MIXIED NUTS | ORANGE JUICE | LARD |
| CAYENNE PEPPER | POTATO CHIPS | GREEN TEA | SHIOKARA |
Precautions to take when eating difficult to digest foods
Strictly eating only foods that don't digest well can take a toll on your stomach not to mention the fact that eating too much fatty foods ends up being high in calories. The biggest area to pay attention to when dieting on difficult to digest foods is getting the balance of nutrition you need to promote healthy weight loss.
Mixing it up
As discussed previously, low gi foods are generally difficult to digest foods. In extremely special case, eating to much difficult digest foods can lead to low blood sugar levels.
Sugar is fuel for your brain giving you energy to think. That is why just as getting the vitamins and minerals your body needs to stay health having the right blood sugar level is for your health also.