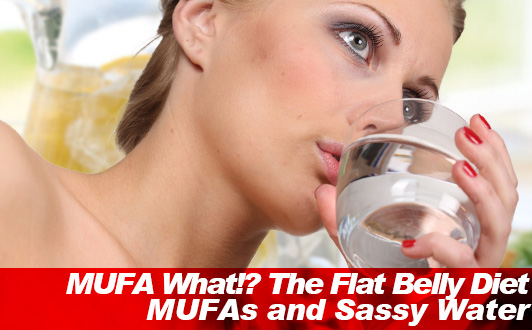 The flat belly diet… does it work? Eating 1600 calories a day, drinking sassy water, and eating a serving of monounsaturated fats each meal may sound like someone has been eating a little too much MUFAs but there is still things you can salvage from this MUFA diet which are: eating enough MUFA foods may help you lose body fat; cutting calories may not be your thing; and every weight loss method has its juice.
What is the flat belly diet?
The flat belly diet is a methodology for dieting that involves cutting back on the amount of food you eat keeping within a certain amount of calories and eating foods rich in monounsaturated fats daily.

There are three ports to the flat belly diet that you can quickly add to your belt to call your own which are calories, sassy water, and MUFA foods.

Keeping in mind these 3 aspects of the flat belly diet, you can easily make adjustments necessary to make it work for you despite you age, height, and weight.

1600 calories a day
No weight loss diet is complete without a guideline to how many calories you should eat a day to lose weight. The flat belly diet is no different.

Limiting your daily caloric intake to 1600 calories a day is one of the fundamental requirements of going on the flat belly diet. Whether it is the flat belly diet for men or the flat belly diet for women daily intake remains the same.
Going by the book, you may run into trouble if you aren't over the age of 40, over 5 foot 5 inches tall, and weigh less than 160 pounds. That is because is because the flat belly diet wasn't design for you.
Or Are you?
Let's not let little details ruin your day.
Just because the flat belly diet prescribes that you eat around 1600 calories of food a day doesn't mean you can make adjustments of your own. That's my opinion anyway…
400 calories a meal
Eating only 1600 calories a day on a 4 meals a day diet comes up to 400 calories per meal.

That's easy enough to say… don't you thing?

Even when eating 4 meals a day, trying to meticulously balance the 1600 calories you've been given to survive isn't going to be that easy when you actually sit down to CUT CALORIES.

First and foremost, you don't eat the same amount of food for breakfast, lunch, and dinner.
It's lunch time. You've got things to do, people to meet, problems…

and trying to the same amount of food in terms of calories that you ate for breakfast and (hopefully) are going to have for dinner isn't one of them!
The most important thing to successful dieting (that can help you lose belly fat) is keeping it real. Not being true to yourself only leads to unnecessary hardship especial when it comes down to how you run your diet.

28 day flat belly diet
On the belly fat diet you will spend roughly a month eating on a reduced calorie diet. That is staying somewhere around 1600 calories a day depending on how for you wish to push the envelope.

If you are not the over 40 and of average size and weight, this puts you in somewhat of an un-sweet disposition.

Don't worry though because before you even have to worry about spending a good majority of the month fighting for crackers, you are going to need to jump start belly fat first.
4 day flat belly jump start
Before you go ahead and mark the first day of your flat belly diet on your calendar, you are going to anti-bloating DRINK SASSY WATER for 4 days straight.

Something tells me (a little birdy) that this is no ordinary water, which is why I like to refer to it as sassy juice. However, to make sure that we are on the same page as any other resource for the flat belly diet, there will be no more name calling!

Sorry… sassy water

Now you are probably going to need to have some ginger, lemons, cucumbers, and mint leaves to conjure up some sassy what but don't rush yourself just yet. More will be covered on how to flatty belly diet.
Monounsaturated fats
Monounsaturated fats also called monounsaturated fatty acids (MUFAs) can be found in oils used for cooking such as olive oil and canola oil.
Why they are important when it comes to dieting and in the case of this diet, losing belly fat, is that not only do they help lower cholesterol but over time can have the effect of giving you a flat belly.
On the flat belly diet, you will be eating one serving of foods containing monounsaturated fat, which we will call MUFA foods.
On top of limiting your daily intake on calories, you are going to EAT MUFA FOODS WITH EACH MEAL.
How to diet for a flat belly
The first 4 days
Jump starting belly fat loss you on the first 4 days of your diet, you will need to get that sassy water everyone including Oprah is talking about (Not that
Drink 2 liters of sassy water a day.
While kick starting the flat belly diet it is recommended that you stay away from carbonated drinks such as soda, fried foods, and chewing gum.
28 days after jump starting
Stay within 1600 calories

Eating 4 meals on a 1600 calorie diet assuming that you eat the same amount of food in terms of calories comes down to 400 calories a meal.

Special considerations

Having to stay within 1600 calories a day eating 4 meals may not be the bargain you were looking for when considering going on the flat belly diet.

Depending on your basal metabolic rate and physical activity level, this amount may differ.

If you find that your daily calorie expenditure is more than 1600 calories you realize are not that woman and should stop right away! - Or simply consider giving yourself a little bit more wiggle room when it comes to eating.
Eat your MUFAs
MUFA foods to eat
Control your satiety
If you have every run into trouble with your diet, you know what it nearly makes you lose your satiety. Too close for comfort when the only thing standing between you and overeating is your satiety helping you control your hunger.
Fear not!
There are ways to control your appetitethat you can use to keep your satiety.
Sleeping, exercising more often, and chewing your food more amongst many other things are said to help pun down your appetite helping you get rid of hunger pains.
On top of employing these simple methods to help you control your satiety, eating MUFA foods is said to keep you felling less hungry between meals.
Flat belly exercise
Although most practitioners of the flat belly diet like to boast who needs exercise?
WE DO…
Just because the flat belly diet is supposed to be without exercise doesn't mean you can't break the rules and live a little.
After all, the sole purpose of going on the flat belly diet in the first place was so you could get a flat stomach, right?
What you want to take away from this is that by bending the rules in your diet you not only get to try out the flat belly diet but still are able to hit the gym when you want to.