How to Apply Makeup to Look Your Very Best
All women put makeup on from time to time. Most probably you do as well, so you might be interested in some makeup tips and tricks. Regardless of what style you prefer, for sure there are some methods you will benefit from. Regardless whether you are a fan of the smokey eye or the natural color palette, some things just don't change. There are some aspects you should be mindful of to make the best of your natural features. As a rule of thumb you should remember that when it comes to makeup, usually less is more (while sometimes less is just less).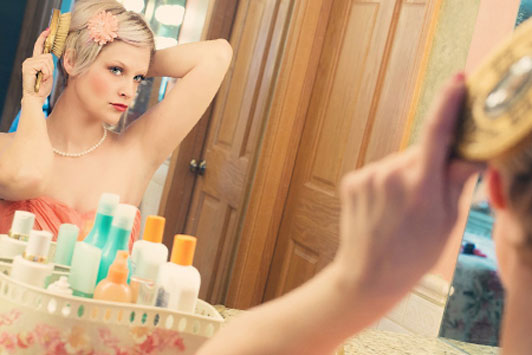 1. Make your eyebrows prominent
If there is one thing you should remember when it comes to how to apply makeup, it is that the brows frame the face and they bring your makeup together. This is why you should make sure that you don't forget about it when performing your beauty routine.
2. Choose the right eye pencil
If you ever took a look at eye pencils you might know that there are different kinds you could choose from. Which one is more suitable for you? Is it the liquid one, gel, pencil, or shadow? Do you know the difference between them?
3. Techniques to make your eyes pop
In case you would like to draw the attention upon your eyes, first you have to find out what eye shape you have. Once you know this, you can ask the next question: how to put on makeup. Depending on the shape of your eyes, there are different aspects you should focus on.
4. Contour your face
This is a professional approach that you may have never used before. By contouring your face you can add definition to it and you will become more photogenic (which is a huge plus, especially in this era of selfies).
5. Smile before applying blush
Did you ever see women who looked just like a clown because of their excessive blush? It's not only about color when applying blush, but also the direction of the strokes. In order to achieve the best results, apply the product while smiling.
How to Put on Makeup to Enhance Your Features and to Hide Your Flaws - Learn All There Is to Know about Applying Makeup
So, how to apply makeup to completely change your look for the better? Actually, you don't have to change everything; it might be enough to make some slight adjustments to your current routine.
1. Make your eyebrows prominent — they will define your face
Some women are looking to find out how to put on makeup because they would like to make their eyebrows more prominent. If this is you case, there are some steps you shouldn't skip in the morning. Always start with the primer. A lot of women skip this step, even though it is meant to make sure that your brows won't slip off your face during the day. Then take your brow pencil and draw a line right below the brow to define its shape. Do the same for the top part as well, but don't draw the line all the way to the end, do only ¾. Focus on the tail end. Use a spoolie to blend the harsh lines.
When wondering how to makeup, keep in mind that the next step is to apply some brow powder. You should apply the product to the outer ¾. To make sure that your brows won't look painted on, wiggle your brush over the inner ¼ as well. Finish by applying some brow gel to make sure that everything will stay in place during the entire day. Although you may be proficient with makeup, first you have to make sure that your brows have the right shape.
2. Choose the right eye pencil — they're not all the same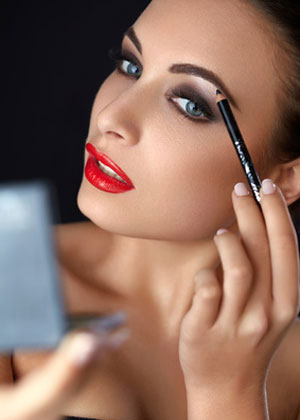 If you ever watch a makeup how to, you will notice that you need to apply eyeliner. In case you are a rookie, it is best to start with the eye pencil. This is the most basic tool, it is easy to apply, and it is also easy to correct the mistakes made. Usually women use it for their waterline and lower lash line. Some pencils can transfer to your eyelids, so you will have to try a few to find one that works for you. If you would like a precise line, go for the liquid liner. The results are long-lasting and they don't smudge. However, sometimes the lines might be too harsh and you need some experience and a steady hand to apply it. Also, the mistakes are difficult to correct.
The women looking for make up tricks should consider the gel liner. This works like the liquid eyeliner, but the lines are less harsh. You can also smudge it for a softer effect. Working with the gel liner is easier and you have more flexibility. The eyeliner comes in a pot and you need a brush to apply it. The last option is the eye shadow. Although it isn't an actual eyeliner. If you don't want to use a lot of makeup, this is a good way to enhance the lash lines. You can also use this option along with a regular eyeliner.
3. Techniques to make your eyes pop — not quite literally
Before applying the eyeshadow or eyeliner, you should consider the shape of your eyes. When asking how to do my makeup, consider this if you have close set eyes: focus on width. Use lighter colors in the inner corners and darker colors at the corner of your eyes. The liner and mascara should also be more prominent towards the edges. If you happen to have down turned eyes, focus on lifting them. Again, use lighter colors in the inside and darker colors on the outside. Apply eyeliner to the outer part of the lids. Deep set eyes work well with bright colors.
In case you have almond eyes and you are still wondering how to use makeup, there is some good news for you: you can try anything you want. You can't go wrong with this eye shape. It is possible for the eyelids to drop with age. In this case matte colors work the best for you. It is important to remember that in this case less is definitely more. The protruding eyes are the opposite of the deep set eyes. In this case you should opt for a medium shadow on both the upper and lower lids.
4. Contour your face — give it shape
Some people might think that the only way for you to add contour to your face is to have plastic surgery, but this is not the case. When asking how to do good makeup, you should think about contouring your face. For this you will need a brightening primer, a highlighting concealer, foundation that is darker than your skin, foundation matching your skin tone, setting powder, bronzer, and some highlighter. Apply some highlighting concealer on your face and then apply the foundation with a ball. Then highlight the forehead, nose, mouth, chin, and under the eyes. Add some darker foundation below the cheekbones, the corners of your eyes, forehead, and the sides of the nose.
The different colors will add definition to your features and they will create a new contour. This is one of the amazing makeup tips that you could use. Make sure to blend the colors until they become somewhat uniform. Apply the setting powder to be sure that you won't have to worry about your makeup. A bit of bronzer with further highlight your features and the blush will make you look more alive.
5. Smile before applying blush — smiling makes all the difference
Before you apply the blush, you should stop and think about how to do professional makeup. Usually the pros ask the models to smile and they apply the blush on the apple of the cheeks first. Then they work their way towards the ears. Once you reach the top of the ears, you can move towards the jawline. Before buying a blush, you should think about your skin tone. If you have fair skin, you should opt for soft pink, light coral or peach. Medium skinned women should choose rich pink, deep peach, or warn mauve colors. Dark skinned women look best with deep fuchsia, warm brown, and tangerine colors.
Although blush can do wonders for your looks, you should know its downsides as well. When it comes to tips on makeup, you should remember that if you apply too much of the product, or you will end up looking like a clown and you don't want that. Before going to an important event you should try your looks at home.