Mozuku seaweed is one healthy Japanese food that you shouldn't pass up if you know what's good for you trying to cut back on calories without having to give up on your health getting diet friendly nutrition with an added plus in other areas such as your skin.
Is Japanese-Mozuku good for losing weight and burning fat?
Mozuku an edible seaweed food from Japan made famous through the Okinawan Diet is an amazingly low calorie food that doesn't lose in nutritional value great to eat if all you want is to lose weight. With only 4 Calories in Mozuku per 100g serving size, you are going to have a hard time finding a health food this good.
When all you have got to do is have to do is eat Mozuku before your meals, there can't be a diet as simple as The Mozuku Diet. Better yet, with the power of dietary fiber your bowel movements will never be the same again not to mention the Fucoxanthin you get to burn off unwanted visceral fat.
In this daily Slism, we will introduce Japan Mozuku in your diet to lose weight presenting simple recipes to get started going into details on what you get out and finish with trouble areas you should know about before starting off.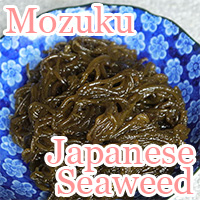 Quick Mozuku Diet
How Get Started Burning More Fat On the Mozuku Diet
The Mozuku Diet is as simple as incorporating this edible seaweed into foods you eat each day. There are no special rules about how to eat it or the recommended amount to eat, but that doesn't mean you won't need the following tips recommended for getting the most out of your diet.
Mozuku Diet Basics
Eat Mozuku seaweed first to pin down the absorption of fat by your body
There is no wrong way to eat it whether that be raw or with low calorie Mozuku vinegar or soup
Here are a few low calorie recipes using Mozuku to get you started.
How to Make Mozuku Vinegar - Japanese Recipes [Easy] (1 Serving)
Ingredient
Amount
Instructions
Mozuku
50g

1. Boil Mozuku removing color and excess slimy liquid

2. Strain and leave out to cool down

3. Mix well with Japanese dashi-soup, vinegar, soy sauce (light) and sugar

DashiSoup
1/2 tbsp
Vinegar
1/2 tbsp
Light Soy Sauce
1/2 tsp
Sugar
1/2 tsp
Note that Mozuku Vinegar may be available at your local grocery store or can be bought online. Using this fact makes a great time-saver when you are busy on the run.
How to Make Mozuku Soup - Japanese Recipes [Easy] (1 Serving)
Ingredient
Amount
Instructions
Mozuku
90g

1. Wash Mozuku and dice green onion into little bits

2. Add Mozuku, Dashi soup, soy sauce, and Mirin rice wine to pot and apply heat

3. Remove from heat after bowling adding the contents to a separate cooled bowl adding green onions

DashiSoup
1cup (200ml)
Soy Sauce
1 tbsp
Mirin Rice Wine
1 tbsp
Green Onion
a pinch
Benefits of Eating Japanese Mozuku Seaweed
Not only is Mozuku amazingly low in calories, it packs a punch with the added benefits of nutritional value exclusive to this edible seaweed that you are not going to want to miss out on when you are dieting and exercise to lose weight trying to keep up with your health.
Only 4 Calories per 100 Grams! - Reduce Calorie Consumption
The most notably part about Mozuku that doesn't go unnoticed is how low in calories this edible seaweed is.
With less than 10 calories per cup, you know there will be always room for seconds. Mozuku makes a great addition to soup, vinegar, and even salads.
Although you are getting less calories per serving like other low calorie diet foods, what you appreciate the most is having room to cut back on calories or have room to eat more other things not to mention deserts with the overwhelming health you get from Mozuku.
Dietary Fiber

to Make Your Stomach Grow For Appetite Control

Mozuku is an excellent source of dietary fiber that expand to many time their original size in your stomach helping your control your appetite relieving tension of finishing your meal not having an empty stomach.

In addition to helping you get fully eating less, the insoluble dietary fiber you get from Mozuku helps you make it through the team in between meals.

Finally, essential dietary fiber helps your body flush out bodily waste products from your digestive tract to your bowels giving you a cleanse you are not going to regret that means a looser skirt for days you just can't resist going out.
Fucoxanthin

to Burn Fat in Areas Left Untouched By Exercise

Fucoxanthin, the part of Mozuku that attributes to the color you find in this healthy edible seaweed is said to promote your energy burning metabolism help0ing your burn off unwanted visceral fat getting to the source of your pot belly.

Taking Fucoxanthin helps burn away the fatty tissue insulating your internal organs that makes an appearance most notably as a beer belly.

Certainly you would be missing out not opting in to try out this metabolic syndrome preventative nutrient found in Mozuku.
Fucoidan

for Better Stomach Condition Promoting Lifelong Health

The slippery slimy and what to some people find disgusting part that makes Mozuku the way it is may be what it takes to give your stomach the fighting power you need to get healthier.

It turns out that Mozuku and other edible seaweed local to Japan commonly found through the Ryukyu Islands around Okinawa is an excellent source of a substance called Fucoidan great for the health of your stomach.

Fucoidan is known to attach itself to the bacteria known to cause stomach ulcers. Advantageous to take for people with stomach problems not getting the results in their diet, this nutrient helps get you stomach back up to health not to mention helps lower triglyceride and bad cholesterol levels after consumption.
Effective Against Anemia Related Blood and Fixing Skin Trouble
Diet that concentrate too much on the weight problem eventual fall apart when poor health starts to show in your blood and at the surface of your skin.
The secrete to growing healthier each day and always having your skin glisten with shine can easily be attained by adding vitamin and mineral rich nutritious Mozuku to your diet.
If not for your diet, do it for your skin. In Mozuku are ingredients to wash away your worries helping your keep your face wrinkle free and even get rid of swelling edema problems.
Need To Know Difficulties Dieting On Japanese Mozuku
If you took a look at Mozuku and thought that the black chunky part more noticeable in Okinawa Mozuku of it was not going to work out, the Mozuku diet may not be right for you.
On the other hand, some say that when added to a bowl of miso soup this solves the problem of texture. Just remember not to look too far into the deep end of your miso soup bowl.
If eating raw Mozuku wasn't enough challenge yourself with recipes using Mozuku to mix it up as well as making it easier to keep from getting tired of when looking to continue for long periods of time.