Eating soba is recommended for people who have trouble satisfying their appetite tending to overeat. Its low in calories, contains ample amount of dietary fiber, and easy to hold down in your stomach. You never know, it might be what your body needs when you are not feeling 100 percent.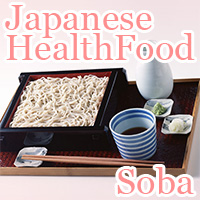 Quick Soba Diet
More Carbohydrate Foods
A diet built around eating Japanese buckwheat noodles is not a bad way to go about dieting. Carbohydrate foods for health bring a no aspect to your healthy eating regimen helping you get a more well-rounded diet eating a variety of foods to pack more nutrition and diversity into your food for the best in dieting.
How to diet on Soba
Are the eating restrictions accompanied with your diet beginning to take its toll on your body; and is your empty stomach growling up a storm causing you to eventually overeat? If you've ever though dieting was tough, then you and many others out there share the experience. What's causing your diet to fail?
Dieters around the world are asking the same question. You may be considering going on a diet, but are not sure where to start. Is there something that I can eat to satisfy my appetite, so that I don't have to overeat and feel guilty afterwards? What is one food that can help me succeed in losing weight while getting the nutrition that my body needs.
Hey dieters, there is hope. Incorporating Japanese buckwheat (Soba) noodles into your diet regimen can not only do this, but taste good too.
Getting started on the soba diet
The soba diet goes hand-in-hand with methods prescribed by meal replacements, such as Slim fast. That is to say, instead of having a cup of ramen noodles, you can save calories by replacing the cup of noodles that you just love and find hard throwing away with a healthy plate of soba.
Just by replacing 1 meal a day with soba can you start seeing the results and feel more energetic than before, minus the calories.
Soba noodles are low in calories, which allow you to pile more on your plate and enjoy your meals for once. Now you are on a diet that truly helps you eat more and weigh less.
Isn't only eating soba going to eventually lead to malnutrition?
Well, that would be the case with other foods taking things a little too far. However; you may be forgetting something, soba is a staple food just like rice, bread, and beans. With little alteration is it possible to turn your soba into a super-food, tying down you daily calorie intake.
That's good and all, but where do does the protein and other vitamins and minerals come from?
You are right on the button here, valued reader. You are very observant in keeping balanced nutrition in mind.
Along with eating soba, it is important to take in other foods to compensate in dietary areas that soba lacks in and to aid in digestion. To do this, it is recommended that incorporate vegetables and foods of the bean variety in your diet as well. Doing this will improve the overall nutrition and digestion of your soba noodle meal without throwing in more calories than you asked for. Stay away from foods cooked using oil, such as tempura and chicken to keep calories down to a minimum.
* Be careful that your diet does not rebound when switching to other staples such as white or brown rice. Give your body time to adjust to the change and you should be fine.
Pros

of Soba diet

Although that it can be said that soba noodles are suitable for any diet and can help you lose weight, but that's not all.

Don't limit yourself to only eating soba. Make sure you balance your diet with other foods to get the best nutrition your body can get. Doing this will not only lead to healthy weight loss progress, but make you feel better and more energized.

That doesn't mean that soba noodles lack in the nutritional department though. Soba is said to be rich in lutein, which has been shown to prevent degenerative diseases form forming.

You may have heard of polyphenols found in cocoa and wine. Lutein is one polyphenol that is said to improve blood circulation, lowering your blood pressure.

In addition, lutein being a polyphenol serves your body as an antioxidant. This in turn works to slow down the effects of aging. Who would have thought that noodles could do such a thing?

Soba is an adequate source of lutein. Supplementing it with other foods containing other vitamins and minerals your body thrives on and you are set. No wonder why soba is considered a health food.
Cons

of Soba diet

Some people feel that cooking (boiling) requires time before you can eat. This is true; but what doesn't?

Are you throwing away the soup left over from boiling soba? If so, you should stop now. It is much better for you to not throw it away and drink instead.

Contained in the soup left after preparing soba are anti-aging elements (lutein, vitamin B, ect.) that are much better off inside your body. You never know, doing this much might actually make a difference; however be cautions when the soup contains lots of sodium. If it does, you may want to reconsider drinking the soup.

That's right ladies. Combining soba with soup may be the tools you need to slow down aging. That's why we should start the soba diet now. You are never too old or too young to start believing.