Soy flour ("Kinako") used to make well known Japanese-Wagashi sweets such as Kinako Mochi is great for you especially when on a diet trying to lose weight. Kinako powder makes an excellent natural supplement for soy nutrition contributing to a more balance diet.
Is eating kinako soybean powder healthy?
The Kinako Diet is where you add roasted soy flour to milk or soy milk. Kinako soy flour gives you Saponin to block fat and burn fat faster and Isoflavone for better looking skin.
Known as the meat of the fields, soybean nutrition adds nutritional value to your diet supporting a healthier you.
In this daily take on Slism, we introduce how to diet using kinako powder highlighting the benefits you get out of it finishing with advice on how to reduce calories consumption.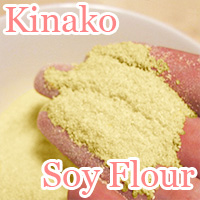 Quick Kinako Powder
How to Get Started Losing Weight Eating On the Kinako Diet
Add to 200ml Of Milkor any of the beverages listed below with 1tsp of Kinako Soy Flour. Drink in the morning 5 minutes before eating breakfast or whenever you feel a bit hungry. It is recommended for people too busy to eat breakfast in the morning.
Milk
Skim Milk (Powdered)
Soy Milk
Cocoa
Yogurt
Checkpoint
For people not satisfied with the sweetness, adding diet sugar or honey makes a good complement to your kinako powder drink. Note that adding too much sweetener to the drink will result in higher calorie consumption.
Benefits of Soybean Flour in Your Diet for Weight Loss
Simple by adding kinako soybean flour into your diet you get all the benefits of soy including soy saponin for blocking fat, soy isoflavone for your skin, soy peptide for your metabolism, and other many great benefits that come along with eating a balanced diet.
Kinako Soybean Flour Calories and Nutrition

In 7g (1tbsp) there are 31 calories in Kinako with 2.49g of protein (9.96Cal), 1.64g of fat (14.76Cal), and 2.17g of carbohydrates. Kinako is high in folate and copper. The calories from 1tsp serving of kinako can be burned in 4 minutes of step climbing or 9 minutes of water walking.
Soy Saponin to Block Fat Absorption and Breakdown Faster
Kinako contains a substance found in soy that helps to naturally block fat while promoting faster breakdown of fat in your metabolism called saponin most suitable for dieting.
Saponins in soy is said to help lower triglycerides in your blood reducing the fat attached to your blood vessels in addition to helping reduce cholesterol levels in your body that greatly reduces the risk of heart related disease and health problems caused by excess fat buildup.
Soy Isoflavone for Better Looking Skin and Easy Antiaging
Isoflavone found in kinako other soy products such as soy milk and edamame is famous for working in the same ways as the female hormone estrogen.
The positive effect of getting soy isoflavone in your diet are strong antioxidant help to slow down the effects of aging making the moisture in your skin hold on for longer.
In addition it has been said to helps restore hormonal imbalance during menopausal disorder and lowers the chance of developing osteoporosis.
Soy Peptide to Boost Your Metabolism for Losing Weight
The key to losing weight without is in increasing your metabolism. With a faster metabolism your body burns fat faster while making it harder to gain weight.
Although there are many ways to give you metabolism a boost, peptide found in soy help you burn more calories through the day that in turn gives you a faster metabolism.
Balanced Nutrition in Kinako for Total Nutritional Balance
With high quality protein, fat, carbohydrates, dietary fiber, minerals, and vitamins, balancing your diet is as easy as eating kinako.
Just as long as you eat kinako, there is no reason to worry about malnutrition creeping up in your diet when trying to lose weight dieting.
Danger Areas to Watch Out On a Defatted Soy Flour Diet
There is no such thing as a foolproof diet. Just because something is healthy doesn't mean you should let your guard down just yet. There are some things you should know before starting into the kinako diet.
Having Too Much To Drink Can Turn Into High Calorie Fast!
There is nothing that can be called unhealthy in 1tsp of kinako, which only adds an extra 10 calories to your diet. Unhealthy is focusing too much on one food item while forgetting to take into account that of the next.
On the other hand when combined with milk or soy milk to top it off, the results can turn into a high calorie situation before you know it.
A good rule of thumb is to stick to 200mL and 1tsp per day. If you find yourself worrying over calories using reduced fat milk or yogurt is highly recommended.