Sweet basil seeds ("sabja seeds") are one of those foods to help lose weight that hardly gets mentioned in most diet programs that could be what it takes to make your diet work compulsive overeating and getting more dietary fiber into your diet.
Is eating sweet basil seeds going to help me lose weight?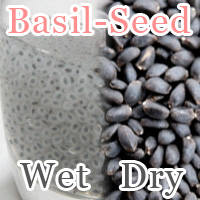 Sweet basil seeds may look like your ordinary black seed but what doesn't come to mind is that they have the capacity to expand to 30 times their original size making an excellent natural diet supplement to kill hunger pains.
On top of being an excellent method to keep you from overeating, basil seed give your dietary fiber you will need to succeed in your diet providing both a great way to relieve constipation but giving you're the means to detox your body naturally.
Quick Sweet Basil Seed Diet
In this next Slism we will introduce basils seeds as foods to help lose weight to incorporate into any diet program showing you how eating sweet basil seeds can help in your weight loss, ending with necessary precautions you should take when thinking about going on a full basil diet.
Sweet Basil Seed Diet for Help on How to Lose Weight by Changing the Foods You Eat
All you need to go on the sweet basil seed diet is to incorporate basil seeds into your daily diet.
The fact that basil seeds don't have a distinguished flavor makes mixing them into your food easy not requiring sacrificing the taste of your food for your diet.
For people who don't have the time to think about how to add basil seeds into their cooking, all you have to do is mix with water and drink. After 10 minutes of sitting in water basil seeds expand to 30 times their original size looking to what it seems looks like frog eggs. There are no limits on how much basil seeds you can eat.
How to Use Basil Seeds in Your Diet for Weight Loss
Using the previously discussed soaking of basil seeds in water, here a few quick ideas to bring out the hidden flavor in your basil seed diet to lose weight without having to compromise in taste.
Mix with yogurt and top of with some fruit. Combining the fruit diet with sweet basil seeds.
Combine with 100% percent pineapple juice or coconut milk for a tasty drink
Good with seaweed salad for an easy to make Japanese-style dressing
Recommended Time to Eat For Best Results
Eat prior to eating a meal to fill up your stomach preventing overeating
Have as a snack giving you're a low calorie alternative to eating sweets
When you are feeling hungry drinking a cup of sweet basil seeds in water help distract you from the urge to eat
Benefits of Basil Seeds in Skin and Your Diet
Sweet basil seeds are an excellent source of fiber that if you lack can lead to problems with constipation. Fiber in basil seeds expand in your stomach leaving less room for other foods and can even help suppress you appetite not to mention give you better younger looking skin just by eating that you can look far in the basil seed diet.
Feel Fuller Than Ever With Basils Seeds Expanding Up To 30 Times Their Original Size
Eating till you feel full can lead to gross calorie consumption that may make you fat that can be avoided easily just by drinking a glass of water with basil seeds.
The reason why this works because sweet basil seeds expand quickly to 30 times their size when they are dry.
After eating basil seeds you can eat less while still satisfying your appetite making gains in your diet without getting hungry in the middle not to mention sweet basil seeds contain almost no calories.
Alpha-Linolenic Acid for Skin Care and Anti-Aging Naturally With the Power of Basil Seeds
Sweet basil seeds are an excellent source of alpha linolenic acid (ALA) that is good for your skin.
Besides helping boost your fat burning metabolism, ALA is used to make EPA and DHA that are said to help fight hear related diseases lowing your bad cholesterol level.
In addition, eating basil seeds helps your body excrete collagen essential in skin care.
Half of Sweet Basils Seeds Is Actually Dietary Fiber
Basil seeds are half dietary fiber. In only 4 grams of basil a seed there are more dietary fiber than a whole bulb of lettuce.
In addition the fiber you find in basil seeds is insoluble which help clean out your stomach and digestive tract acting as a natural detox agent promoting smoother bowel movements.
Cons of Trying To Go On Sweet Basils Seed in Your Diet
It Looks Like Frog Eggs! - The Visual Appearance Is Just As Important
Sweet basil seeds soaked in water is said to look like frog eggs. To say the least there are people who take care of frogs that wouldn't mind sparing the little tadpoles even though they're not really frog eggs.
If you are concerned about how sweet basil seeds look, try mixing into your hamburger or even cookies. You would be surprised how easy it is too incorporate these seeds into cooking with little effort needed.
Is So Hard To Find! - Mostly Bought On The Internet... Can't Find At Supermarket
Sweet basil seeds are a seasoning that you can usually find sitting on the shelves of your local supermarket.
On the other hand if you are looking to buy large amounts of basil seed then I would recommend shopping online.
A word of advice, pay attention to the quality of the goods you hope buy online before making a large purchase order.