Do you know how good Shirataki is for your body?? It may not be a super-food but it makes a great way to healthy up your diet.
However, the trick to making it taste good is all in preparation. Once you have that down, you can eat in bliss. Refer to the page on Shirataki Noodle Recipe for special tips to make cooking with Shirataki taste better.
Shirataki Yakisoba (Fried Noodles in Sauce)
-

209 Cal

/

1serving

– Cook time:

15 minutes
Unlike regular yakisoba, shirataki yakisoba doesn't contain 700 calories!
If you are craving yakisoba, but don't want to have to deal with the aftermath of putting so much calories in you body, make yakisoba with shirataki.
By using the same ingredients that come with yakisoba you buy at the store and vegetables lying around the house, you can make shirataki yakisoba too.
What you are going to need
Ingredients for shirataki yakisoba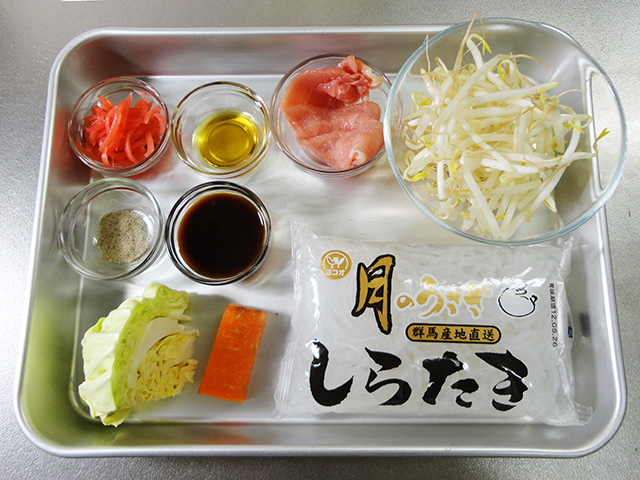 Ingredients for shirataki yakisoba & Calorie

| Ingredient & Amount | Calorie |
| --- | --- |
| 180-200 g (1 bulb) shirataki | 12 Cal |
| 50 g cabbage | 12 Cal |
| 50 g (moyashi) bean-sprout | 19 Cal |
| 20 g carrot | 8 Cal |
| 30 g pork | 55 Cal |
| green seaweed crumbs | 1 Cal |
| 10g ginger | 2 Cal |
| Bulldog chuno sauce | 55 Cal |
| pinch of salt and pepper | |
How to make Shirataki Yakisoba
Cooking instructions for shirataki yakisoba
Cut cabbage and carrots up into sizes that fit your liking, and wash moyashi in cold water
Cut pre-prepared shirataki into the length of your liking, suitable to be eaten as noodles
Place shirataki in a hot pan, cooking noodles, removing moisture, and then take out of pan

After removing water from the shirataki, add sesame oil and vegetable into the frying pan
Add the shirataki off (3.) to the fried vegetables of (4.) and continue to fry together, adding salt, pepper and sauce for added flavor

Remove from heat onto a plate and apply the finishing touches (seaweed crumbs, ginger) to the shirataki yakisoba you just made.

If you happen to have extra yakisoba sauce lying around, then it's okay to use that too, if it fits your taste.
Shirataki Yakisoba Review
[New kind of Yakisoba]I thought that the Yakisoba my friend Satoh-san had me eat was awesome.
Not only was it packed full with veggies (which I just can't get enough of) but the sauce was simply delicious.
I wanted more, but to my dismay there were no seconds. As I thought, the thick flavor you get doesn't stick as much as Soba does, which in my opinion is the best! I give it a 3 considering how much less calories it has than regular yakisoba.