Shirataki is one food that sets the standard for healthy. That is why many diet centric people have started to use it in their cooking. Want to be able to eat ramen, yakisoba, and pasta without compounding calories?

With very little alteration you can make bar bending ramen and yakisoba noodles lighter than ever by using shirataki. Looking for low-carb alternatives to conventional pasta? Drop the calories in your past by choosing to eat shirataki pasta.
In this column we are going to introduce 3 recipes to transform you food a healthy choice fit for any diet.
3 Healthy Shirataki Recipes
Ramen Recipe
Yakisoba Recipe
Pasta Recipe

You are safe, because even if you use 1 bulb (180-200 g) of shirataki, that's only 11-12 calories! Compared to rice (252 Cal per 150 g), shirataki has no more than 5% the calories of rice.
Shirataki Base Preparations
Shirataki can be used in many different dishes; but what may be worrying some people is the smell it gives off when not prepared right.
Although there might be people out there not phased by unclean shirataki in their food, the purpose is not to just get rid of the konnyaku smell shirataki has when unclean; its important to prepare shirataki before cooking to enable flavor to be easily added while cooking.
How to prepare shirataki for cooking
I know you must be thinking, "That's it!" In fact, the little work you put into preparing shirataki makes a big difference in the flavor of your food when cooking. That's why it is much better to spend a couple more minutes preparing shirataki before moving on to cooking.
Shirataki Ramen (Shirataki Noodles)
-

152 Cal

/

1serving

– Cook time:

10 minutes
By using store bough ramen noodle soup, it is easy to incorporate shirataki into your ramen noodle soup.
Traditional ramen can have as much as 443 Cal. With shirataki noodles it is possible to lower your calorie intake by as much as 291 Cal. This gives you flexibility when choosing topping, adding corn and even hard boiled eggs to your meal.
What you are going to need
Ingredients for shirataki noodles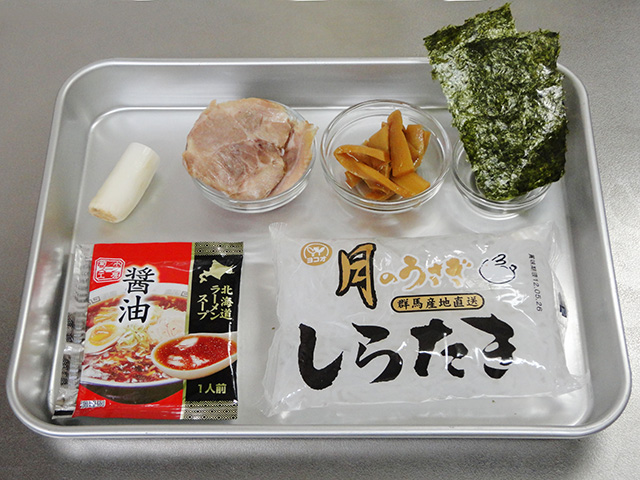 Ingredients for shirataki noodles & Calorie

| Ingredient & Amount | Calorie |
| --- | --- |
| 180-200 g (1 bulb) shirataki | 12 Cal |
| 1 pack ramen soup base | 98 Cal |
| 20 g menma | 13.4 Cal |
| 10 g green onion | 3 Cal |
| 2 slices (14 g) cooked pork | 25 Cal |
| 1/8 sheet dried seaweed | 1 Cal |
| 300 cc hot water (for the soup) | 0 Cal |
How to make Shirataki Noodles
Cooking instructions for shirataki noodles:
After preparing shirataki for cooking, cut into length of your liking

Bring water to a boil in a pot, place ramen soup, and stir in soup base
Place shirataki into pot of boiling ramen soup, continuing to apply heat for another 1-2 minutes

Once finished, place shirataki and ramen soup in a bowl and then start to add menma, green onion, and cooked pork into the soup. There you have it, a low-calorie alternative to ramen noodles that is fun and easy to make.

Shirataki Ramen Review
[My First Shirataki]Living in Japan it is hard to know what to eat at times so sometimes you have to trust your gut.
Then there was Although I thought the soup had more of a salty taste than I expect, that's probably has something to do with the fact that normal flavor sticks to ramen leaving more or less the same flavor on the noodles. With one bite you will know instantly that it's Shirataki. It may be different, but when looked at from a calorie and flavor diet perspective is a miracle food that even people not on a diet won't pass up late at night when you stomach is empty and you just want something to eat.
I'll give it a 4 out of 5 because I was so hungry.
Who doesn't like pancakes when you they are super healthy and easy to make like this tofu recipes!!